Published April 08, 2022 by Rebecca Goldfine
Jeremiah Brown '23 Wins Beinecke Scholarship for Graduate Study
Jeremiah Brown is one of just sixteen gifted college juniors from across the country to receive a $34,000
Beinecke Scholarship,
 which will help fund his graduate education in the arts, humanities, or social sciences.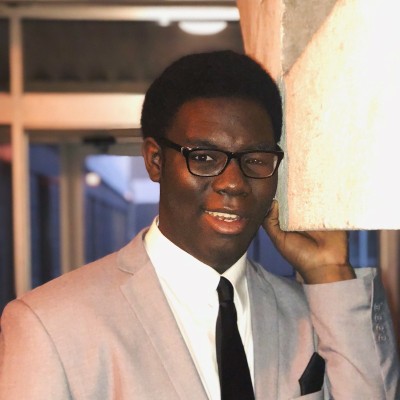 After Bowdoin, Brown intends to earn a PhD in sociology from a top-tier program like the University of California-Berkeley, University of Chicago, or from Yale or Harvard Universities
"Sociology transformed my life," Brown wrote in his Beinecke application essay. He first encountered the field when he enrolled in Introduction to Sociology with Assistant Professor of Sociology Marcos López during his first semester at Bowdoin.
Growing up in Arkansas, Brown said he had struggled with self-love. But sociology, he explained, "has since become the center of my academic life" and "gave me the tools to love myself."
"Although I had already determined that race could not be biological, sociology taught me that it was a social construction. Indeed, sociology provided the terminology, concepts, and theories to make sense of my life experiences."

— Jeremiah Brown '23
Besides majoring in the subject at Bowdoin, Brown has immersed himself in sociology.
As a Mellon Mays Undergraduate Fellow, he's writing a sociological thesis on what the market for men's underwear reveals about gender and masculinity. "Although underwear appears to be an innocuous subject, I postulate that it shapes the body and produces a gendered identity," he argued in his essay.
He's also worked as a learning assistant four times for the introductory sociology class. Each time, he enjoys this work more. "I find increased satisfaction in the experience of watching students start to think sociologically. I realized that I was watching students' sociological and personal growth," he said.
He anticipates continuing to find gratification as an educator and researcher.
"As a future sociology professor, I hope to teach my students to use sociology to understand the social world; as a sociologist, I hope to continue investigating the taken-for-granted systems, structures, and institutions that shape the social world. Ultimately, I am driven by a fiery passion to give back to the discipline that assisted me in fully loving myself."