Published April 19, 2022 by Bowdoin News
Asbury and Garcia-Moreno to Chair Search for Bowdoin's Next President
Bowdoin College Trustees Sydney Asbury '03 of Brookline, Mass., and Bertrand Garcia-Moreno '81, P'17 of Baltimore will chair the search for Bowdoin's sixteenth president.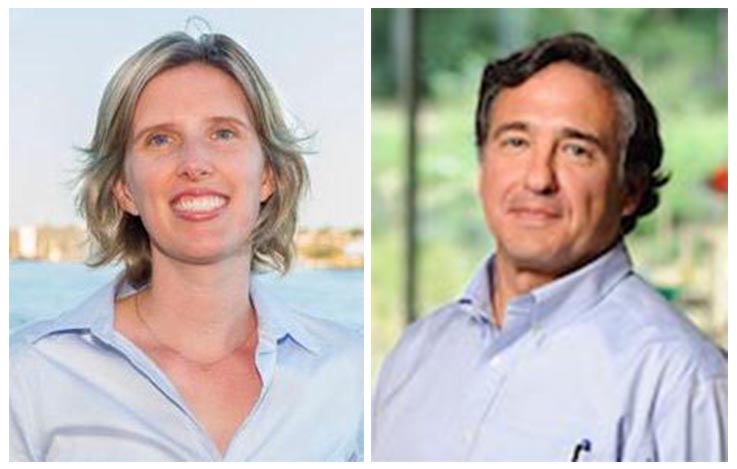 Bowdoin Board of Trustees Chair Robert F. White '77, P'15 named the cochairs in consultation with other trustees and Bowdoin President Clayton S. Rose, who announced that he will step down from the post in June 2023 at the conclusion of the 2022–2023 academic year.
"Sydney and Bertrand are highly respected members of Bowdoin's board of trustees and accomplished practitioners in their fields—Sydney as a senior political and public policy official and Bertrand as a biophysicist scholar, researcher, professor, and administrative dean," said White.

"Sydney has served on the Bowdoin board since 2015 and currently serves as vice chair, and Bertrand was elected to the board in 2016. Both fully appreciate the critical nature of the search process to the success of Bowdoin's next presidency, and we know they will lead the search committee with a great sense of responsibility to the future and with true enthusiasm for the College as it is today. We are tremendously grateful that they have agreed to lead in this important way."
Asbury has more than a decade of experience in campaign management, grassroots organizing, and crisis management. In 2010, she managed the successful campaign of Massachusetts Governor Deval Patrick. She then served in the Patrick administration as deputy chief of staff and political director. Before working in the governor's office, Asbury served as chief of staff to the Massachusetts secretary of education. Prior to forming her own communications and political consulting firm in 2016, Asbury was a senior vice president at Northwind Strategies, where she focused on building winning public relations campaigns for corporate and nonprofit clients. Asbury, who is currently focused on raising her three children with her husband, Mike Farrell '01, was a double major at Bowdoin (government and legal studies and sociology). Asbury currently serves as the chair of the board at Reproductive Equity Now, a nonprofit organization working to eliminate barriers to safe, legal abortion care. During her service on Bowdoin's board, Asbury has been a member of the Beyond Bowdoin Committee, the Campaign Leadership Committee, the Executive Committee, and the Subcommittee on Honors, and she currently serves as chair of the Governance Committee. She is the cochair of Bowdoin's ongoing $500 million From Here comprehensive campaign. She is also a former class agent who previously served on Bowdoin's Alumni Council.
Garcia-Moreno, professor in the Department of Biophysics in the Zanvyl Krieger School of Arts and Sciences at Johns Hopkins University, was chair of the department for thirteen years before assuming responsibilities as vice dean of natural science for the university. After earning his undergraduate degree in biochemistry at Bowdoin and a PhD in chemistry at Indiana University, Garcia-Moreno went on to develop expertise in the physical chemistry of biological macromolecules, with special emphasis on proteins. His research group studies biothermodynamics and several problems in structure-function relationships of proteins using a variety of experimental and computational approaches. In addition to his teaching and research, Garcia-Moreno leads a major effort to reorganize general education at Hopkins. He is also active on various editorial boards, most notably that of the journal Proteins: Structure, Function, and Bioinformatics, where he served as editor-in-chief for twelve years. He was chair of the Center for Biotechnology Education at Johns Hopkins. Garcia-Moreno's board service at Bowdoin includes membership on the Academic Affairs Committee, the Executive Committee, and the Student Experience Committee. His daughter, Ana Garcia-Moreno, is a member of the Bowdoin Class of 2017.
"Our immediate focus is on forming a committee that represents the diversity of our community," said Garcia-Moreno. "We aim to bring together faculty, students, staff, and alumni leaders best prepared to select our future leader. Sydney and I will work to ensure that all voices are represented throughout this process."
"President Rose has led our college through unparalleled times with astounding success," says Asbury. "It is the job of this committee to identify an ambitious leader capable of building on Bowdoin's growing momentum."   
Both Asbury and Garcia-Moreno served as trustee representatives to the President's Working Group on Knowledge, Skills, and Creative Dispositions at Bowdoin, which was charged with producing a report that responded to the question: "A decade from now, what should be characteristic, and perhaps distinctive, about Bowdoin graduates in how they think, reason, and engage the world?" The report, issued in 2018, is now the basis for ongoing discussions at the College about the curriculum, cocurricular activities, and the residential experience.
The remaining members of the search committee—a group representing the many constituencies of the Bowdoin community—will be announced following the upcoming board of trustees meeting on May 12–14. Elizabeth Orlic, Bowdoin's senior vice president and special assistant to the president & secretary of the College, will serve as staff liaison to the search committee.
"There is much work to be done, but Bowdoin is in a position of great strength as Sydney and Bertrand and their committee take up their work to identify Bowdoin's next leader. I am grateful to them, to Eli for her assistance as staff liaison, and to the larger Bowdoin community who do so much for our college," said White.