Published March 23, 2022 by Tom Porter
Celebrating Women's History: US Patent Office Highlights Bowdoin Professor's Work
In celebration of Women's History Month, the US Patent and Trademark Office has highlighted research by Professor of Economics Zorina Khan into America's early female patent lawyers.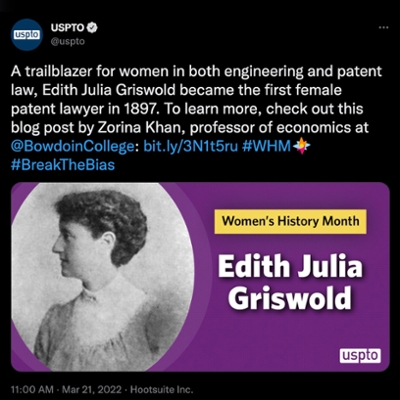 The USPTO took to Twitter, Facebook, LinkedIn, and Instagram to draw attention to a blog post by Khan in which she writes about the first woman to achieve this honor, Edith Julia Griswold (1863-1926), as well as other early female pioneers in this field.
"Griswold was intrigued by mathematics, science, and mechanics as a teenager, and even constructed her own telephone," writes Khan. Griswold went on to qualify as an engineer (she even got a mention in the 1925 edition of Who's Who in Engineering) before finding work as a draftswoman doing patent drawings "which were improved by her detailed technical knowledge of mechanical and electrical engineering."
This led Griswold to study patent law and eventually open her own practice in Manhattan in 1897. "She was a leader in intellectual property law, not just in the United States, but also in the rest of the world, regardless of gender," notes Khan.
In other recent blog posts Khan has explored the work of a number of pioneering women, including bankers, lawyers, inventors, entrepreneurs, and academics.