Published February 25, 2022 by Tom Porter
Students Encouraged to Embrace 3D Printers—for Fun
Staff at the Office of Academic Technology and Consulting have made several 3D printers available to students wishing to pursue their noncurricular artistic ambitions. "They can get as creative as they want," says David Israel, senior producer for academic media.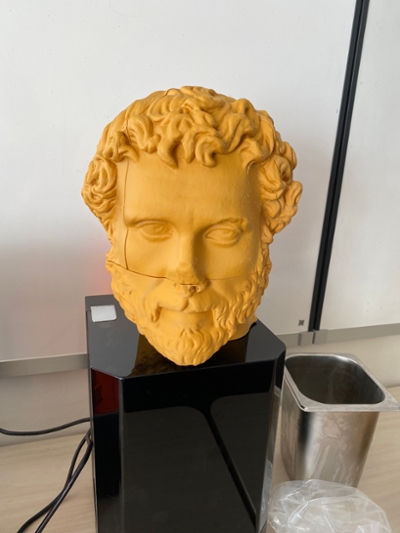 Israel is sitting in the office's new location in Jewett Hall, where three printers hum gently in the background as they gradually assemble their objects. A bust of Roman emperor Antoninus Pius is being constructed piece by piece, the replica of an original artifact that sits in the  Bowdoin College Museum of Art.
It's made from a degradable plastic alternative called PLA, and by the time it's complete this piece will have taken around 135 hours to print, says Israel, who is keen for students to know that this technology is available for anyone to come and try out. The design work is done on a computer screen using a software program, he explains, then loaded onto a data card, which is inserted into the printing machine. Whatever you have designed then starts to take shape.
"Some of what we make here is to support faculty in their teaching, such as the bust of Antoninus Pius, which will be used by faculty in the classics department," says Israel. "But we're also here for students who want to make stuff outside the classroom, just for fun. Either I or one my colleagues can be found here most afternoons and early evenings to lend a hand," says Israel.
Standing by to provide training and assistance is student worker Shea Tyrrell '24, whose involvement with this type of technology goes back to his high school days. "I took a class using 3D printers and really got into modeling." By the time he arrived at Bowdoin, Tyrrell already owned his own printer. "Since coming here, I've learned a lot more about the maintenance and repair side of these machines. Once you've mastered the software," he says, "it's a really fun way to create things. Whatever you imagine just starts appearing in front of your eyes!"
Israel and his team are working toward creating what he calls a "bona fide maker space" where students can create and display their noncurricular efforts. "We are also looking for the funding to add a laser engraver and a vinyl cutter to round out our offerings, as that is what the students are asking for," says Israel. "So, whether you want to construct a delicately crafted piece of fine art, a replica Star Wars model, or something more practical like a laptop stand, head over to Jewett."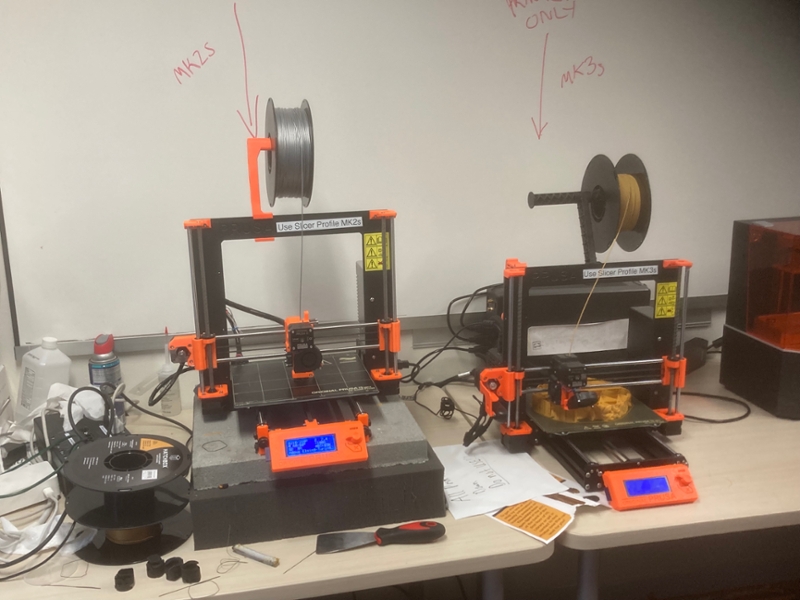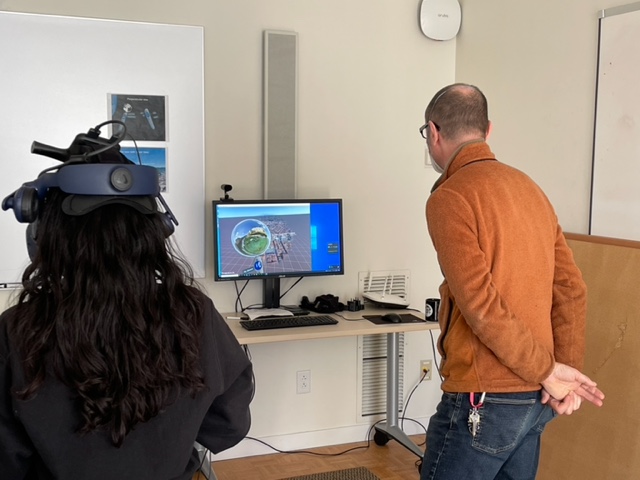 Also available in the Jewett Hall maker space are seven sets of virtual reality goggles, including five pairs of Oculus Quest 2 wireless headsets. These devises, however, are designed more for academic and curricular use, says academic technology consultant Paul Benham.

"They were purchased primarily for class usage. We're happy to demo them with any student, faculty, or staff member but they are not designed to be open access for VR gaming," he stressed.

Among the courses taking advantage of this particular technology is Digital Florence (DCS 2100/ITAL 2100/URBS 2100), taught by Associate Professor of Digital Humanities Crystal Hall, who also directs Bowdoin's Digital and Computational Studies Program.

The VR Lab is currently open 'business' hours - 9am to 5pm. The devices can be booked from the bookings calendar.