Published February 24, 2022 by Tom Porter
Prof. Takematsu Is Latest Bowdoin Scholar to Secure Prestigious Career Grant
More than two years since she first started working on the application, Kana Takematsu is now the proud recipient of the National Science Foundation's most prestigious award, the NSF CAREER Award.
"This grant means a lot to me, as the work builds on my scholarly, teaching, and mentorship efforts at the College," said the assistant professor of chemistry and biochemistry. "It is very special when colleagues in your research field recognize and support your research contributions and ideas."
The award provides more than $458,000 of funding over five years, enabling Takematsu to continue her work as principal investigator on the research project Bridging Photoacids and Photobases with Schiff base Platforms.
The project: "Protons or H+ ions play important roles in many chemical and biological processes," explained Takematsu, "and we are interested in developing photoacids and photobases, molecules that undergo the exchange of protons in response to light. Imagine being able to use a light switch and optical lens to control exactly when and where a proton exchange occurs to initiate larger reactions."
What it means: Potential applications of these molecules cover a broad array of areas, said Takematsu, from lithography to the harnessing of solar energy. "I am excited that this project will support building an inclusive research and classroom culture at the College, fostering scientific identity and belonging in our students. A team of undergraduate students will begin working on this project this summer," she added.
"In the classroom, our students remind us of the joy, curiosity, and personal connection we all have to science. In my research, my students and I are truly a team, working together to solve photochemical problems," she continued. "In the next years, I look forward to continuing to build a welcoming and supportive science community at Bowdoin."
The grant process: "This type of research grant really represents the pinnacle of all the awards offered by the NSF," said Director of Sponsored Research Cara Martin-Tetreault, whose office plays a crucial role in helping faculty access these kinds of funding opportunities. Around 2,500 scholars, mostly from the sciences and social sciences, apply for NSF career grants annually, she explained, of whom about one in five are successful. "These awards are designed to help faculty early in their career, specifically those on a tenure track." 
Applicants, she explained, have to present an ambitious but feasible integrated plan for research and education with their proposal. "The NSF wants to hear a compelling argument explaining how your proposed project will achieve effective integration of, or synergy between, research and education activities." The application also requires detailed budget proposals. "Every dollar requested has to be justified," said Martin-Tetreault. "Some applications are turned down because the amount being proposed is considered too high, while others are rejected because the sum proposed is thought to be insufficient for the scope of the project."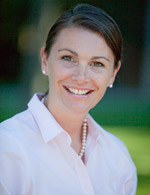 Martin-Tetreault said the application process is an arduous one: "It involves a fifteen-to-twenty-page proposal, but at the end of it is the enticing prospect of five years of continuous funding, which is so useful for young faculty, enabling them to attend conferences, hire research assistants, publish papers, and do whatever is takes to ​be an active scholar in their respective field." 
Bowdoin has been successful in securing these career grants, she added. "We have averaged about one every three years over the last twenty-five years. Currently, Associate Professor of Chemistry and Biochemistry Benjamin Gorske has an active career grant, awarded in 2018. Biology professor Jack Bateman secured one in 2013, which set him up to successfully secure another federal research grant worth more than $400,000 by the National Institutes of Health, to study gene behavior."
There are, of course, many more grants out there than the NSF CAREER Award, said Martin-Tetreault. "The foundation also offers two-to-four-year research, equipment, and conference grants, and Kana Takematsu's award is one of twenty-four active NSF grants at Bowdoin."
Check out this link for more information on sponsored research at Bowdoin.