Published February 22, 2022 by Tom Porter
Linda Nelson '83 to Receive 2022 Common Good Award
A woman both of ideas and action, Nelson has been a singularly powerful advocate for the arts, the nonprofit sector, and the impact that cultural activities can have on communities in the state of Maine.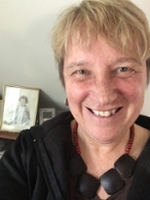 Her pioneering work at the intersection of the arts and community development, which involved building an arts venue that became a beacon for Nelson's town, island, and region, has helped transform the cultural landscape of the state.
As a student at Bowdoin, Nelson was a vocal leader of the burgeoning communities of women and LGBTQ students on campus. Her work as a cofounder of the Women's Resource Center and a member of the Gay Straight Alliance and the Bowdoin Women's Association helped make Bowdoin a more welcoming place for her contemporaries and for the generations of women and LGBTQ students who followed. Nelson also found time to be a member of the softball team and the Bowdoin orchestra.
Nelson has decades of experience in the media industry, working at various times as reporter, writer, editor, and new media pioneer and designer. In the mid-1980s, she moved to New York City, where she was hired by the Village Voice, America's first alternative weekly paper. She went to serve as chief information officer of the Voice for six years in the 1990s.
In 1999, while both a part-time resident of Stonington, Maine, and an executive of a New York City-based consulting firm, Nelson and her wife, Judith, along with two other women, began the process of restoring the Stonington Opera House, both as a physical landmark and as a vibrant community hub for arts and culture. Nelson served as founding executive director of Opera House Arts from 1998 to 2015. She relocated permanently to Stonington in 2001, becoming increasingly integral to the local community and to the network of arts and nonprofit organizations across the state in the years that followed.
In addition to her work with the Stonington Opera House, Nelson served as a member and later as assistant director of the Maine Arts Commission and was deputy director of Portland Ovations. She currently serves as vice president and board member at the Maine Association of Nonprofits as well as being interim director, cofounder, and steering committee member at the Cultural Alliance of Maine. These experiences have helped Nelson understand and advocate for the ways in which the arts can bring people together and lift communities.
The greatest example of the impact of the arts on local communities remains Nelson's signature achievement, the restoration of the flourishing Stonington Opera House. More than just a venue for theater, music, film, and other artistic and cultural events, it has been described by residents as "an educational institution," "an anchor," and a place that "ties the town together." As residents often put it, the Opera House is "the island's living room. 

Established in 1994 on the occasion of the Bowdoin College Bicentennial, the Common Good Award honors those alumni who have demonstrated an extraordinary, profound, and sustained commitment to the common good, in the interest of society, with conspicuous disregard for personal gain in wealth or status.

Common Good Award recipients personify the idea of the common good as set forth by Bowdoin's first president, Joseph McKeen. In his inaugural address on September 2, 1802, McKeen reminded his audience, "It ought always to be remembered that literary institutions are founded and endowed for the common good and not for the private advantage of those who resort to them for education. It is not that they may be able to pass through life in an easy and reputable manner, but that their mental powers may be cultivated and improved for the benefit of society."