Published February 22, 2022 by Tom Porter
Kate Stern to Receive 2022 Alumni Award for Faculty and Staff
Kate Stern is being honored for her profound impact on Bowdoin's campus culture of inclusivity and on the many students she has helped to feel at home at the College.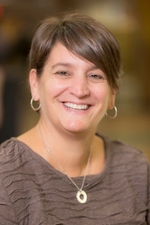 As associate dean of students for inclusion and diversity and director of the Center for Sexuality, Women, and Gender, Stern has used her warmth, genuine concern for students and the Bowdoin community, advocacy skills, and passion for positive change in moving the College significantly forward toward the goal of being a place that is welcoming to all.
Since arriving at Bowdoin in 2008, Stern has produced what one colleague described as "a seismic shift" at the College, through her vision, leadership, and individual work with so many students. It has been her commitment to the "quiet, one-on-one work" with LGBTIQA students, women, students of color, first-generation students, and students from low-income families that has enabled many of them to succeed, thrive, and feel a part of the Bowdoin community.
Her influence and drive to make Bowdoin a more inclusive campus is felt in every corner and in every programmatic area: in residential life, for example, with innovations like gender-neutral housing and bathrooms; in athletics, with the establishment of the Anything but Straight in Athletics group and the Fearless Project; and with programs such as OutPeers, OutAllies, and SafeSpace, all of which have grown significantly in participation and impact under Stern's leadership.
Her work with alumni has been equally impactful. According to a colleague, Stern has "reached across the years to alumni with complicated histories and relationships with their alma mater and signaled to them that Bowdoin is ready to know them fully and welcome them back." Another colleague credits Stern with the fact that many LGBTIQA alumni now feel more connected to each other, to current students, and to the College than they had ever felt before and describes her as "caring, nurturing, realistic, strategic, optimistic, and productive."
Stern is recognized for her relentless drive to open Bowdoin's arms to students and alumni of all identities, and for her profoundly important work in "creating an environment where everyone feels like they belong." For such tireless dedication, the Alumni Council has chosen Stern to receive the 2022 Alumni Award for Faculty and Staff, presented each year for service and devotion to Bowdoin, its students, and its alumni.