Published February 22, 2022 by Tom Porter
D. Ellen Shuman '76 to Receive Alumni Service Award for 2022
D. Ellen Shuman, distinguished member of the Class of 1976, has been described as a pioneering leader and a steadfast servant of the College who has leveraged her extraordinary accomplishments at Bowdoin, and beyond, to help provide opportunity for others.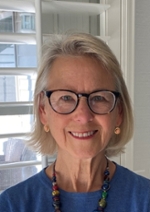 In her two decades as a member of the Board of Trustees she played vital roles, as vice chair of the board and chair of the Audit Committee, in the steady governance of the College, consistently prioritizing progress and performance over recognition. She also served for twenty-one years on the Investment Committee and was instrumental in selecting the College's first investment professional, Paula Volent. As one fellow graduate stated, her "devotion to Bowdoin has been tremendous."
As an undergraduate at Bowdoin, she was not only the consummate well-rounded student but also succeeded at the highest level in everything she pursued. Magna cum laude in art history and a member of the College orchestra, Shuman broke records—and barriers—as one of the finest divers in the history of Bowdoin's swimming and diving program. As no women's program existed at the time, she joined the men's team and became the program's first New England diving champion and a six-time All-New England athlete. Shuman also made history as the only woman ever to reach the final of the men's New England Diving Championships.
After earning an MBA from Yale University, Shuman embarked on a long and remarkable career in institutional investing on behalf of endowed colleges and foundations, working as director of investments for Yale's Investments Office, as vice president and chief investment officer for Carnegie Corporation of New York, and as founder and managing partner at Edgehill Endowment Partners. In 2014, she was honored with the Investor Lifetime Achievement Award at Institutional Investor magazine's Investment Management Awards. Throughout her exceptionally successful career, Shuman also devoted significant time and expertise to supporting the careers of other alumnae, frequently organizing, sponsoring, and enthusiastically participating in networking events for Bowdoin women.
She served on Bowdoin's Alumni Council from 1987 to 1991, becoming only the second woman president of the council. In 2006, Shuman established the Paul H. Douglas Scholarship Fund at the College, which specifically supports students who are committed to serving the common good.
The Alumni Service Award is presented each year in recognition of an individual's record of volunteer service to the College.