Published January 31, 2022 by Jane Godiner '23
#MeToo Movement Leader Shares Voice with Bowdoin
Filmmaker, writer, and advocate Tanya Selvaratnam visited Bowdoin for a virtual lecture and Q&A last week to speak about her gut-wrenching memoir, Assume Nothing: Breaking the Stigma of Intimate Abuse and Survival.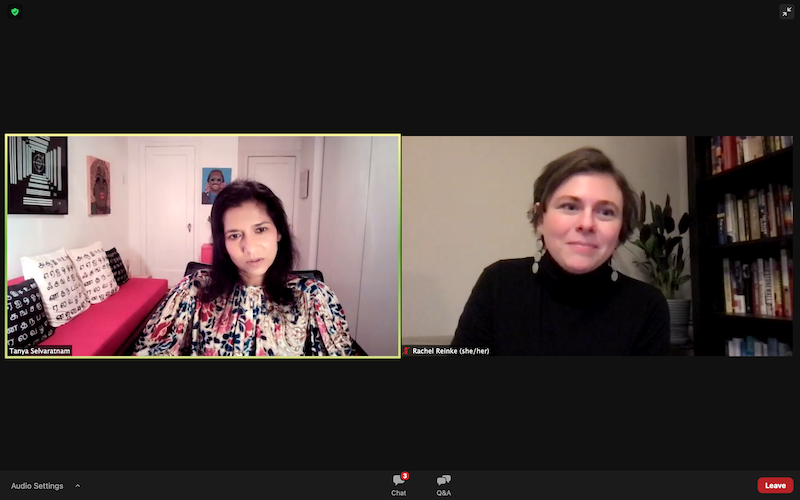 The Bowdoin College Office of Gender Violence Prevention and Education, the Center for Multicultural Life, the Sexuality, Women, and Gender (SWAG) Center, and Bowdoin Healthy Relationships (BeHeRe) sponsored her visit.
Selvaratnam, both in her book and during her engagement at Bowdoin, gave a raw, unadulterated account of her physically, mentally, and emotionally abusive relationship with New York State Attorney General Eric Schneiderman. When she liberated herself from the relationship she recognized that she was not alone in her experience of intimate abuse and became motivated to share her story.
"I had decided to come forward after I realized I was part of a pattern," said Selvaratnam. "It wasn't just my story; other women shared it, and I had to tell it to help prevent others from having it become their story too." 
While her outcome ends in triumph, Selvaratnam emphasized that her decision to share it with the world was unexpected—even to her.
"When I first got out of the relationship, I was focused on my own healing and recovery. I was broken, and I had no intention of coming forward," Selvaratnam said. "I discovered about a month later that he had abused a woman almost a decade before me." She worried there may have been other women, too. "I knew that I had to do something to stop it."
"It's a very common situation for survivors to think that they're responsible or think that they're alone," Selvaratnam said. "So I had a clear objective to warn other women about him and to highlight the hypocrisy of men who claimed to be champions of women publicly, but abuse them privately."
She also used her lecture as an opportunity to remind the Bowdoin community that there is not one single "type" of abuse survivor, and that intimate violence can and does happen to a wide variety of people. 
"A friend said he had been shocked about what had happened to me because he thought of me as fierce, independent, and an advocate for women's rights and safety," Selvaratnam said. "But when I met Eric, I was on a trajectory of recovering from a series of health issues. Then my path intersected with Eric's, who I would later discover had a history of breaking strong women down. I was ripe for the breaking. It was the perfect storm."
Selvaratnam hopes that her book will inspire future survivors to share their stories without the feelings of shame and doubt that she experienced while sharing hers.
"We have to take the shame and stigma out of it, because secrecy comes from that stigma, and that secrecy leads to perpetuating the cycle of violence, which we are conditioned to normalize from the time that we're born," Selvaratnam said. "We're born into trauma, and we need to figure out how to combat that trauma, and also to figure out how to live our most pleasurable lives—and that is by making peace and kindness more exciting than violence."
Selvaratnam also intends for Assume Nothing to expand beyond the scope of her personal story to address systemic issues surrounding relationship violence.
"The systems that we've inherited were designed by and for the needs of men; there is a kind of hysteria going on right now because that power is being eroded," Selvaratnam said. "We've seen it in the uprisings of #MeToo, and we've seen it in the Black Lives Matter movement, and with the protests against racial injustice that started early in the pandemic. These are all threats to the dominance of male and largely white power." 
At the end of her speech, she cited poet Muriel Rukeyser's iconic line, "What would happen if one woman told the truth about her life?/The world would split open." 
"Thank you for listening to my story," Selvaratnam said. "By doing so, you have helped me realize the power of my voice. Let's split the world open together."