Published January 14, 2022 by Rebecca Goldfine
How an Academic Paper Led a Professor and Recent Grad to Offer Aid to a City in Peru
What started as a literary article about an important port city of the Amazon turned into an effort to help local people severely sickened by COVID-19.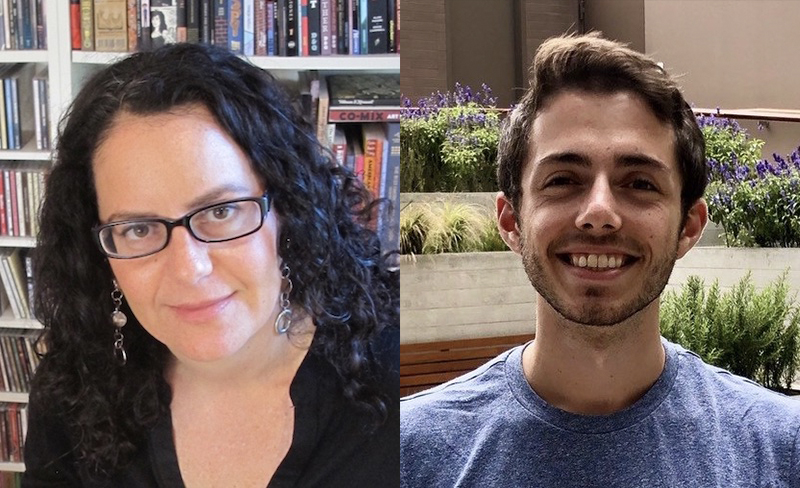 Last year, Associate Professor of Romance Languages and Literatures Carolyn Wolfenzon was working on a scholarly paper about literary and cinematic representations of Iquitos for a new academic publication, The Palgrave Encyclopedia of Urban Literary Studies. The encyclopedia's intention is to explore "how cities have created literature...and how literature has shaped cities" all around the world, its editor, Jeremy Tambling, said. 
Iquitos, a metropolis of approximately half a million people, is considered the gateway to the Amazon rain forest. Accessible only by plane or boat, it is one of the most remote cities in the world. It is also the setting for many novels by Mario Vargas Llosa and other influential Latin American and European writers and filmmakers.
"The jungle has been a place represented in fiction since the Spanish conquest," Wolfenzon said, "so I started doing research about how it has been treated by many authors and in movies."
In her article, "Iquitos: The Big Island of the Jungle and Its Literary Representation," she discusses works from colonial times to present day. "Since ancient times, Iquitos and the jungle in general have been places so remote and little-explored by man that they lend themselves to fiction," she writes. "They are an inspiration to create imaginary spaces."
The jungle has been and continues to be exploited for resources that appear to be limitless, Wolfenzon said—from rubber to oil—leading to the devastation of the natural environment.
Also, these days, the rain forest is seen as an infinite supplier of oxygen; it is one of our remaining fragile bulwarks against climate change. If left untouched, the jungle's dense vegetation can sop up much of the excess carbon dioxide from our emission-spewing societies.
Iquitos and the surrounding rainforest have captivated writers and filmmakers from South America and around the world, including Werner Herzog and Jules Verne.
In her article, Wolfenzon includes analyis about many of these representations, including César Calvo Soriano's Las Tres Mitades de Ino Moxo y otros Brujos de la Amazonía; Miguel Donayre Pinedo's El insomnio del perezoso; Mario Vargas Llosa's El Hablador, El sueño del Celta, and Pantaleón y las visitadoras; Gustavo Faverón's Vivir abajo; Abel Posse's Daimón; José Eustasio Rivera's La Vorágine; and Melina León's film Canción sin nombre.
Yet, despite its abundant resources, Iquitos is one of Peru's poorest communities, with more than 60 percent of the city's population classified either as poor or extremely poor. 
Midway through her research and literary analysis, Wolfenzon began to read news reports about the ravages of COVID-19 in Iquitos. "People were dying in the streets," she said, unable to procure oxygen from local hospitals. "There were hundreds of people lining up for one oxygen tank."
The clinics—underfunded for years—did not have enough tanks to help those whose lungs were scarred by the virus. "For me, Iquitos—like Manaus in Brazil—is the lungs of the Earth," Wolfenzon said. "It was so paradoxical—these are people working for oil and rubber companies and in sex industries. They are exploited people, and they don't have oxygen despite living in the forest that provides lots of oxygen."
She emerged from her abstract world of ideas and metaphors, determined to help on the ground. "I was reading all this literature and felt I needed to do something but didn't know what to do logistically, which is where Jacob enters."
She reached out to her former honors student Jacob Baskes '20 to ask whether he could help set up an online fundraiser. Their goal was to raise enough money to buy several portable and relatively simple oxygen machines, concentradores de oxigeno, which can be used in patients' homes without intubation. 
Baskes set up a six-week GoFundMe page, and the two started to spread the word through social media. In the end they raised about $8,000 from more than 100 people to buy five reliable oxygen tanks. Together, they figured out the logistics of getting the machines to a clinic in Iquitos with the help of a connection Wolfenzon has in the city.
Two months after the fundraiser, Baskes started a new job in public health, as a junior associate for the international consulting organization Global Health Strategies, based in New York City. It serves foundations and companies pursuing global health initiatives or investments around the world, including the World Health Organization and the Gates Foundation. Baskes says he uses his Spanish and French language skills frequently in his position. 
At Bowdoin, Baskes majored in physics and Romance languages, and said he's drawn to public health for its humanitarian focus. "You can't talk about global health or public health without also discussing and addressing inequality as well," he said.