Published December 03, 2021 by Bowdoin News
Trustees Recognize Contributions of Retired Senior Vice President of Inclusion and Diversity Michael E. Reed
The Bowdoin College Board of Trustees recognized the valued contributions of Michael E. Reed, who retired at the end of September as senior vice president for inclusion and diversity, during meetings held virtually October 14–15, 2021.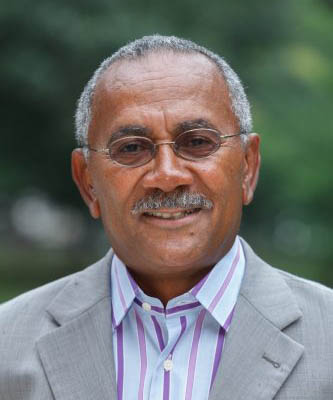 Trustees approved a resolution of appreciation for Reed, noting his dedication to the work of diversity, equity, and inclusion and extending to him a statement of profound thanks for his contributions to the College.
Reed joined the College in March 2018 following a long and accomplished career in the work of diversity, equity, and inclusion, including many years at Williams College, his alma mater, and later at Dickinson College.

He was also one of the founders of the Liberal Arts College Diversity Officers organization, and for many years has been a trusted professional resource for diversity professionals at a number of colleges and universities.  
"Michael has played a pivotal role in creating the next chapter in our work at Bowdoin on racial justice, including the three pillars of sustained programming and education, changes in practices and structures, and efforts to better understand our institutional history with regard to race," said President Clayton Rose in a message to the campus community.

"He has also been instrumental in enhancing the recruitment and interviewing process for new faculty and staff through training and direct engagement with the hiring process." 
Reed coordinated the sharing of information across all divisions of the College and has been an important confidential advisor and sounding board to students, faculty, and staff, Rose said. He also worked directly with trustees, especially with the board's Committee on Inclusion.