The Art of the Process
Published by Rebecca Goldfine
In preparation for the end-of-semester Visual Arts Open House, the students in Painting II did not clean out their studio spaces. Instead, their canvases remained on easels—some with notes afixed on top, "Work in Progress!" Prints stayed tacked on walls, and paintbrushes remained primed for use.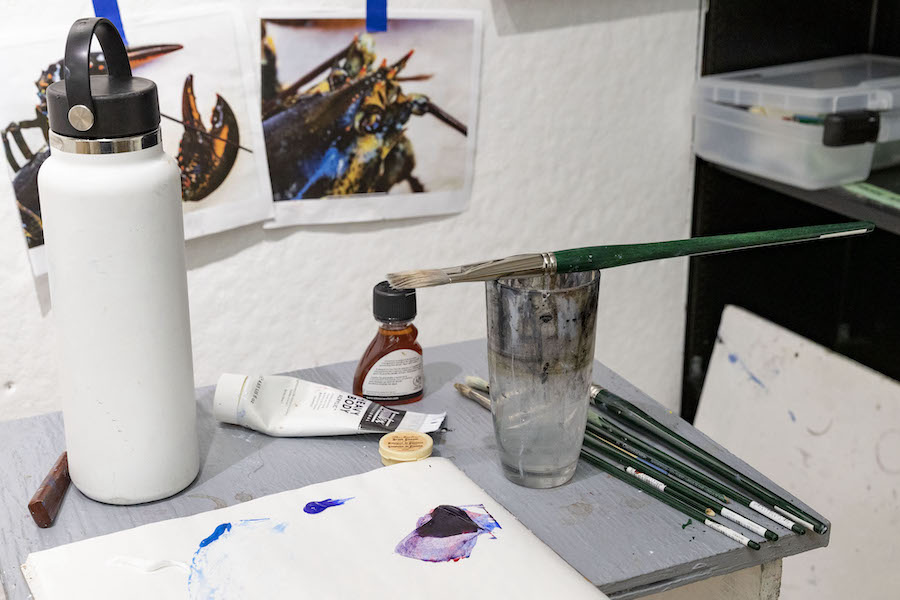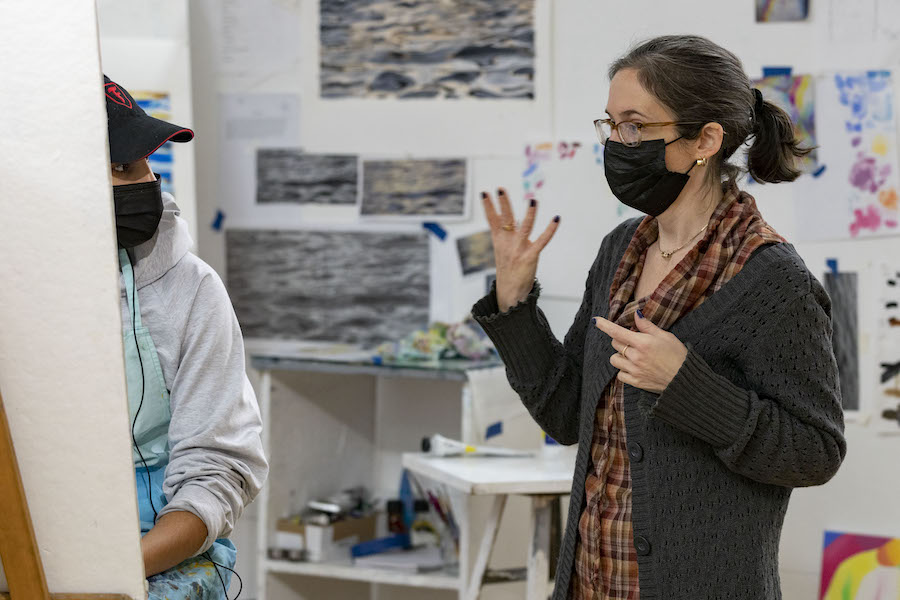 When visitors to the Open House stopped by, they were able to view not just completed paintings, but also get a glimpse into the process behind the students' artworks.
This openness reflects a foundational theme of the class, taught this semester by Hilary Irons, adjunct lecturer in art. "One of the goals of the class is to let the process inform the outcome of the work and the path the students take," Irons said.
Experimenting—with new subjects, themes, and materials—is an important component as well. And with experimentation and trying new things comes the specter of failure. Bowdoin's art department, however, is encouraging students to reframe their ideas around perfection and the sometimes faltering path one must take to achievement or resolution. 
"Taking risks and 'failure' are important parts of a creative journey and often provide more value to an artist than the final masterpiece created," Visual Arts Academic Coordinator Gina Edwards said.
On the Monday morning before the Friday Open House, Blythe Chase '23 was adding details to her floral painting. When asked what she had liked most about Painting II, she said she appreciated how Irons would introduce an assignment every two or so weeks without imposing deadlines, allowing projects to flow into one another.
"In the past, I would always be focused heavily on one project at a time and they felt separate in my mind," she said. "In this class, we work on multiple projects at once and it has helped me not get too weighed down on the details of one project and to freely share ideas between them."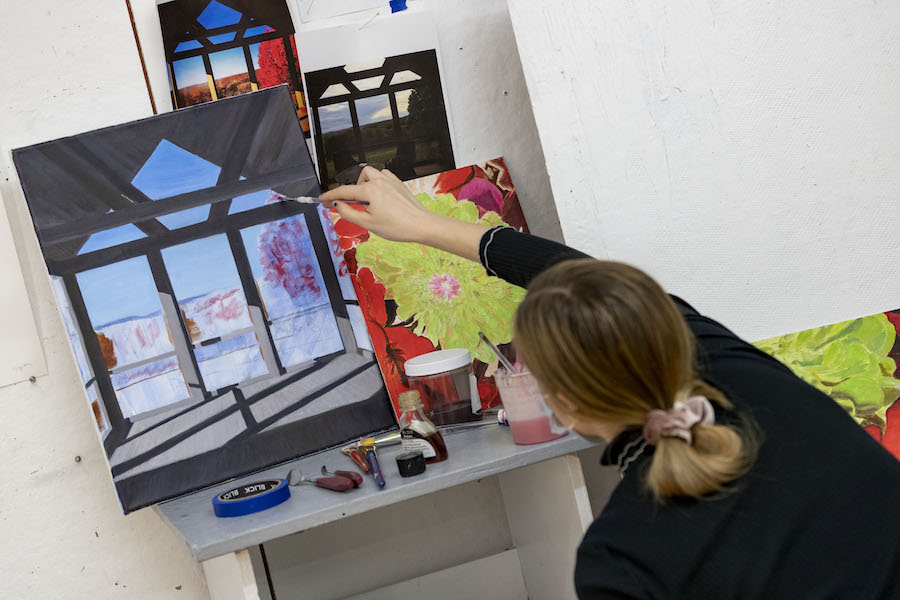 She held up her paintbrush, tipped with a red brick color. "Right now, I'm painting a red rose, but I can apply this red over here," she said, and leaned over to reach a landscape painting with traces of autumnal trees, flicking her brush over the background. "See, I can just add some red here! I'm less perfectionistic in my work, and not worried all the time. It's much more fluid," she said.
Isaac Gelb '23 was standing in front of two self-portraits he had painted in a cubist style. He said the class had given him the freedom to pursue what he was interested in, and he had used the opportunity to study cubism and consider the role of time in his art and artistic process.
"A helpful part of the class has been thinking of assignments and projects as multiple connected parts," he said, "and forming long-term ideas and goals and learning to develop them into a visual series."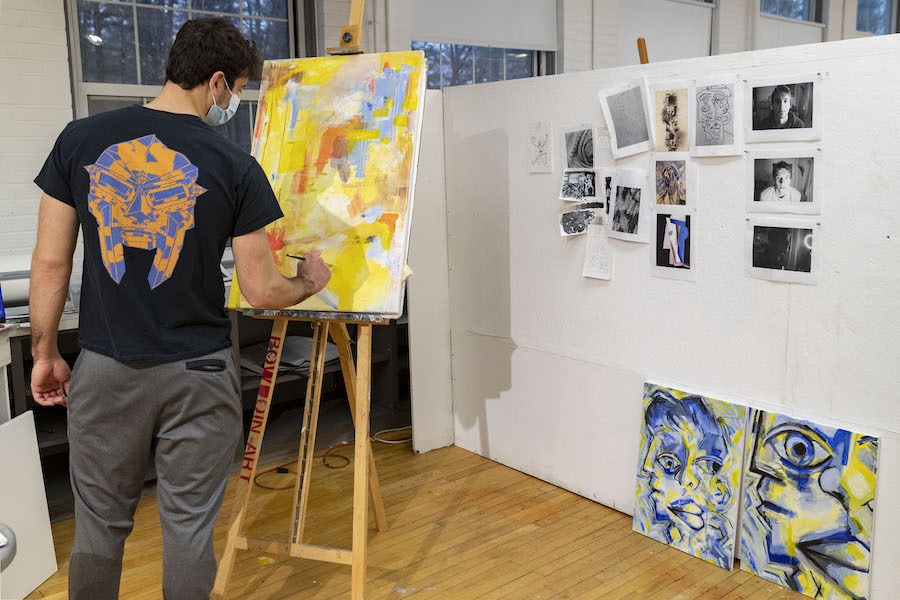 Tyrese Duncan-Moore '22, an Africana studies major who has taken several art classes, was working on a painting of candles. "I'm interested in how light works and how to represent light through paint," he explained.
One of the most valuable aspects of the class, for him, had been the chance to work at his own pace (as long as everything was done by the end of the semester!, he added). "It was hard to adjust at first but I eventually fell into a rhythm of making personal goals for my projects," he said.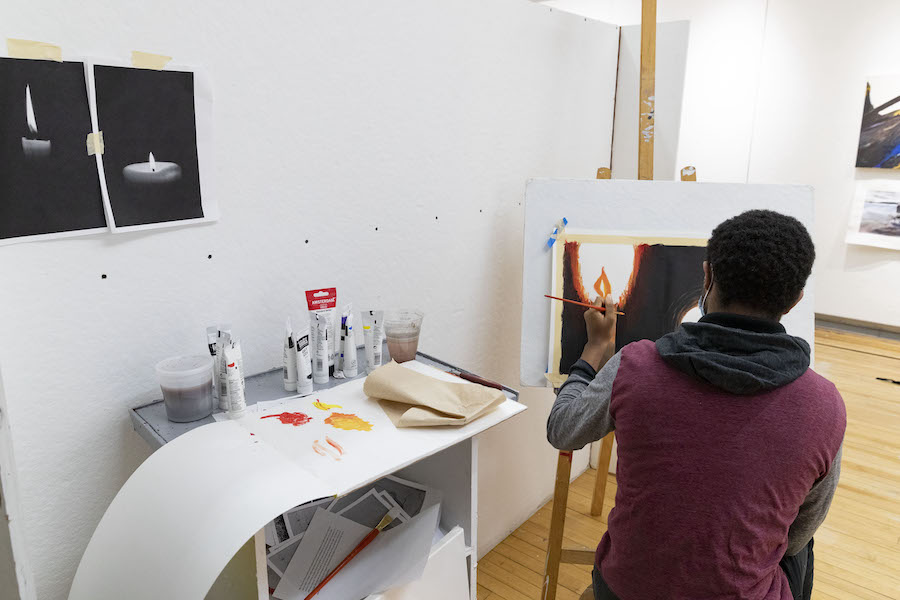 In the next cubicle over, Michelle Behshid '22 was working on a series of paintings of a gleaming motorcycle. "I'm a realist," she said. "But this class has helped me adopt a new style and be looser and less hard on myself. It's been fun." She plans to give her painting of the Harley-Davidson bike to her father, who owns a mechanic shop in Santa Clarita, California.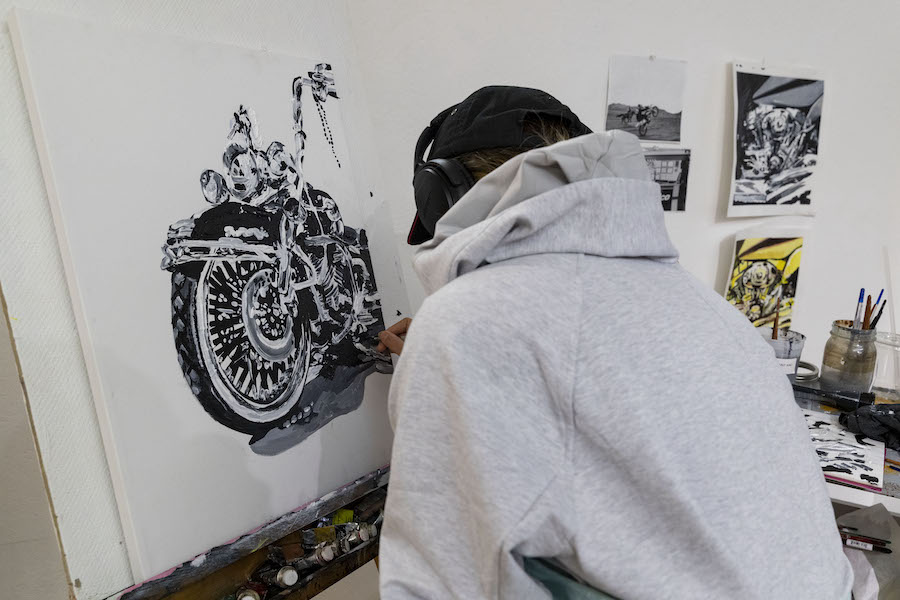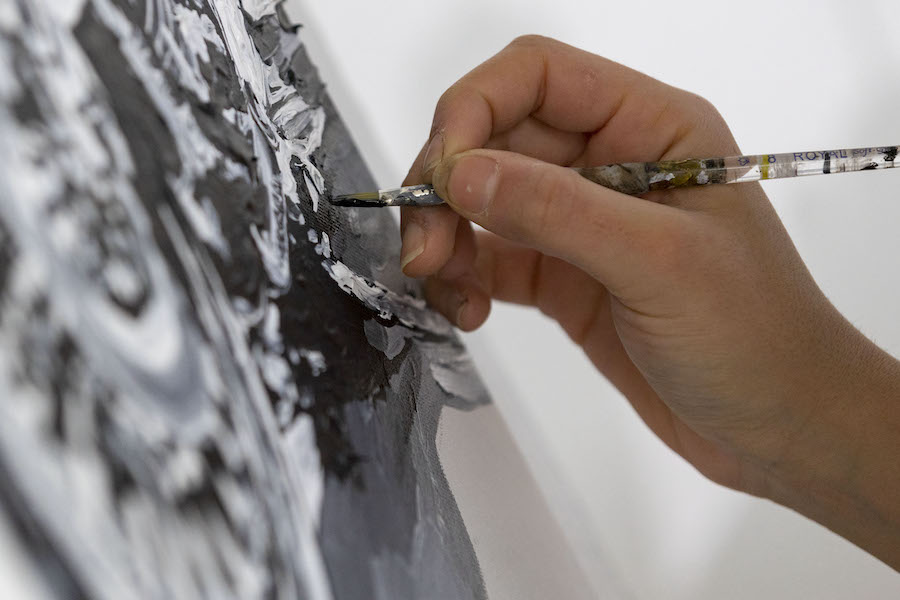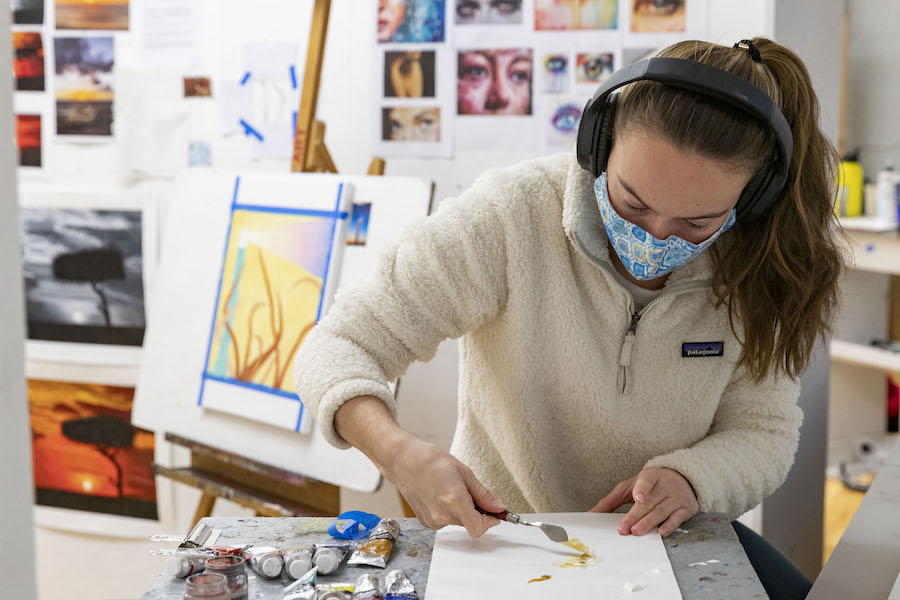 Teagan Cunningham '22 is a visual arts minor (and earth and oceanographic science major) and is also on the sailing team. She said the painting class, with its emphasis on self-direction, had at times left her staring into space, making no clear visible progress on her canvas.
But she likened this to the practice of sailing, in which you can keep repeating skills over and over without seeming to advance. Then, suddenly, you will have a breakthrough. "You have to change how you're looking at the process," she said. "It's not that you're not making progress, the ideas are generating, they'll come."
And in the last week of class, Cunningham "made a major breakthrough with her last piece, a material-based painting featuring a close-up of an eye," Irons said. "It was a great confirmation of the power of process."
"Inside the painter's studio, windows into many worlds are in various stages of opening and closing. ... "
—Gallery statement by Hilary Irons, professor of Painting II,
Continue reading Hilary Irons's gallery statement below. Photos by Andrew Estey.