Published December 15, 2021 by Jane Godiner '23
Annie Kaempfer '04 Releases Film about a Falconer Who Heals Birds and Humans
A
new film
by Annie Kaempfer '04 that chronicles the life of a master falconer is attracting attention across the country, including at the Twin Cities Film Fest, the Atlanta Film Festival, and the Environmental Film Festival.
The Bowdoin community got a chance to watch The Falconer this semester after several departments and programs—the Baldwin Center for Learning and Teaching, Bowdoin Outing Club, Departments of Education and Cinema Studies, Environmental Studies Program, McKeen Center for the Common Good, and Sustainable Bowdoin—sponsored a screening in Kresge Auditorium.
Described by Kaempfer as a "story of empowerment through nature," the film follows master falconer Rodney Stotts, whose mission is to build an urban bird sanctuary with the help of underserved teenagers in Washington, DC. "This is a story of second chances: for injured birds of prey, for an abandoned plot of land, for a group of teenagers who have dropped out of high school, and for Rodney himself."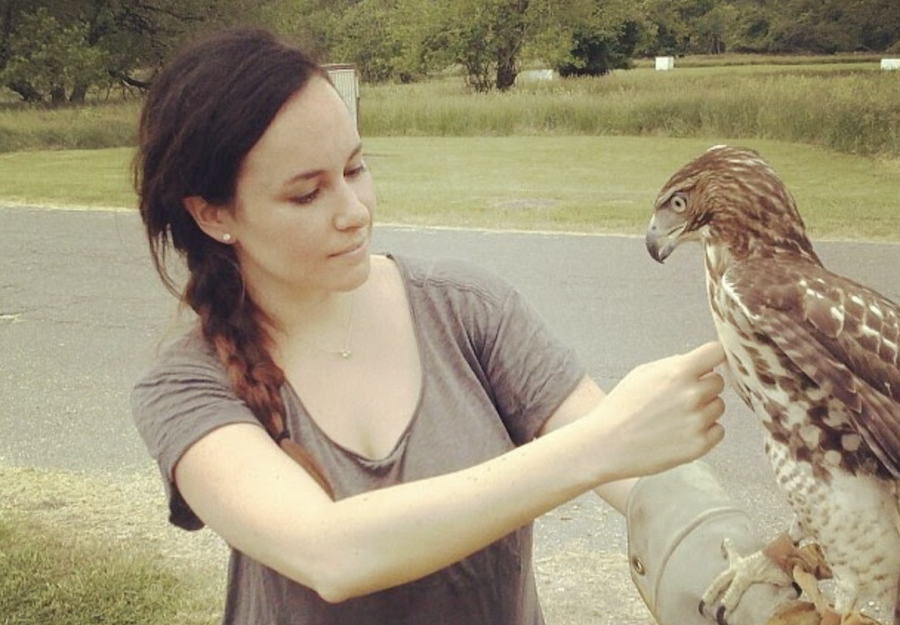 Kaempfer, who was a visual arts major at Bowdoin, developed a close working relationship with Stotts after her aunt introduced them in DC. "My aunt got his card and said that I should go visit him," said Kaempfer. "When I did, I was really struck by how generous he was with his time. I was just really interested in what he was doing."
While Kaempfer, then pursuing her master of fine arts degree in film writing and directing at New York University, did not initially plan to execute a larger film project about Stotts, she took every opportunity to put him in front of the camera. 
"I don't even know if I brought a camera the first time that I visited him, but I ended up going back on weekends" to visit him in DC, Kaempfer said. "I filmed homework assignments for my documentary directing class—things like interviewing somebody and having three camera angles. I would film him when I needed to do things like that."
She realized that they shared a lot in common, especially after Stotts confided to Kaempfer about how his failure to procure nonprofit grants for his sanctuary, Rodney's Raptors, had not deterred him from pursuing his vision.
"I thought that it was sort of the same attitude you need for independent filmmaking," Kaempfer said. "You're probably not going to get some magical big grant from Sundance or the Ford Foundation—you're going to have to scrape together the funds, do what you can on your own, and see what happens."
After recording Stotts for seven years, Kaempfer's result was The Falconer, a movie that, according to her personal statement, "weaves Rodney's present-day mission with the story of his past, both of which are deeply rooted in issues of social and environmental injustice, and consistently orients the viewer to his worldview: nature heals."
"I had to sort of construct a story arc—there wasn't a natural one with the footage that I had, because it was just more a portrait of his life, his family, and things like that," Kaempfer says. "I was glad to be able to include things like his poetry, and I do think [the film] really benefits from the personal side, which I don't think I would have gotten had I just come in, the story unfolded, and I left."
She always knew, however, she had a remarkable story to share. "I feel like when you're filming, there are just some moments where you're looking through the camera, and you're like, 'Oh, this is it; this is a scene," Kaempfer says. "You just know that this is going to be an amazing thing."
Since the film's release, Kaempfer has been busy with film festival premieres and media attention. But she has also taken time to use The Falconer as an educational tool—to address both environmental issues and the environmental racism that Stotts faces as a Black birder.
"The hour-long version was on PBS in early June, which was fantastic because it coincided with Black Birders week," says Kaempfer. "There were some awesome virtual discussions and a lot of community events around it that week."
Not only has The Falconer drawn attention to Stotts's dynamic and emotional story, but the production of the film has also been personally gratifying for Kaempfer behind the scenes.
"The red-tailed hawk that got released in the first scene of the film was definitely what sparked my love of birds and birding," Kaempfer said. "He's the first bird that I held, and he was just so calm. Having these enormous eyes right next to your face when you're holding them is so intense."