Published November 29, 2021 by Jane Godiner '23
Words and Power: How Dictionaries Define Us
"Language is the instrument to create history and also a vision of where the nation is going." — Ilan Stavans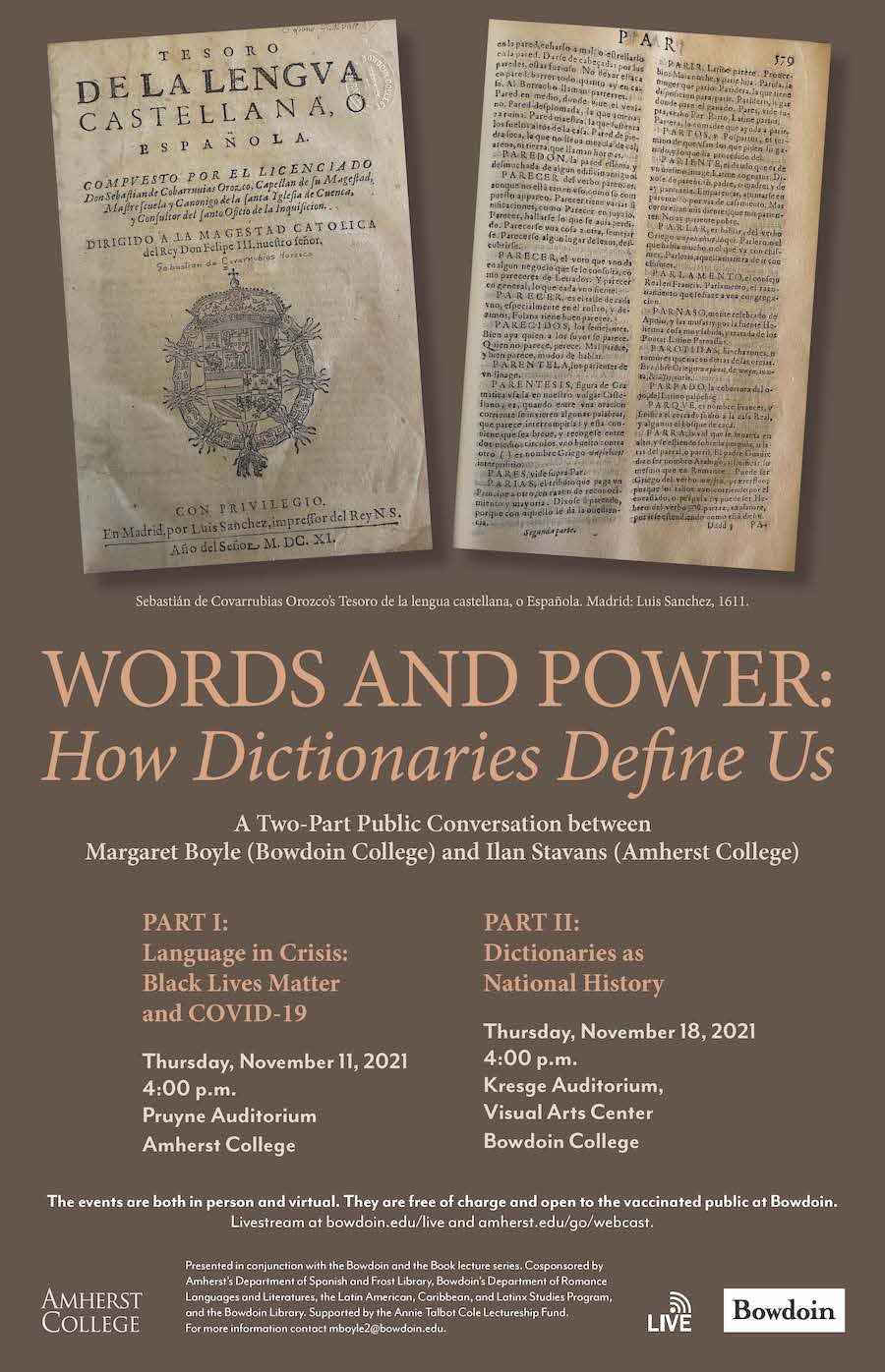 Ahead of Thanksgiving break, Associate Professor of Romance Languages and Literatures Margaret Boyle joined forces with Ilan Stavans, Lewis-Sebring Professor of Humanities and Latin American and Latino Culture at Amherst College, to discuss the impact of dictionaries on evolving national history.
This conversation was the conclusion of Boyle and Stavan's two-part series, "Words and Power: How Dictionaries Define Us." The first part, on the language surrounding Black Lives Matter and COVID-19, took place a week prior at Amherst College.
The two events were tied to Boyle's Hispanic Studies course, A Cultural History of Dictionaries in the Hispanic World. Stavans offered the same class at Amherst, and the two classes regularly connected over Zoom. Additionally, Bowdoin students visited Amherst on Nov. 11, and Amherst students visited Bowdoin on Nov. 18.  
Boyle appreciated the chance to bring the two student groups together. "What a treat to be able to expand our campus community, connecting Bowdoin and Amherst students in person," she said.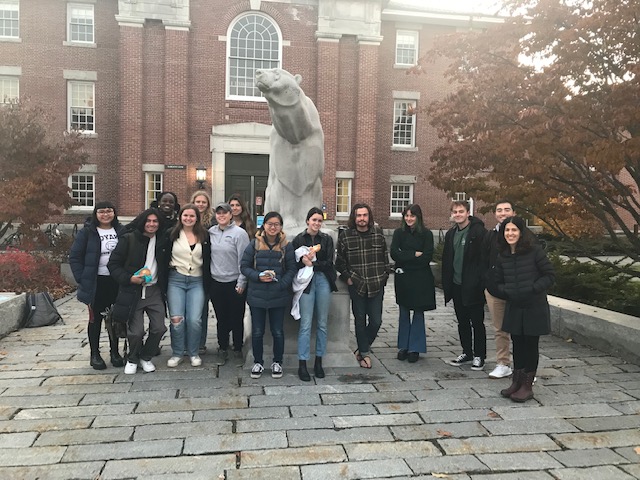 "I am indebted to my students for their enthusiasm, engagement, and generosity, thinking about the history of Spanish dictionaries and their presence into our future. We know Spanish is the second-most common language in the US, but the expectation is that by 2050, we would be the largest Spanish-speaking country in the world—with Spanish used by at least a one-third of its citizens. We know this is going to impact how we think about our dictionaries, too."
At the Bowdoin event, Stavans said that before exploring the specific significance of dictionaries in national history, he thought it necessary to discuss the significance of language itself.
"There is no nation without language, because there's no collectivity without a language—language is more than simply the way that the nation communicates with itself," Stavans said.

"Language is the instrument to create history and also a vision of where the nation is going."
Boyle used Stavan's thoughts as a springboard to reference John Russell Bartlett's Dictionary of Americanisms (1848), which is currently available to view in the College's George J. Mitchell Department of Special Collections and Archives. 
"We've been talking a lot about the pros and cons of what it means to be an individual compiling the dictionary, versus a committee, and I would say that, at the moment, we're celebrating the fact that it's not a single individual," said Boyle.

"A volume that helps us understand English in the context of the United States [is Dictionary of Americanisms]—I'm really attracted to this volume because of its inclusion of slang." 
Stavans was in agreement with Boyle and extended her reference to an analysis about the purpose of dictionaries, as well as the importance of maintaining a running lexical archive.
"The dictionary proves the memory that all these words have in our nation," Stavans said.

"I love how it goes back to the special collections—a particular part of our libraries which are the heart of our institutions, where these special books are delicate in that they tell us the particular stories of who we are or how we came to be."
Boyle later voiced her admiration for the flexibility of the dictionary and argued that, while some might consider the dictionary a highly structured work, there is great potential for creativity. She cited the first Spanish dictionary, published in 1611, as an example of these attributes.
From the course catalog: A Cultural History of Dictionaries in the Hispanic World is designed as a cultural history of Spanish language and cultures through its dictionaries, examining questions of power and authority, collection practices, and how dictionaries change over time. The class approaches asymmetrical relationships between Spain and Latin America, Spanish and Spanglish in the US, and the political, social, and commercial value of language in these contexts. Bringing in the vocabularies of indigenous, enslaved Africans, and immigrant languages, students will engage in an in-depth exploration of lexicographers including Antonio de Nebrija, Sebastián de Covarrubias, Andres Bello, and Maria Moliner. Key works include: 
Tesoro de la Lengua Española o Castellana
, the 
Diccionario de Autoridades
, the 
Diccionario de la Lengua Española
, the 
Moliner
, 
Larousse
, and 
Clav
e. Course is taught in Spanish and Clave. The course is taught in Spanish and will feature regular collaboration with Prof. Ilan Stavans and his students at Amherst. 
"In the prologue of the [first Spanish] dictionary, there's this extended metaphor about when you open the dictionary, it's like you're entering this cave," Boyle said.

"I've done a lot of thinking about the project of making that dictionary, and also all of the kinds of definitions that it contains, which are just fabulously poetic and kind of surprising and counter a lot of our modern ideas about what it means to create these collections." 
Both professors shared their curiosity about the future of the dictionary, as well as the evolution of national culture through vocabulary. 
"You have Urban Dictionary and all this other pseudo-dictionaries that are actually as used as many of the real dictionaries are—a lot of people go to Urban Dictionary all the time," said Stavans.

"Urban Dictionary is a democratic dictionary: for the people, by the people. There will come a time when no one will have objects, because the dictionary is a web page."
"[With an online dictionary,] you don't have to page through the actual volume; you don't need to worry about alphabetical order—and there's a kind of efficiency to that, and we can all appreciate it," Boyle added. "But, then, we may be nostalgic for the object of the dictionary and what it means to hold it."