Published November 18, 2021 by Bowdoin Magazine
Rookie Cards
In July 2020, the athletics department announced that six new inductees, representing nearly seven decades of Bowdoin athletics across nine different varsity programs, will join the eighty other honorees already enshrined in the Polar Bear pantheon.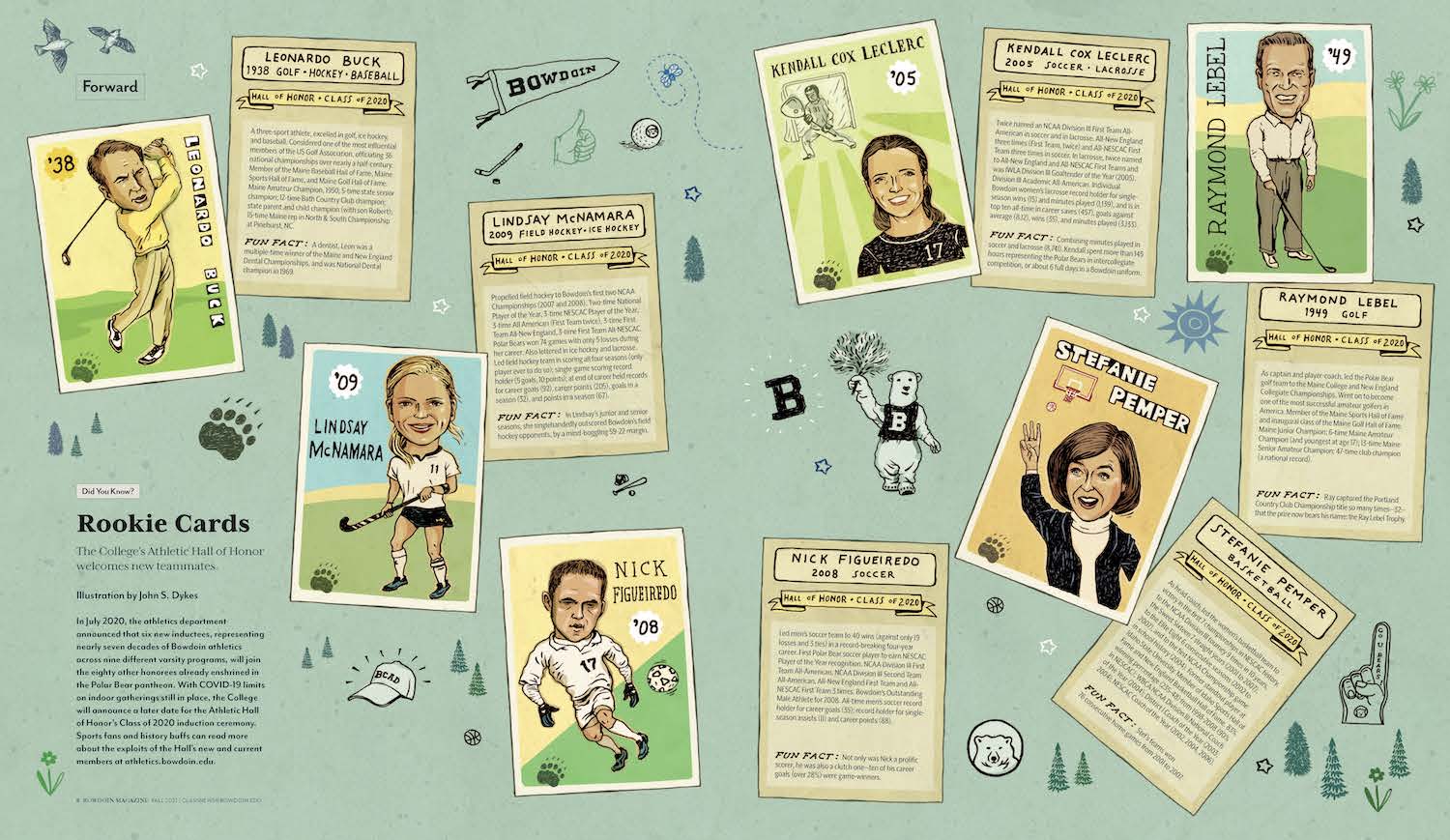 With COVID-19 limits on indoor gatherings still in place, the College will announce a later date for the Athletic Hall of Honor's Class of 2020 induction ceremony. Sports fans and history buffs can read more about the exploits of the Hall's new and current members at
athletics.bowdoin.edu
.
Leonardo Buck 

1938 Golf • Hockey • Baseball
A three-sport athlete, excelled in golf, ice hockey, and baseball. Considered one of the most influential members of the US Golf Association, officiating 36 national championships over nearly a half-century. Member of the Maine Baseball Hall of Fame, Maine Sports Hall of Fame, and Maine Golf Hall of Fame. Maine Amateur Champion, 1950; 5-time state senior champion; 12-time Bath Country Club champion; state parent and child champion (with son Robert); 15-time Maine rep in North & South Championship at Pinehurst, NC.
FUN FACT: A dentist, Leon was a multiple-time winner of the Maine and New England Dental Championships, and was National Dental champion in 1969.
Lindsay McNamara

2009 • Field Hockey • Ice Hockey
Propelled field hockey to Bowdoin's first two NCAA Championships (2007 and 2008). Two-time National Player of the Year, 3-time NESCAC Player of the Year, 3-time All American (First Team twice), 3-time First Team All-New England, 3-time First Team All-NESCAC. Polar Bears won 74 games with only 5 losses during her career. Also lettered in ice hockey and lacrosse. Led field hockey team in scoring all four seasons (only player ever to do so); single-game scoring record holder (5 goals, 10 points); at end of career held records for career goals (92), career points (205), goals in a season (32), and points in a season (67).
FUN FACT: In Lindsay's junior and senior seasons, she singlehandedly outscored Bowdoin's field hockey opponents, by a mind-boggling 59-22 margin.   
Nick Figueiredo

2008 • Soccer
Led men's soccer team to 40 wins (against only 19 losses and 3 ties) in a record-breaking four-year career. First Polar Bear soccer player to earn NESCAC Player of the Year recognition. NCAA Division III First Team All-American, NCAA Division III Second Team All-American, All-New England First Team and All-NESCAC First Team 3 times. Bowdoin's Outstanding Male Athlete for 2008. All-time men's soccer record holder for career goals (35); record holder for single-season assists (11) and career points (88). 
FUN FACT: Not only was Nick a prolific scorer, he was also a clutch one—ten of his career goals (over 28%) were game-winners.
Kendall Cox Leclerc

2005 • Soccer • Lacrosse
Twice named an NCAA Division III First Team All-American in soccer and in lacrosse. All-New England three times (First Team, twice) and All-NESCAC First Team three times in soccer. In lacrosse, twice named to All-New England and All-NESCAC First Teams and was IWLA Division III Goaltender of the Year (2005). Division III Academic All-American. Individual Bowdoin women's lacrosse record holder for single season wins (15) and minutes played (1,139), and is in top ten all-time in career saves (457), goals against average (8.12), wins (35), and minutes played (3,133).
FUN FACT: Combining minutes played in soccer and lacrosse (8,741), Kendall spent more than 145 hours representing the Polar Bears in intercollegiate competition, or about 6 full days in a Bowdoin uniform.
Stefanie Pemper

Basketball
As head coach, led the women's basketball team to victory in the first 7 championships in NESCAC history, to the NCAA Division III tourney 9 times in 10 years, the Sweet Sixteen 7 straight years (2001 to 2007), to the Elite Eight 6 consecutive seasons (2002 to 2007), and to the first NCAA Championship game in school history (2004). Former standout player at Idaho State University. Member of Idaho Sports Hall of Fame and New England Basketball Hall of Fame. 83% winning percentage (235–48) from 1998-2008 (90% in NESCAC); WBCA NCAA Division III National Coach of the Year (2004); District I Coach of the Year (2003, 2004); NESCAC Coach of the Year (2002, 2004, 2006).
FUN FACT: Stef's teams won 76 consecutive home games from 2001 to 2007.
Raymond Lebel

1949 • Golf
As captain and player-coach, led the Polar Bear golf team to the Maine College and New England Collegiate Championships. Went on to become one of the most successful amateur golfers in America. Member of the Maine Sports Hall of Fame and inaugural class of the Maine Golf Hall of Fame. Maine Junior Champion; 6-time Maine Amateur Champion (and youngest at age 17); 13-time Maine Senior Amateur Champion; 47-time club champion (a national record).
FUN FACT: Ray captured the Portland Country Club Championship title so many times—32—that the prize now bears his name: the Ray Lebel Trophy.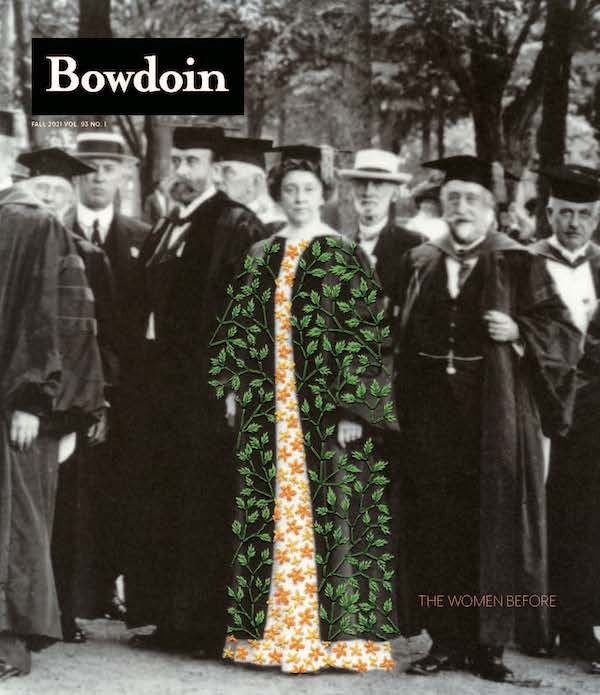 This story first appeared in the Fall 2021 issue of
Bowdoin Magazine
. 

Manage your subscription and see other stories from the magazine on the Bowdoin Magazine website.