Published November 19, 2021 by Bowdoin Magazine
Mapping the Future
Sarah Haggerty '91, a conservation biologist and GIS manager at Maine Audubon, plays a key role in the organization's priority on climate change.
You majored in biology, so I guess it's no surprise that you became a conservation biologist, but was there a way that your Bowdoin course of study influenced your direction or has impacted your work?
I knew I wanted to pursue organismal biology, but when I was at Bowdoin, most of the biology coursework was aimed toward premed students or biochemistry. I found Nat Wheelwright's ecology and ornithology classes, and Amy Johnson's Marine Invertebrate Zoology class, so I was able to get some good courses in. Thanks to that ornithology class, I landed a seasonal job with the US Forest Service conducting goshawk nest surveys in the Pacific Northwest for seven years, and I spent several of the intervening winters working on a California Fish and Game boat conducting endangered fish surveys. Now there are so many more opportunities to study ecological systems and organisms at Bowdoin—it's amazing!
But I was at Bowdoin for more than just biology classes: I minored in music, I took classes in French, Buddhism, and women's studies. For me, the liberal arts education allowed me to feed all my passions, not just one narrow line of study aimed at a career.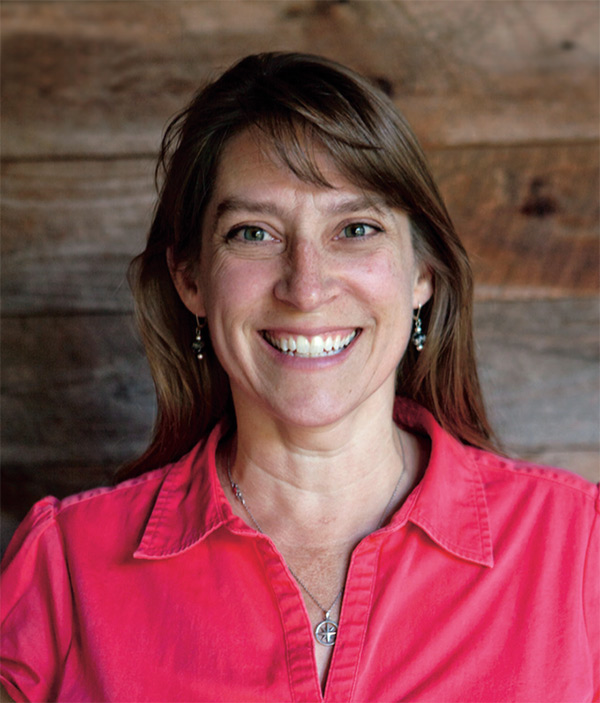 Can you explain a little about what you do in your role as a conservation biologist and GIS manager at Maine Audubon?
The work I do at Maine Audubon has a lot of variety. Much of my work has been related to habitat connectivity, so I've coordinated a Citizen Science project looking at turtle mortality on roadways and I head up the Stream Smart program, aimed at reconnecting aquatic habitats by upgrading road/stream crossings in Maine. I'm also coordinating a project to review insect datasets in Maine, looking for evidence of the widespread insect declines documented elsewhere.
Lately, I've been working much more in the realm of climate change and renewable energy. As part of that work, and using my GIS experience, I led the development of a new renewable energy siting tool, which is an online mapping tool to help guide the siting of solar and terrestrial wind energy projects to avoid or reduce impacts to important wildlife habitats. I'm also part of a statewide team developing data and other materials for the Beginning with Habitat program, and I work with our education department on specific projects like raising Atlantic salmon through the "Fish Friends" program, or giving blacklight demonstrations to look for moths and other insects at our sanctuaries. During the legislative sessions I often work with our directory of advocacy on testimony to address proposed legislation that could benefit or harm Maine's wildlife and wildlife habitats.
Can you tell me a little about your current research?
Most of my work these days is on how to encourage renewable energy development in Maine to combat climate change, but to site this energy development in a responsible way with regard to the environment. To begin that work, I coauthored a report in 2019, "Renewable Energy and Wildlife in Maine," which was a literature review describing the potential impacts of new energy infrastructure—onshore and offshore wind, solar energy, and transmission projects—on wildlife and wildlife habitats and how to reduce those impacts. From there I developed a series of online maps to help users understand how proper siting of renewable energy projects can help fight climate change but also avoid impacts to wildlife and their habitats. I've worked with the Governor's Energy Office on solar siting principles as part of their Agricultural Solar Stakeholder Group and engaged in the Offshore Wind Research Array Wildlife Work Session, and now I'm a member of the Environment and Wildlife Working Group to help advise the Offshore Wind Roadmap Advisory Committee. It's really exciting to be involved in helping Maine turn toward a brighter future and work to combat climate change!
What is Maine Audubon's focus in 2021? How does your work tie into and inform that?
Maine Audubon realizes that climate change is the most significant threat to wildlife and habitat, and we've made that a priority, elevating it in 2021 to be one of the cornerstones of our organization's work. In addition to the renewable energy siting tool I talked about, Maine Audubon has developed other tools to help developers, municipalities, landowners, and regulators work to meet the state's renewable energy goals while keeping wildlife and habitat in mind. That toolkit includes a best practices document to guide solar energy siting and model site plan regulations to support solar in Maine towns, and we're working on a guide to planting native, pollinator-friendly seed mixes at solar project sites. In the spring of 2021, we held a series of webinars exploring issues related to the development of offshore wind in the Gulf of Maine, and we're working with partners from around the country to analyze and help guide offshore wind siting in Maine and beyond in order to protect wildlife and habitats.
As a woman who graduated at the twenty-year mark for women at Bowdoin, how do you reflect on your experience as we mark fifty years of coeducation at the College?
It surprised me when I was at Bowdoin to learn that gender integration came so late. I had a roommate whose father had gone to Bowdoin, but her mother wasn't able to. At this point, is been long enough that current students are more than one generation removed from the all-male days, so it may seem like ancient history. But there's still a lot of work to do. College-educated women are now half of the US labor force, but we still earn significantly less than our college-educated male counterparts. The current pandemic has also highlighted the disparities, with more women leaving the workforce to care for their children than men, regardless of education level. We've made a lot of progress, but there's still work to do!
What is the most satisfying aspect of your work?
Probably the fact that every day I feel like what I do is making the world a better place. That and all the incredible people I get to work with—at Maine Audubon, at partner organizations, and in the general public. I really love that!
What brought you back to Maine?
I grew up in a small town in the Adirondacks, so Maine instantly felt like home when I arrived for college. When I graduated from Bowdoin, I knew I wanted to travel the country, but I also knew that I would come back and hopefully settle in Maine for good. It took me twenty-five years, but I moved back five years ago with my family. Maine has an active, outdoorsy lifestyle that really appeals to me, and of course the variety of habitats to explore—from mountains and forests to sandplains and beaches, it's hard to beat! Maine has a small town feel and a real sense of community, even in our biggest cities, and we have that classic New England climate with four full seasons—winter, spring, summer, and fall—to be engaged in a huge variety of activities, year-round.
What pursuits do you enjoy in your spare time?
I like to get outside as much as I can—hiking and camping in summer and fall, getting seeds started in spring for planting outdoors when the ground's warm enough, and cross-country skiing in winter. We have even taken up downhill skiing since we've gotten back to Maine, and while downhill will never replace my love of cross-country skiing, it's great to have a variety of options to get through winters in Maine! When I'm stuck inside, I'm a quilter, and I love to go to local quilt shows around New England.
---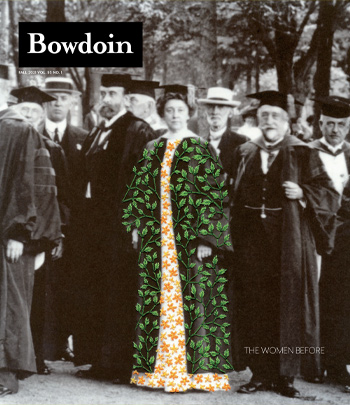 This story first appeared in the Fall 2021 issue of Bowdoin Magazine. Manage your subscription and see other stories from the magazine on the Bowdoin Magazine website.