Published November 03, 2021 by Tom Porter
Health and Healing: It's About More than Medicine
Associate Professor of Romance Languages and Literatures Margaret Boyle has teamed up with Hispanic studies professor Sarah E. Owens from the College of Charleston to publish a collection of essays that, she says, "interrogates the concepts of 'health' and 'healing' from a gendered perspective within early modern Spain and colonial Latin American between 1500 and 1800."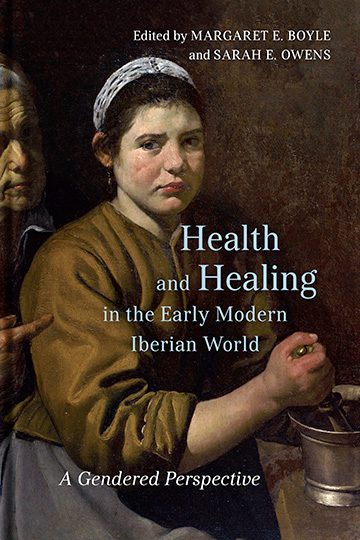 Health and Healing in the Early Modern Iberian World: A Gendered Perspective (University of Toronto Press, 2021) contains ten essays, "intentionally curated as cross-disciplinary explorations of healers and patients from these geographic regions, using feminist, critical race theory, and disability studies," explains Boyle. "One of our primary interests has been to obviate the ways these geographies and gender-identities have been marginalized by the history of medicine. We frequently view medicine as it intersects with practices of control, considering the interrelated categories of gender, sexuality, ethics, race, and class and how these categories connect to health outcomes," she adds. 
The book is divided into three parts, focused around treatment models, representations of health, and the intersection of faith and illness. The idea for the book came out of Boyle's fall 2017 seminar at Bowdoin on literary representations of early modern health in the Hispanic world. In the course, she taught sections from Sarah Owens's book Nuns Navigating the Spanish Empire (University of New Mexico Press, 2017), concerning the relationship between faith practices and travel between Spain, Mexico, and the Philippines. Out of conversations with her Bowdoin students, she and Owens made the connection about the need for a volume that would tackle this wider geographic frame through the lens of early modern health.
"I am so grateful to my students for engaging deeply with the interdisciplinary questions that generated this book. Their enthusiasm for the project is what brought Sarah and me together, and led me to ongoing archival research in the history of medicine in Spain at the start of 2020," says Boyle. "Of course," she continues, "we weren't able to predict that we would be researching and publishing about the history of medicine at the start of the COVID-19 pandemic, and the relevance of this work is even more palpable to all of us." Boyle taught "Medicine, Literature, and Spanish" for the second time in Spring 2021. Cross-listed in Hispanic studies and Latin American, Caribbean, and Latinx studies, the course explores how the cultural history of early health practices intersects with racial and linguistic health disparities and general inequities in health care systems today.
"Consequently," observes Boyle, "when we talk about early modern health in Spain and Latin America, we are engaging in needed cross-cultural and cross-temporal conversations that have the significance to shape our own experiences of the relationship between humanities and science broadly, and also our personal experience of health." These conversations, she says, present further opportunities to engage in scholarship and activism to fight for better health outcomes in our communities.
On Thursday, November 4, 2021, the Bowdoin College Library presents a book launch and discussion featuring Margaret Boyle and Sarah Owens. The event is at 4:30 p.m. in the Nixon Lounge of Hawthorne-Longfellow Library.