Published November 19, 2021 by Rebecca Goldfine
The Genius of Black Owned Maine
Jerry Edwards '04 (who also goes by the name Genius Black) is codirector of
Black Owned Maine
, a directory he and a friend launched during last summer's Black Lives Matter protests. It has since expanded well beyond a listing of businesses.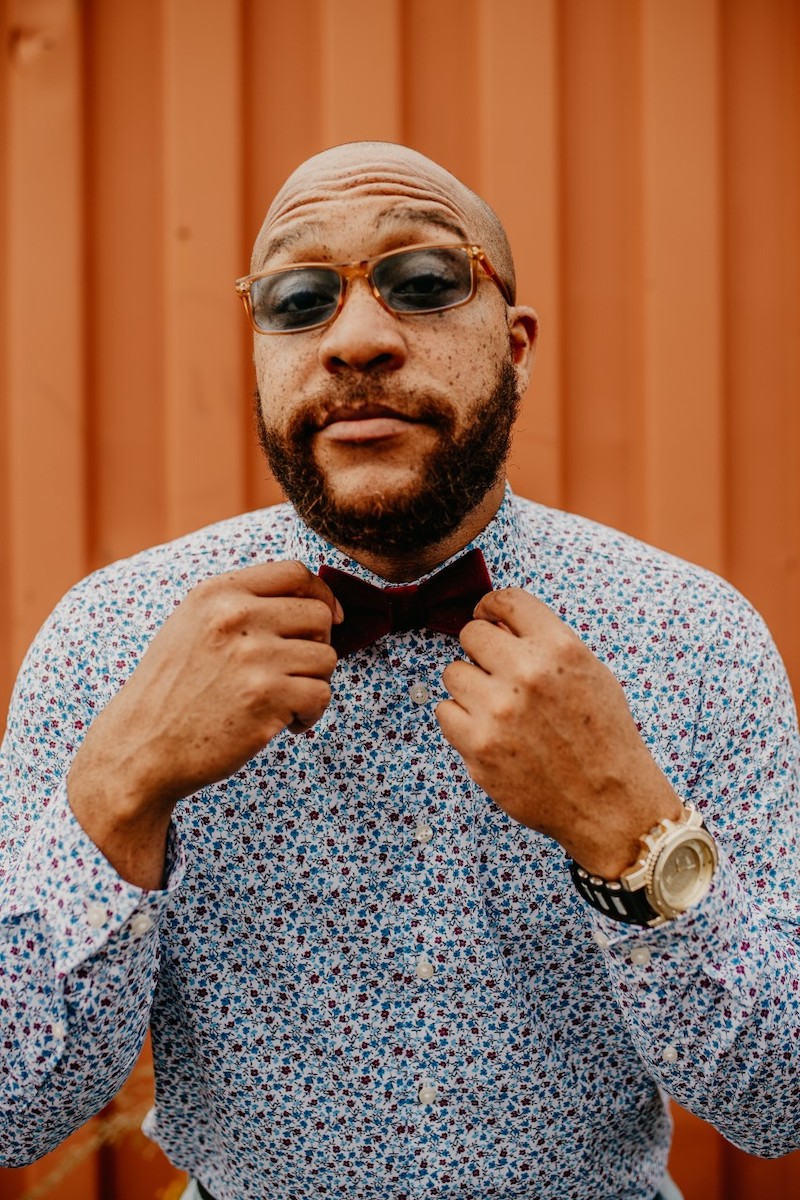 In the summer of 2020, in the wake of the murder of George Floyd, Edwards and his daughter took to the streets to add their voices to the protests in his home city of Portland, Maine.
But not everyone could go outside and participate in the communal rejection of entrenched racism and police brutality in our country. Edwards's friend Rose Barboza, who also lives in southern Maine, was uneasy about protesting because her young son has asthma and she wanted to protect him from COVID. 
Barboza approached Edwards to talk about other ways she could support the Black Lives Matter movement. One idea the marketing professional had was to create an e-commerce site. "I'm going to start a directory of all the Black-owned businesses in Maine," she told Edwards.
According to the 2020 census, Maine's Black and African American population is about 1.6 percent. Nonetheless, they are running businesses in every part of the state, from southern Maine to far-north Aroostook County, and from the Downeast coast to the western foothills.
Edwards immediately knew Barboza's idea had legs. It reminded him of stories he'd heard when Steve Jobs first introduced the concept for Apple products (Black worked for Apple in Maine for nearly twelve years). "For a moment all the air gets sucked out of the room," when an idea lands just right, he said.
Two sleepless days later, Barboza published the directory with sixty businesses. The only criteria is that a venture be at least 50 percent Black-owned, and the list includes every kind of enterprise—from auto repair shops to health care providers, outdoor organizations, and creative services. 
News of the site spread quickly online. Reporters started calling for interviews. More businesses were added (today it has more than 350 listings). 
As he watched the site take off, the clicks accumulate, and followers grow on social media, Edwards marveled at the response. "I had never witnessed anything like this in my life," he said. "There was such a void. You had a group of Americans that were lit up collectively in a way they had never been before."
One reason Black Owned Maine has been successful is that it has provided people—of all races and backgrounds—with another outlet for protesting, another way to support their neighbors, friends, and fellow Mainers. "You had all these people in Maine who didn't care about arguing, who didn't want to go to a protest, but who wanted to support Black people," Edwards said. "When they looked up and saw Black Owned Maine existed, it was a void filled. We made a thing that exploded because it needed to. It exploded because there was an empty space in the universe."
Today, Black Owned Maine has grown beyond the initial directory of companies and organizations. Over the past year, Barboza and Edwards have expanded the initiative to fulfill their vision of it being a comprehensive resource for entrepreneurs and start-ups in the state. With help from the nonprofit arts agency Creative Portland, BOM receives tax-deductible donations for Black business support and family relief. This summer, with Krystal Williams's consulting agency Providentia Group, BOM offered a pilot business incubator and mentoring program for twenty participants. They've hired their first staff member, Winston Antoine '16. 
Barboza and Edwards have also launched a for-profit arm called Black Owned ME Media that provides marketing and audio branding services, including podcast production and theme music composition—Edwards's specialty. He coproduces and hosts the Black Owned Maine Podcast, or BOMP, which has helped get the word out about Black Owned Maine.
"A lot of our work has been in partnerships and collaborations," he said, including with state agencies like the Maine Technology Institute, Maine Economic and Community Development, the City of Portland, and other organizations. BOM is also part of a large state application for federal funding from the Small Business Administration. "We're getting baked into the fabric of the state."
From Texas to Maine (and how Jerry Edwards became Genius Black)
Edwards runs his own audio engineering and music production businesses in Portland, and is raising two children, aged seventeen and fourteen. 
He was born in Dallas, Texas, and grew up in Grand Prairie, which is actually where he was first dubbed with the nickname Genius. "Where we lived in section eight housing, I was known as a kid who could help with stuff, who could problem-solve. One time the homies had been given a computer, and Miss Tweet, the grandmother of Patrick Sneed, one of our friends, she said 'Go get Genius, he can help with it.'" 
In his neighborhood and at his school, the name stuck. And when he started rapping at age fifteen, he decided Genius made a good stage name. It wasn't until he was at Bowdoin that he added Black. "Being an Africana studies major, starting to understand power structures, I added to the moniker. I think black as a color is powerful. Black thinking, Black art, Black culture, Black people—it made sense for me to round out my name in that way." 
The fact that Edwards ended up at Bowdoin at all could be attributed to an act of divine intervention. A talented, high-achieving high school student-athlete, he was courted by universities across the country. 
But he wasn't interested. He asked his mother to keep all of the glossy pamphlets out of sight because he had his heart set on attending just one of four big universities: University of Miami, University of Texas at Austin, Syracuse University, or Tulane University.
He got into each one, and they each awarded him a financial aid package—but none provided a full ride, which discouraged him. He returned home one day after sports practice, and his mom handed him a thin unopened envelope.
"Mama said, 'God told me to give you this,'" he recalled. "And it said Bawh-Doyne, Bow-Din," he purposefully mispronounced the name. He—nor anyone else he knew in Texas—had ever heard of the school, let alone knew how to say it right. But inside that envelope, the College was promising to fly him to campus for Explore Bowdoin, a program for prospective low-income or first-generation college students.
He had never been on an airplane. He had only been on a handful of vacations. Going to Maine would get him out of class for a couple of days. And he felt touched that the school saw something special in him. 
So he came to campus for a weekend in the spring. "I loved the intellectual stimulation," he remembered. "We had really great conversations over meals, people lingered and connected. I said, 'Damn, these are the people I want to be around, and if they're here I want to be here.'" 
At Bowdoin, Edwards majored in Africana studies and minored in English, and excelled in his theater classes. He did two independent studies with Anthony Walton, senior writer-in-residence, which he called "life changing." "He put life lessons into what we were talking about. It was not light, it was heavy. He squeezed some amazing writing out of me."
As he approached graduation, he began considering his next steps, such as attending law school or moving out of Maine. But then he and his girlfriend learned they were expecting a baby. Taking care of an infant and attending classes was not easy, but Edwards said the College was supportive and provided him with family-friendly housing. And despite being an exhausted dad of a newborn, he earned his highest grades his senior year.
Though he and his children's mom are no longer together, he has stayed in Maine to help raise his daughter and son close to their mother's extended family.
And after all this time here, he speaks like a proud Mainer now. "Unlike a lot of Black folks, and a lot of people I went to Bowdoin with, I am not trying to leave here. To make the life I want to live, and to be an activist and to work and create the life I want, I do not need to leave Maine."
Referring to his friendship with Barboza, who is of mixed ancestry, he said, "Our experience of maybe not being the norm of who you see as leaders in Maine, we decided we don't need to run away from that. Instead, we know we can make a difference here."