Published November 04, 2021 by Rebecca Goldfine
Peer Advisors Offer Career Wisdom to Fellow Students
The Offfice of 
Career Exploration and Development (CXD)
has expanded its peer advising program this year to six students who are trained to offer advice on networking, job searching, and writing excellent résumés and cover letters.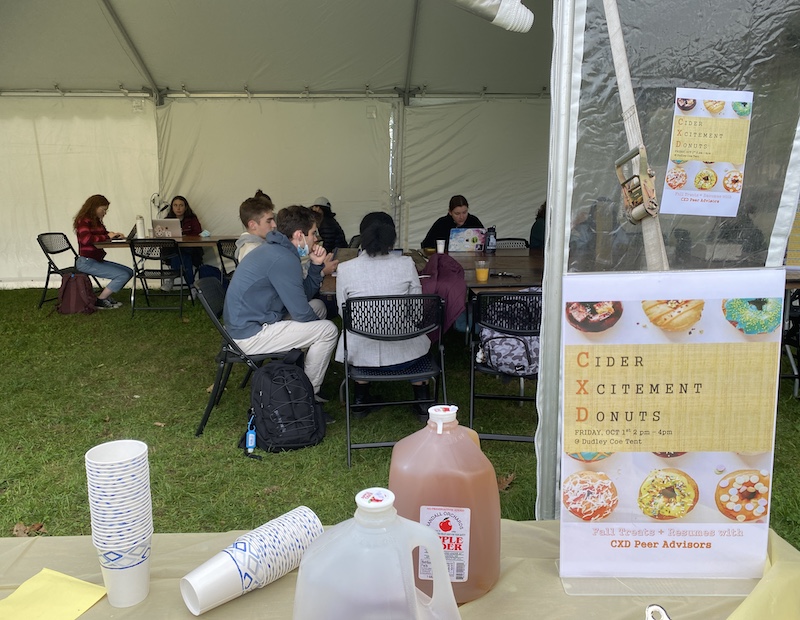 The six peer advisors—Samara Nassor '22, George Marin '22, Tabitha Hacker '22, Patrycja Pekala '22, Brie Cunliffe '22, and Anna Constantine '23—are all juniors and seniors with good track records of landing jobs and internships.
More than that, they offer students an easy first foray into the sometimes nerve-wracking process of finding an internship or job. 
"I love to hear the laughter coming from the students and peer advisors when they're meeting to talk about résumés, cover letters, and career exploration," said CXD associate director and advisor Meg Springer, who oversees the peer advisor program. "They make it all so approachable, real, and even fun." 
Plus, she added, they bring the "real-life student perspective to the career-exploration process and can share their experiences with other students and relate to how they're feeling. They also help us, the CXD advisors, understand what students are experiencing and how best to approach the process."
Constantine agreed that some students prefer to initially reach out to a fellow student to discuss potential future employment. "Career services can be a bit intimidating," she said, adding that this can be doubly true for students whose parents might not have vast professional networks.
Beyond fine-tuning résumé details or helping students practice interviewing skills, one of the biggest gifts the CXD peer advisors bring is reassurance.
"As much as we're offering substantive help, sometimes the most important thing we do is just reassure someone that they're not behind, or that they have so much to offer," Cunliffe said.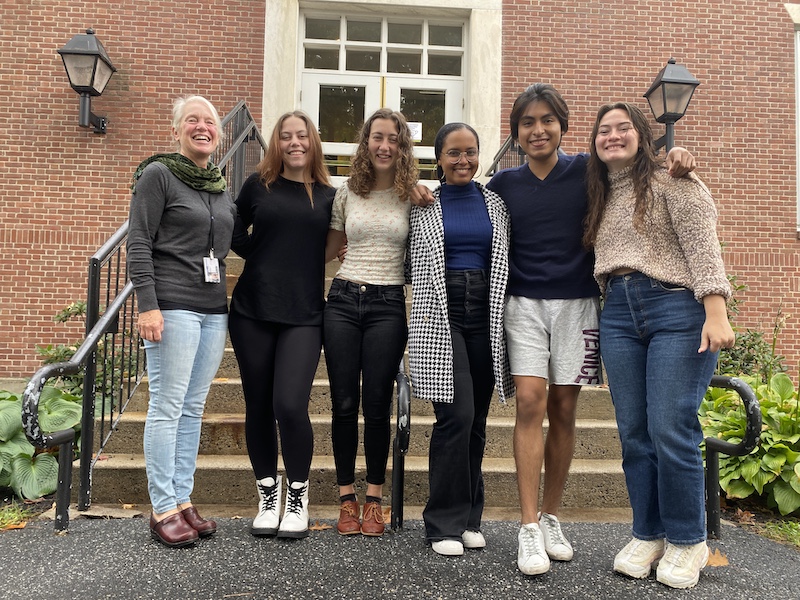 This fall, the six advisors have each been spending between eight and ten hours a week meeting one-on-one with students to help them on their career trajectories. 
They have also held some special events, including a Friday afternoon cider and donuts drop-in session in a tent on Coe Quad in early October. From 2:00 p.m. to 4:00 p.m., students popped by—some with drafts of résumés in hand, some just seeking direction.
Bella Turk '24 had drifted in and was waiting to chat with one of the occupied advisors. She didn't yet have a résumé. "I'm just getting started!" she said brightly. 
Drew Hofer '23 was also waiting, his résumé pulled up on his laptop. "I had been planning on watching Netflix and taking it easy," he said, but then saw the event advertised in an email. "My résumé is never perfect; I am always working on it, so I decided to make my Friday productive."
He was next in line to meet with Nassor, who was going over another student's résumé, line by line. He added, "I just want to make sure I'm not selling myself short, and that I'm highlighting my skills thoroughly."
The peer advisors say this kind of modesty is a common error they see on student résumés. "Bowdoin students consistently undersell themselves," Cunliffe said. "I help people give themselves credit for the things they've done."
That means not skipping or glossing over jobs like working in a grocery store, Starbucks, or lifeguarding. There's a lot to be said about earning extra income working at a McDonald's through the pandemic, or showing consistency by returning to the same camp counselor job for six years.
CXD set up its peer advising program in 2019. Springer trains the advisors in résumé and cover letter development, how to navigate job databases (like Bowdoin's Handshake), and how to best use LinkedIn. She also goes over the softer skills of advising, such as approaching each student with sensitivity and empathy.
After this initial training, she meets with the group every Friday throughout the academic year to discuss a new topic, such as practicing reviewing cover letters, going over strategies for finding positions, or discussing summer funding possibilities for projects and unpaid internships. 
Each of the peer advisors is paired with one of the CXD counselors to further specialize in particular fields. The peer advisors themselves have a range of academic focus areas. For instance, Hacker is premed; Nassor is majoring in environmental studies and government; Constantine is studying math and economics; and Marin is a sociology, education, and theater student. Marin is also part of THRIVE, and regularly works with other THRIVE students to update their application materials.
Additionally, the peer advisors review each of the résumés that seniors upload to Handshake. If they see areas that require improvement, they'll send a follow-up email to suggest an in-person meeting, Nassor noted.
Nassor, who started working as a peer advisor last year, said she pursued the job partly because CXD has been so beneficial for her, and Springer, in particular, an important mentor. "I wanted to help other students maximize the resources here that have helped get me far in my academic and professional career," she said.