Published November 08, 2021 by Bowdoin News
Berzon and Mohandesi Appointed to Named Chairs
In recognition of their achievements as scholars and educators, Todd Berzon and Salar Mohandesi have been appointed to named chairs at the College.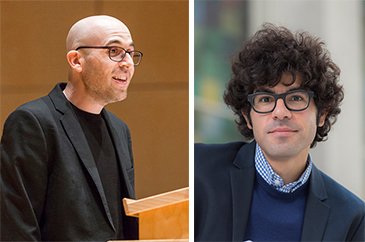 The appointments, which are effective immediately, were announced by Bowdoin President Clayton S. Rose in a letter sent to each of the candidates at the recommendation of Senior Vice President and Dean for Academic Affairs Jennifer Scanlon and in consultation with senior members of the faculty Committee on Appointments, Promotion, and Tenure.
"Endowed chairs offer Bowdoin the opportunity to honor and support individual faculty members who contribute in profound and meaningful ways to the vibrant intellectual life of the College," said Scanlon. 

"These chairs also honor the donors whose financial support makes this form of recognition possible. It has been my pleasure to review the faculty accomplishments of professors Berzon and Mohandesi and to recommend these teacher-scholars as endowed chair recipients." 
Todd Berzon has been named the Peter M. Small Associate Professor of Religion. Berzon, who came to Bowdoin in 2014 after earning his PhD at Columbia University, describes himself as a scholar of the religious world of late antiquity, the period that witnesses the emergence of Christianity, the formation of Rabbinic Judaism, and the rise of Islam. His first book, Classifying Christians: Ethnography, Heresiology, and the Limits of Knowledge in Late Antiquity, investigates how early Christian authors enlisted ethnographic language to chart the new religious topography of an increasingly Christian empire. Berzon has taught a range of courses about the religious dimensions of the ancient Mediterranean world, including Heretics, Judaism in the Age of Empires, Gender and Sexuality in Early Christianity, and Human Sacrifice. In all of his classes, Berzon impresses upon students that the primary source texts he teaches are not simply fixed products of worlds and worldviews, but rather that they shape and are shaped by the time in which they are read.
"While the world I study may seem distant and remote to us, it very much endures," said Berzon. "For example, many of the ideas promoted by early Christian writers persist in our own contemporary debates of penology, sex, law, madness, medicine, and the body."
In addition to his doctorate, Berzon also earned a bachelor's degree and master's degrees in both religion and philosophy at Columbia. He received a bachelor's in theology from St. John's College, University of Oxford. Berzon is currently working on his second book, Holy Tongues: The Presence of Speech in the Religious World of Late Antiquity.

The Peter M. Small Professorship was established in 2007 to support a faculty member in any discipline. Peter M. Small '64, P'97, P'99, H'16 was chair of the Board of Trustees from 2005 to 2010.
Salar Mohandesi has been named the Marvin H. Green Jr. Assistant Professor of History. Mohandesi, a historian of modern Europe, focuses on the transnational history of ideas, social movements, and political cultures in the context of war, revolution, and imperialism. Since arriving at Bowdoin in 2018, he has taught courses on fascism, Marxism, the Vietnam Wars, the global Cold War, the 1960s and 1970s, and revolutions in the twentieth century.   
"I have always been interested in making sense of our world. I turned to history not only because the discipline helps us understand why the present looks the way that it does, but because it reminds us that this world could be different," Mohandesi said. "For me, one of the central lessons of history is that this world is not necessary. There have been so many ways to organize life, so many possible paths, so many missed opportunities. The topics I have chosen to study help us explain the contingent ways that we got here, but they also illuminate how the past, and the present, is always a struggle between different visions of the future."  
In 2018, he coedited Voices of 1968: Documents from the Global North, which gathers more than seventy original texts from twelve countries that experienced political turmoil in the 1960s and 1970s, and he's working on a historiographical piece that surveys the new field of the Global Sixties. He is also finalizing his monograph, From Anti-Imperialism to Human Rights, which traces the history of transnational anti-Vietnam War activism in France and the US.
Mohandesi earned his BA from the College of William and Mary and his PhD from the University of Pennsylvania. The Marvin H. Green Jr. Assistant Professorship was established in 1990 by Marvin H. Green Jr. of the Class of 1957.