Published October 07, 2021 by Kat Stefko
Welcoming the Class of '25… 1825, That Is
With the passage of two hundred years and the selective remembering, forgetting, and some distinctive burnishing of the facts that is the process of human history, it is easy to think of Bowdoin's Class of 1825 simply as Bowdoin's most famous class.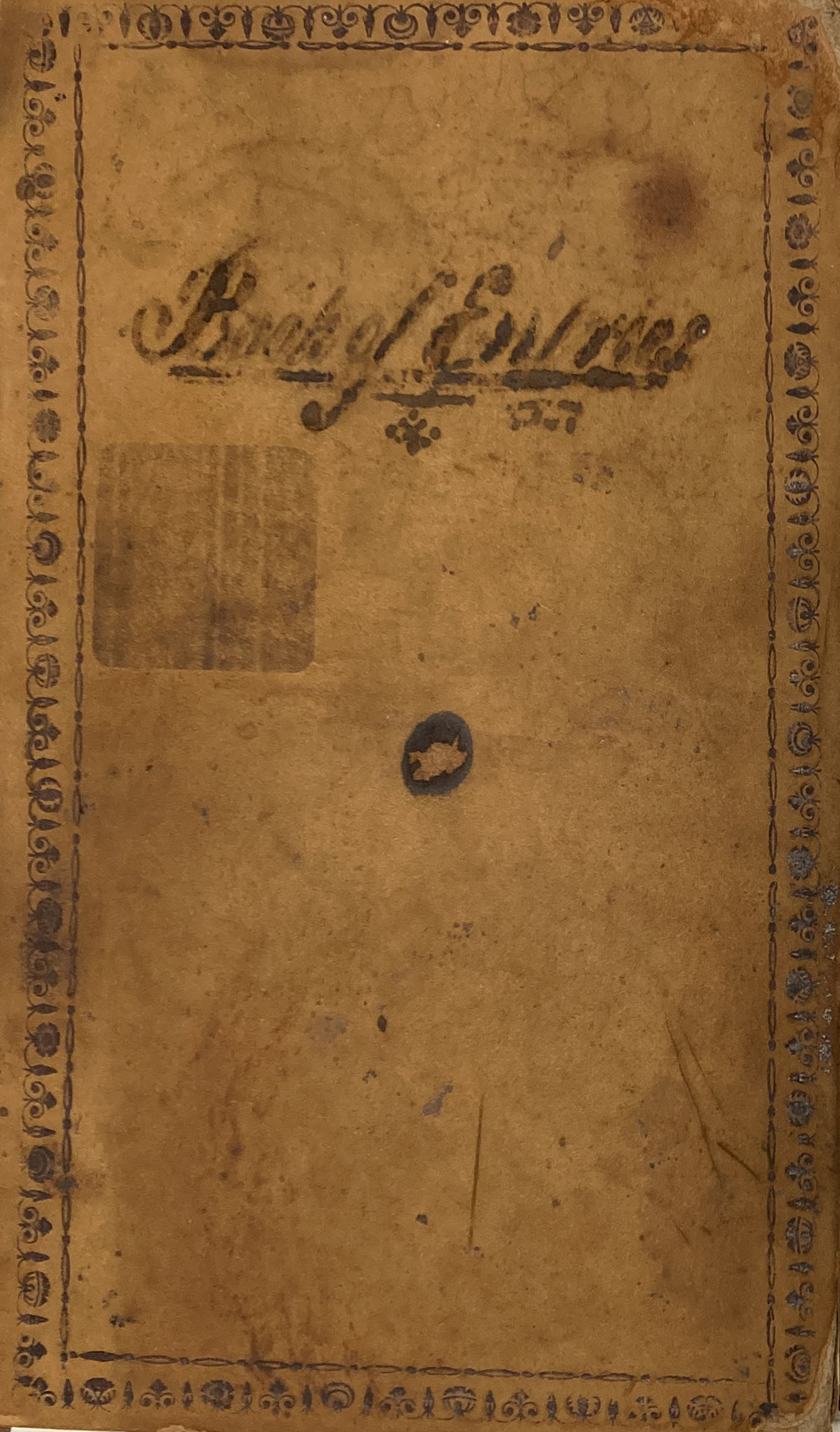 They were a group of accomplished writers—including Henry Wadsworth Longfellow and Nathaniel Hawthorne—Jonathan Cilley and other statesmen, lawyers, and other professionals that collectively brought the College a considerable amount of fame. Yet, before they were the famous Class of 1825, they were young students, finding their way in a new social and academic world.
What was it like to be a member of this famous class, long before it was famous? And what about the not-so-famous among the group? In total, forty-five students were associated with the class, but not all completed their studies, and some didn't live to see graduation.
The rich historical records that form Bowdoin's college archives offer us enticing clues of what those early days on campus must have been like for students joining the Bowdoin community two hundred years ago. While the Book of Entries might sound like a forgotten subplot in a Harry Potter book, and its considerably worn cover, replete with a fleur-de-lis border and hand-penned title, certainly recommends it as a prop in the film adaptation, it is among the most informative and charming pieces in the College's vast archives for understanding a bit about student life in the early years of the College. This book records the arrival and departure of Bowdoin students from 1807 to 1841.
Consulting the entries for the term commencing October 3, 1821, we find that twenty-two first-years seem to have shown up on campus that fall—most in time for the beginning of classes, but some a bit later. Elisha Bacon, whose name was written in and then his arrival date crossed out, seems to have changed his mind about Bowdoin, at least momentarily. He would return to campus the following year, joining the class as a sophomore. Some students left school more than others, sometimes willingly for vacations, sometimes for employment, and sometimes due to their rustications—that is, a polite nineteenth-century-ism for expulsion.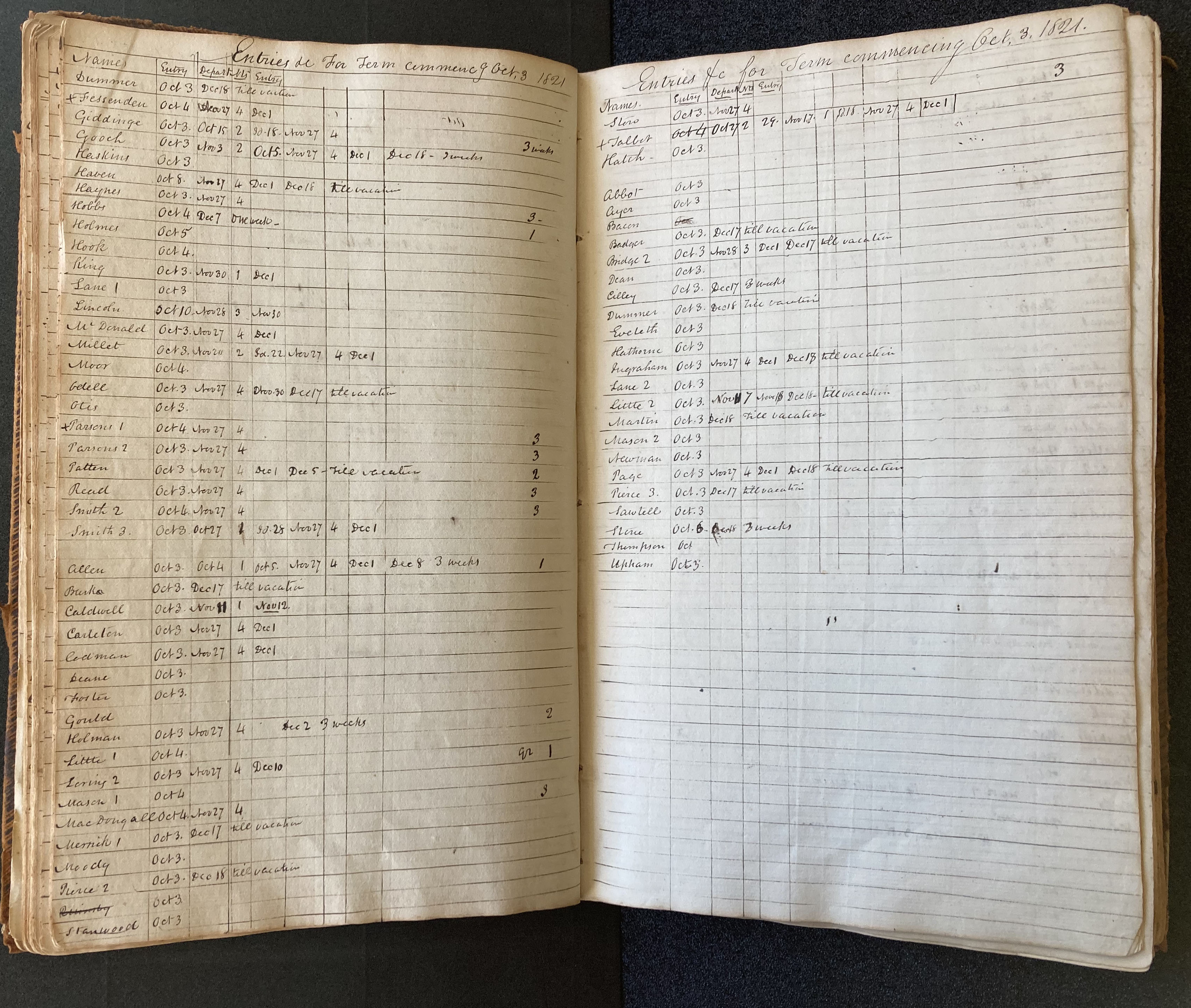 John Odlin Page, for example, was sixteen when he arrived at Bowdoin from Hallowell, Maine. Page was young for college, but certainly not the youngest member of the Class of 1825—that distinction goes to Patrick Henry Greenleaf, who graduated shortly after turning 17. As Page's first cold winter on campus dragged on, he found himself in increasingly hot water. According to the disciplinary records of the College's Executive Government—the group composed of the president and the small number of faculty then on staff and charged with overseeing all manner of academic and residential concerns—Page was routinely fined for being absent from or whispering during prayers, a compulsory component of a nineteenth-century Bowdoin education.
However, these infractions were small potatoes compared to Page's misconduct later that year. Page returned to campus on May 22 for the third and final term of that academic year. Within a week, he was called before the Executive Government and reprimanded for "disregarding the laws of the Institution," the printed and very much expected rules of conduct that governed student's lives. Despite the dire warning, later that same night, Page snuck out and rode to Bath, where he drank at multiple taverns. When he and his upperclassmate accomplice were caught, they were expelled until the following fall. Tragically, Page never returned to campus as he passed away during his rustication. The Book of Entries tells us nothing about Page's eviction, or even his reprimands. But his name's absence in subsequent entries reminds us that sometimes an archival document is just as helpful in establishing facts for what it doesn't tell us as for what it does.
Over the next four years, the Library's Special Collections & Archives will be exploring and sharing more stories about the famous and in some cases—infamous—Class of 1825. Drawing upon the archival collections, as well as personal papers and published writings of members of this class, we hope to get to know this cohort, not just as a group, but as individuals: individuals whose lives were shaped by Bowdoin and whose friendships with one another spanned lifetimes and defined careers. We look forward to sharing their stories with you.