Published October 15, 2021 by Rebecca Goldfine
Record Number of Students Join Outing Club
This fall, Bowdoin Outing Club (BOC) memberships almost quadrupled, a rise its directors attribute to several factors, including the club's longtime efforts to welcome all students, no matter their background, ability, or experience in the outdoors.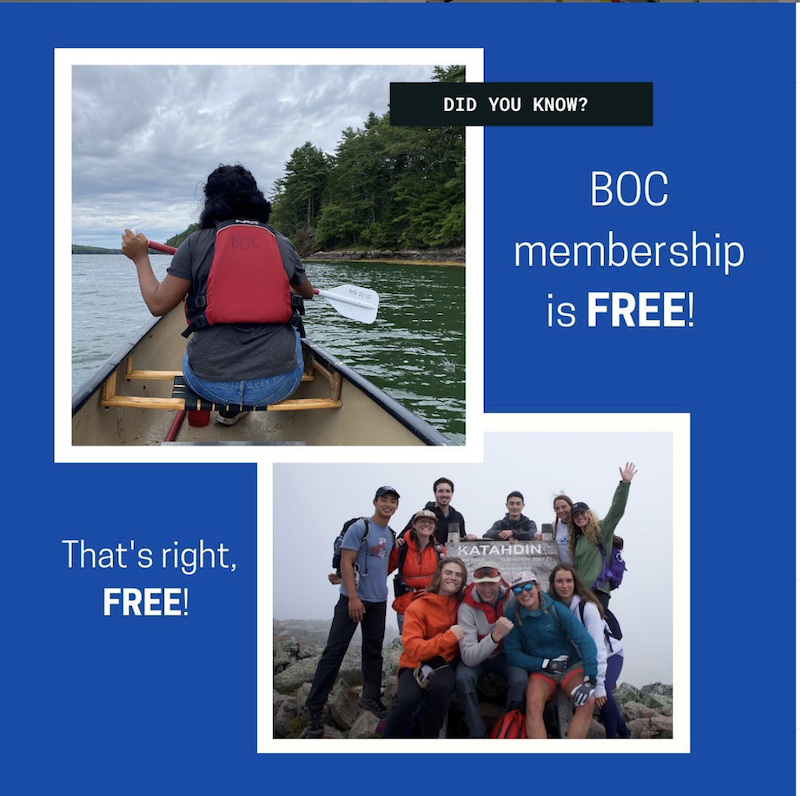 In previous years, BOC membership hovered around 400. The jump to 1,517 students this autumn is driven in large part by the BOC's efforts to offer outings that appeal to a broad range of students. Helpful to this inclusivity work was the abolishment this year of annual dues, as well as COVID's dampening effect on socializing indoors. 
Traditionally, college outing clubs—and outdoor recreation, in general—have been seen as the bastion of privileged, white students, a stereotype the BOC is trying to eliminate for good.
"[Director] Mike Woodruff and I, and the student officers, have put in a lot of work to increase access and opportunity for all students at Bowdoin, an effort that is ongoing," said BOC Associate Director Anna Bastidas.
For example, in recent years the BOC has organized collaborative programming with affinity groups, such as the Asian Students Association, Latin American Student Organization, Black Student Union, and the Bowdoin Queer Straight Alliance.
"Trip leaders who identify as students of color are leading trips for other students of color, like POC surfing, or they're offering LGBTQ canoe trips—whatever trip leaders want to lead," Bastidas said. "That is one way we're bringing more members into the fold."
Additionally, the BOC's student trip leaders are able to lead a variety of outings, from the gentle to arduous, with many requiring a relatively short time commitment. On the docket this fall, for instance, have been mindfulness walks in the Bowdoin Pines, snacking on crepes on the Schiller Coastal Studies Center dock, and Wednesday wellness campfires, as well as the overnight camping and hiking trips. Introductory lessons in fat-tire biking, kayaking, stand-up paddleboarding, and other activities are also regularly offered, with gear and transportation included.
"To come to a school with an organization that is free to join, which supplies all the gear and equipment—boards, wetsuits, transportation, food, and instruction—is pretty amazing," Bastidas said, speaking specifically about surfing trips, which have been very popular this fall.
View this post on Instagram
BOC officer Holly Harris '22 was spending a recent Thursday afternoon at the Schwartz Outdoor Leadership Center—the Club's headquarters—baking cookies with Aine Lawlor '21 and first-year Kaitlin Weiss. Harris said the spike in interest this year has been gratifying to see after all the time and thought that has gone into shifting the way the campus sees the BOC. "I'm super excited to come in and keep carrying the mission forward," Harris said. "The other leaders and I are amped to make this space a happy, inclusive, and accessible one." 
Lawlor, a trip leader, added that part of reshaping outdoor culture is deleting some of the jargon that goes along it. "Along with offering diverse trips, we're not talking about 'conquering,' or going off on 'expeditions,'" she said. "A lot of people in outdoor recreation get really 'hyped up' and 'stoked,' and that can be intimidating and push people away."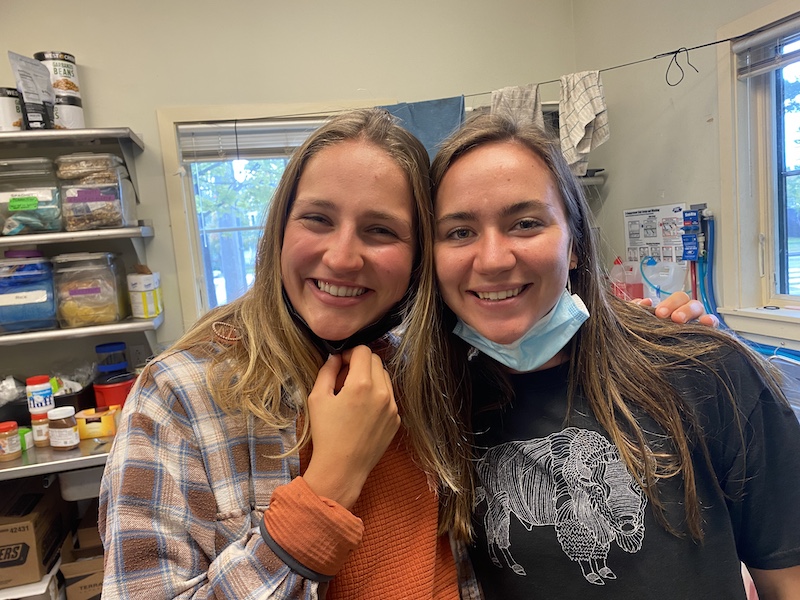 A big piece in attracting more students this year has been eliminating the barrier of the annual $50 fee. Though in the past the Outing Club always waived payment for anyone who could not afford it, students were hesitant about requesting financial assistance, according to student surveys.
And COVID-19's impact can't be discounted. The pandemic's curtailment of indoor activities has pushed more students to spend time in nature. "Being outside is a good way to be social and to meet people. That's a contributing factor," Bastidas said.
Though the BOC welcomes the influx of students, the surge in membership hasn't come without some logistical challenges. In the first weeks of the semester, many trips were overenrolled. Frustrated students reported signing up repeatedly for outings, only to wind up on waiting lists.
To meet demand, the Outing Club's three staff—Bastidas, Woodruff, and Interim Assistant Director Eric Guiang '18—and its student leaders have stepped up the number of BOC trips. Instead of limiting trips to the weekend, they're now arranging van transportation to the ocean and mountains throughout the week. Some surfing trips have left at 6:00 a.m. to be back on campus for morning classes. "We have trips every day of the week," Bastidas said. "Two weeks ago, we sent out thirty trips in one week."
In total, since the start of the academic year, the BOC has organized more than 90 off-campus trips. These include ambitious options, like summiting Maine's tallest peak, Mt. Katahdin, as well as what BOC calls "office hours," when student officers invite members to hang out at the Schwartz Outdoor Center to do schoolwork or bake cookies.
"I think our student trip leaders are putting a lot of time and energy into this place," Bastidas said, "and we're grateful for their efforts."