Published October 21, 2021 by Jane Godiner '23
Casual Poetry, Serious Mindfulness: The Nightingale Society Begins Its Inaugural In-Person Semester
Every Wednesday, after the sun has gone down, the Nightingale Society, a student-run poetry and mindfulness club that took off amid the pandemic, meets for a forty-five-minute session.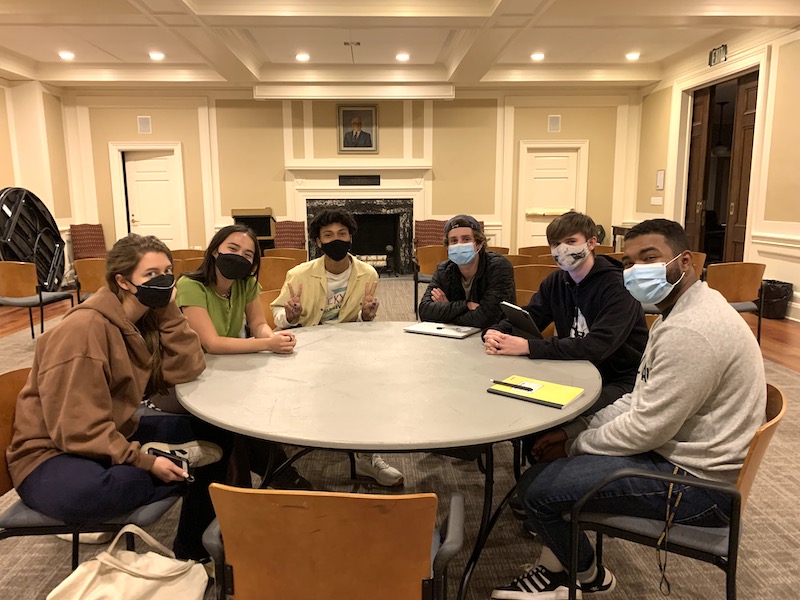 In October of 2020, longtime friends and first-year floormates Jade Cromwell '23 and Paul Russo '23 established the Society with hopes of finding a creative platform outside of the classroom and of fostering a community of creative writers and thinkers. 
"I originally had written poetry in high school because I felt like I needed a way to de-stress," Russo said. "Words have always been like a big part of my life and I've always loved to write, so it seemed like a natural fit to bring to Bowdoin: poetry and mental health."
Cromwell credited Russo with coming up with the idea originally, but she quickly got behind it. "We're both English majors, so we kind of connected on that, and we both wanted to start a club that allowed people to relax and find meaning and poetry," she said. "Both of us agreed that we like to write out our feelings, write poetry for fun, and to kind of use it as a wellness tool."
The Nightingale Society initially started under Cromwell and Russo, but they soon found another leader in one of the club's frequent attendees, Anna Cox '24, all while meeting in a virtual setting. 
"I was one of their few members last semester, and I guess I was just outspoken enough," Cox said. "That's how I became one of the leaders, and we've been getting it off the ground since then."
Although maintaining the society over Zoom was a challenge, its members were grateful for the opportunity to connect with other student writers and to continue practicing mindfulness off campus.
"Especially during COVID, I was very disconnected from campus because I was online the whole year," said Dylan Richmond '24, who has been attending society meetings since its founding. "It was really nice just to hold myself accountable and to have a place to go with a community aspect."
 The structure of the society's meetings is flexible. From group collaborations on a single poem to playing games of "Haiku Roulette" to free-writing fifteen-minute poetry prompts, members experiment with a variety of writing and mindfulness practices.
"My whole life, I've had a lot of very structured and stressful feelings around poetry and writing," said longtime member Mei Bock '24. "Something that [Russo] tries to do specifically is make it so that poetry is just a little bit lighter—not less important, but he does a very good job of fostering an accessible environment."
While the society attracts student poets, one of its key tenets is mindfulness. Cox, Cromwell, and Russo frequently alternate writing prompts with mindfulness exercises, such as: What did you learn about yourself from this poetry workshop?
"These exercises just remind me how much I actually like language and love to write," Bock said.
While the society was born and sustained during remote learning, its leaders and members look forward to expanding its presence with in-person meetings.
"We actually went to the club fair for the first time this year," Cox said. "We were able to draw in a lot of new members and keep spreading the word."
As the Nightingale Society continues to grow its membership and campus presence, Russo is confident that the club will remain true to its original promises: an opportunity for students to connect in the name of poetry and mindfulness. 
"This works because it's a safe space where everyone respects each other and values each other's privacy," Russo said. "Above all, we just like to fool around with poetry, support each other, and be friends."