Published September 29, 2021 by Jane Godiner '23
Profile of Leadership, and Adaptability: Carolina Escobar '24
After studying remotely throughout her first year at Bowdoin, sophomore Carolina Escobar has returned to campus with a vision for helping her peers and strengthening the community. She has taken on several leadership positions and is becoming one of Bowdoin's most effective student advocates for diversity, equity, and inclusion.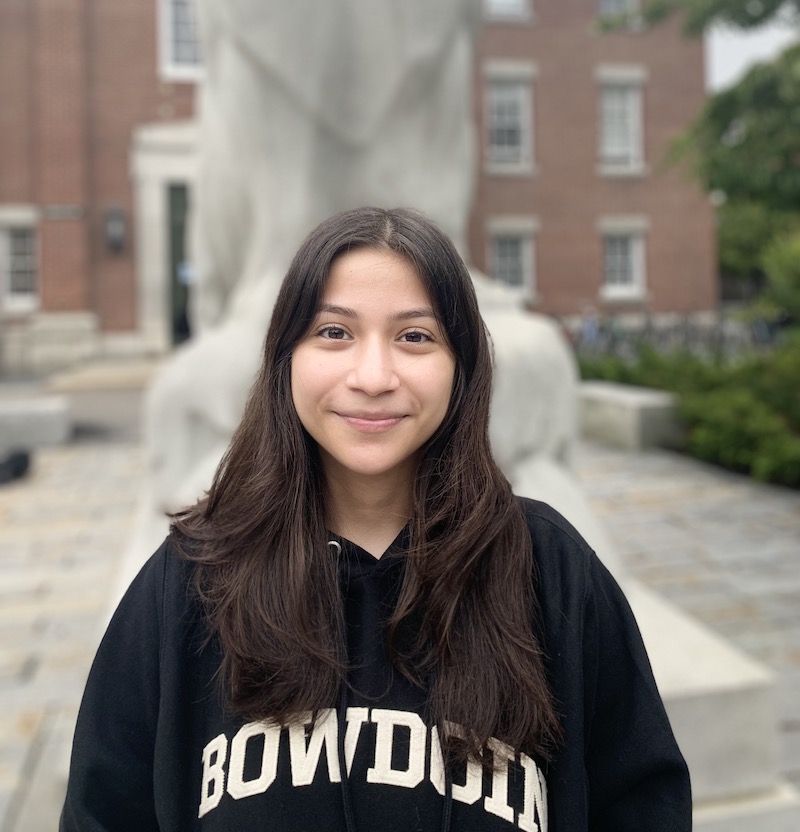 Just a few weeks into the new academic year, Escobar already has four jobs: She is the receptionist for the College Office of Admissions, the chair of diversity and inclusion for the Bowdoin Student Government (BSG), a THRIVE peer mentor, and the vice president of QuestBridge at Bowdoin College. 
All four positions aid her in achieving her mission. "I think that within all these experiences there's that commonality of wanting to increase equitable spaces, especially at Bowdoin," she said.  
While she was given the option of living on campus last fall with the rest of her first-year class, Escobar chose to stay at home with her family in Houston, Texas. "I had the choice of coming to campus, but my two siblings in high school have disabilities that ultimately impact their learning," she said. "Virtual learning was a lot for them to take on, which is why I decided to stay home and help." 
Despite being remote last year, she made enough connections with peers and staff to start the semester off like a veteran Bowdoin student. 
Director of THRIVE Jessica Perez said Escobar's trajectory, from remote first-year student to campus DEI leader, is astonishing. "I am so impressed by how Carolina navigated Bowdoin in her remote first year, and I am excited that she is now studying in-person and becoming a leader on campus." THRIVE is a Bowdoin initiative to foster achievement, belonging, mentorship, and transition to students from historically excluded groups. 
While Escobar tailors much of her work to the needs of first generation and low-income students at Bowdoin, she hopes her efforts will reach the Bowdoin community at large and encourage students of all backgrounds to create safe, supportive, and meaningful spaces for one other.
"I want to provide spaces for all people to come together and learn from each other—it's one thing to read about racial disparities and another to meet someone that has been shaped by them," she said. "Through these encounters, I hope that Bowdoin students leave here with a version of DEI in their minds as they navigate workspaces and general life as well." 
Although Escobar might be focused on the needs of Bowdoin's underrepresented populations, she has not forgotten to arrive on campus with some personal goals of her own. 
"One of my goals is really just discovering more of myself," Escobar says. "I'm no longer 'the daughter,' and now I'm my own individual person, so it'll be really interesting to see how I maneuver my independence away from home. And I really want to have fun."