Returning to School: A Plan with Many Moving Parts
Published by Tom Porter
Like all students arriving on campus recently, Noah Zuijderwijk '25 is hoping for a relatively normal year after the disruptions of the last twelve months. An international student from the Netherlands, Zuijderwijk was originally accepted into the Class of 2024 but decided to defer.
"I took a gap year to avoid all the logistical drama of getting to the US and having a COVID year," he said. "I'm really, really hoping we're going to have a somewhat normal year this year. That would be awesome."
Zuijderwijk is among the 520 first-years enrolled in the Class of 2025, most of whom moved in on August 24.

With the return of the upperclass students a few days later, this was the first time in two years that the full complement of Bowdoin students was on campus to begin the academic year.

Furthermore, this year is actually a record one for enrollment, with 1,962 students taking classes.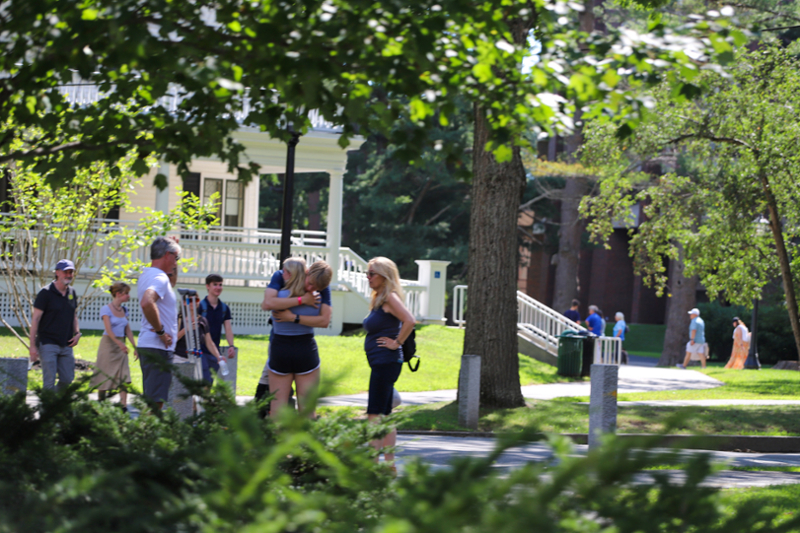 Contingency Planning

Behind the scenes, College authorities have been making every effort to ensure students can enjoy everything Bowdoin has to offer while also taking adequate precautions to guard against the ongoing COVID-19 pandemic.

This means being prepared to respond quickly to developments on the ground and to activate any number of plans at a moment's notice, said Mike Ranen, Bowdoin's COVID-19 resource coordinator.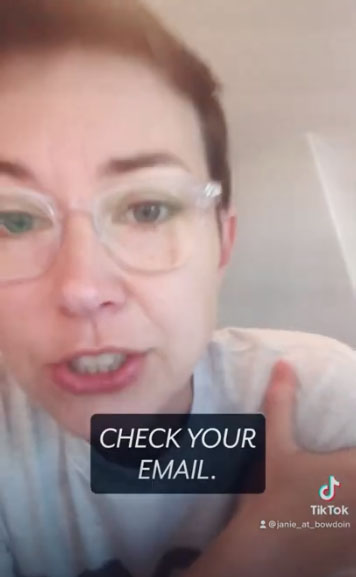 In a new effort to reach students with important information, the College began experimenting earlier in the pandemic using Tiktok.

Using her own account, Creative Director Janie Porche has posted informative content to help students with COVID-19 testing advice and to prepare for a smooth arrival on campus.

Check out this latest message on reporting symptoms:
"Bowdoin is constantly examining the data around local, national, and international trends in COVID-19 and working with public health experts and the Maine CDC to determine health and safety protocols to keep our campus safe while also welcoming back over 1,900 students," he explained. 

"We anticipate there may be changes to our protocols as we learn more and will continue to update the community as necessary," added Ranen.

In an update sent to the Bowdoin community on August 10, he underlined the importance of Bowdoin's vaccine requirement.

With the College's vaccination rate nearing 100 percent and the vaccination rate in Brunswick above 95 percent, Ranen said the community is well protected.
Helping to ensure the student vaccination requirement is adhered to and to keep track of all the data is Bowdoin's Director of Health Services Dr. Jeffrey Maher and his team.

"Once the College decided to mandate the COVID-19 vaccine, we were tasked with documenting every returning student's vaccine record, all 1,962 of them. This became our top summertime priority," said Maher.

"Now we are prepared to operate our health services for the largest group of on-campus students ever AND help to manage the COVID-19 isolation and quarantine process."
Testing

Bowdoin's testing program requires all students to undergo antigen testing upon arrival, which  enables staff to quickly identify any student with a viral load high enough to infect others.

Any student testing positive will be quickly isolated, meaning the likelihood of transmission and an outbreak are minimal.
Students will again be tested between three and five days after arrival, as this is the average incubation period of those exposed to the Delta variant.

If a student tests positive, said Ranen, they will be moved to dedicated isolation housing, and contact tracing will be done to identify any close contacts.
Unvaccinated close contacts will be asked to quarantine for seven days, and vaccinated close contacts will be asked to wear face coverings and undergo additional testing.
Masks Back On—For Now 

On August 23, President Rose announced the College would be once more requiring face coverings for all members of the campus community and visitors, with very few exceptions, regardless of vaccination status.

In this message to the community, Rose emphasized this was  due to an abundance of caution, rather than a reaction to a worsening situation.
"Our campus community, Brunswick, and the region all have very high rates of full vaccination," said Rose, who expressed confidence in the effectiveness of Bowdoin's vaccination program and safety protocols.

During recent commencement celebrations for the Class of 2020, he added, four hundred graduates, plus guests, were welcomed onto campus, with no reports of any positive tests.

"This result is due to the diligence of everyone in our community and the amazing work of members of our staff," said Rose.
So, why the return of a mask mandate? "This is a precautionary measure given the persistently high rates of infection in many places around the country," explained Rose, "and because we have students—and some faculty and staff—traveling through airports and arriving from many locations."

He hopes the measure will be a short-term one, however, with expectation that the mandate can be lifted on September 4, "if several rounds of testing between August 24 and September 3 confirm that we continue to have very low levels of infection."