Published August 02, 2021 by Rebecca Goldfine
Making Smart Buildings Even Smarter
Assistant Professor of Computer Science
Sean Barker
and
summertime Gibbons fellow
Charlotte Gehrs '24 are fine-tuning a tool developed in Barker's lab that could help homes be more energy efficient.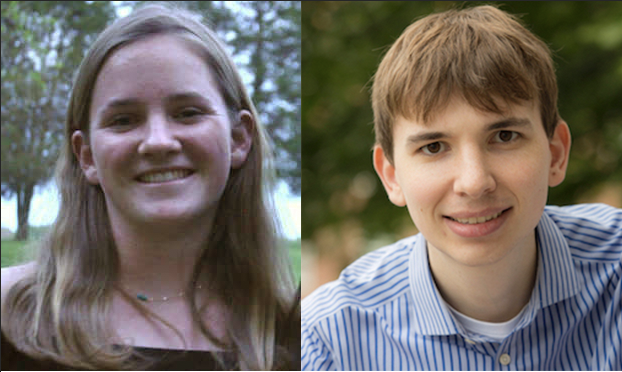 As more homes and buildings get outfitted with smart appliances and energy-sensing outlets, utility companies are grappling with an "explosion" of data to store and process, Barker said.
Utility companies rely on data like this to help set their rates—generally increasing them during the times when most people are at home using appliances, and decreasing them at other odd hours of the day and night.
But the sheer volume of information—which is only on the increase as more appliances come with meters that can collect readings every minute—can be difficult for companies, making it harder for them to put into place incentives to encourage energy and cost efficiencies. "And when you're thinking about thousands of buildings, you have this big challenge," Barker said. "How do I handle this massive influx of data coming in all the time?"
One solution is to compress it. Last year, Barker developed a tool called Powerstrip with help from honors student Jack Ward '19, who wrote much of the code for it. Powerstrip is an algorithm that can compress energy data by as much as 97 percent. Barker has has made it freely available to download.
This summer, Gehrs and Barker are applying the compression tool to data sets to "get better insights into when it works well and the kind of scenarios when it could be effectively applied," Barker said. 
For instance, Gehrs is running experiments with specific appliances, like refrigerators, dishwashers, and washing machines, to see if the device compresses some data better than others. So far, she's found that—after cleaning up the numbers to exclude inactive periods when the appliance is not turned on but may still be plugged in—that lights have the best compression rate in the real-world dataset they're studying. "Their data is compressed on a factor of 731, and that makes sense because they don't fluctuate in how much energy they're using," she explained. "On the other side, solar panels have a very low compression rate. They only compress at a factor of 2.4, which makes sense because the energy data from them can get weird—you can have negative energy output as they're generating energy rather than using it."
Barker said this kind of analysis will help make Powerstrip more effective and user-friendly. "The off-the-shelf compression tools we use all the time have generic formats; they're not designed for particular kinds of data. Powerstrip is exploiting the properties of this particular data."
Gehrs wanted to assist Barker's project this summer because she is interested in the "intersection of computer science and environmentalism and sustainability," she said. "I was interested in the applications of this project and how different energy companies can use this data to look more into sustainable practices." 
Barker, too, said he is motivated by a desire to help take care of the environment. "I've been doing a lot of work in smart buildings broadly for a number of years and my focus has been largely on what we can do with energy data to promote energy sustainability in buildings," he said. "I have looked at that from a number of angles: how do we collect data, how do we store data, and what are ways we can apply data to promote sustainability, like shifting around the schedules of appliances. So there are a lot of ways to work in this area that interest me."
Bowdoin's Gibbons Summer Research Program is unique among the College's research fellowships in that it forges collaborations between students and faculty and encourages the use of technology to open new ground in interdisciplinary research.
John A. Gibbons, Jr. '64 established the fund in 2004 to support projects that both cross disciplinary boundaries and apply technology to "developing fresh approaches to the study of complex problems."
Over the years, students and faculty have worked on innovative endeavors across the liberal arts—from music and theater, to philosophy, economics, biology, math, classics, history, and more. This year's Gibbons fellows are investigating public health, art provenance, ancient navigational techniques, video games, Portland's LGBTQ history, early-childhood learning, plant physiology, gerrymandering, and smart meter data.
2021 Gibbons students: Sharif Abouleish '24, Salina Chin '23, Stephen Crawford '22, Kasey Cunningham '22, Cobra Curtis '23, Jonas Eichenlaub '22, Charlotte Gehrs '24, Jackson Hansen '23, Jeremy Hoyne Grosvenor '22, Ramiro Storni '23, and Rose Xi '22. 
2021 Faculty mentors: Angel Matos, assistant professor of gender, sexuality, and women's studies; Theo Greene, assistant professor of sociology; Eileen Johnson, lecturer and program manager of environmental studies; Willi Lempert, assistant professor of anthropology; Jack O'Brien, associate professor of math; Sean Barker, assistant professor of computer science; Patrick Rael, professor of history; Barry Logan, professor of biology; Dana Byrd, assistant professor of art history; Alison Riley Miller, assistant professor of education; and Lauren Saenz, postdoctoral research associate in education.