Celebrating the Class of 2020 Commencement
By Tom Porter. Photography by Michele Stapleton.
More than a year after graduation, Bowdoin College celebrated the 472 bachelor of arts degrees earned by the Class of 2020, in a ceremony on Saturday, August 14, 2021.
The ceremony was held on the steps of the Walker Art Building. The actual Class of 2020 Commencement took place remotely last year, due to COVID-19 safety concerns. This was an opportunity for most of last year's graduating class—around 400 of them— to meet up in person and celebrate their achievements. All attendees were required to provide proof of full vaccination in order to enter campus. Attending graduates also received an antigen test on arrival.
The ceremony came after two days of informal gatherings on campus with classmates and family members. Social events included "pints with professors" on the Dudley Coe Quad on Friday afternoon, a lobster bake for the Class of 2020 and guests, and, later that evening, a "Class of 2020 Sendoff" featuring Pinky D's Food Truck.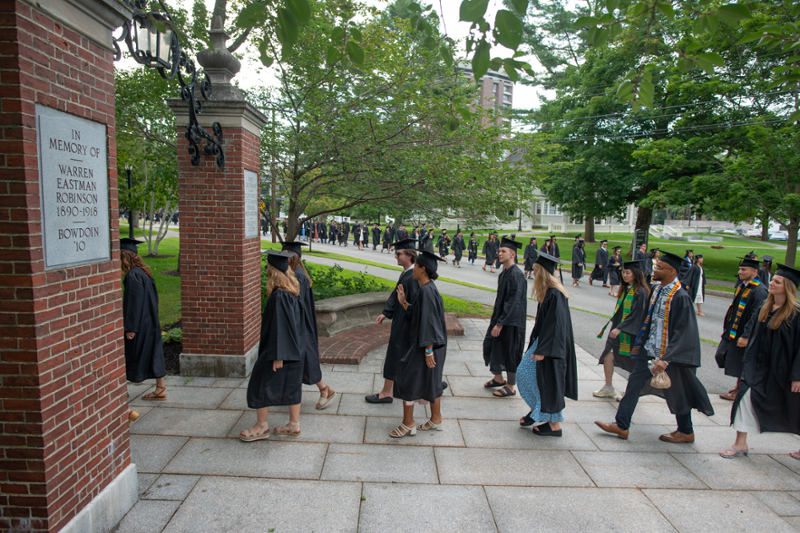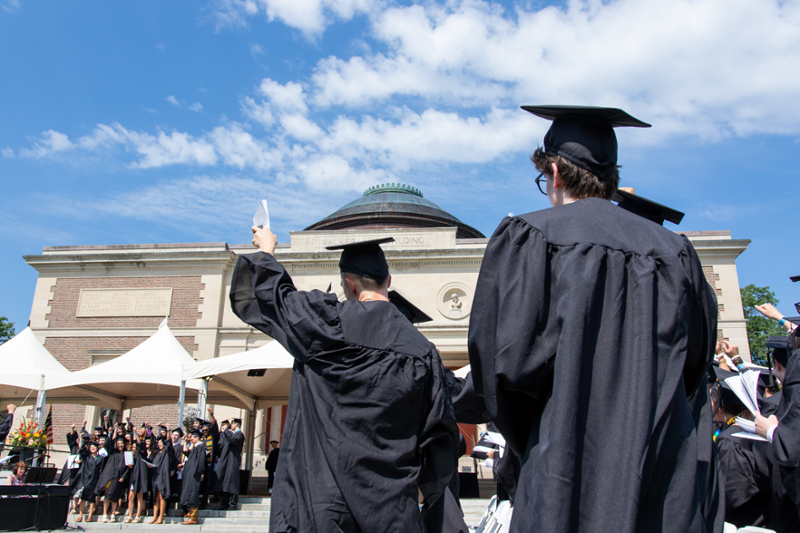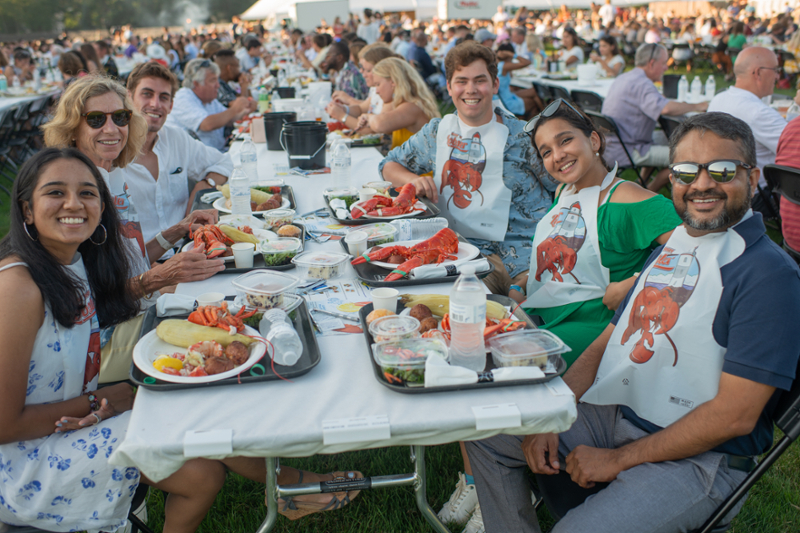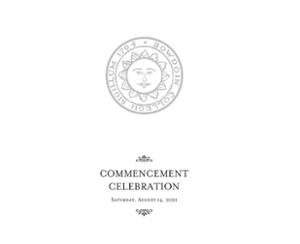 The formal proceedings got underway shortly after 9:00 a.m. the following morning, when College Marshal Jean Yarbrough, Bowdoin's Gary M. Pendy Sr. Professor of Social Sciences, officially opened the ceremony. Eduardo Pazos Palma, director of the Rachel Lord Center for Religious and Spiritual Life, offered the invocation. "Although you were forced to leave these grounds in a hurry last time you were here, this place is still yours to call home," he told the Class of 2020. Read the full text of Pazos Palma's invocation.
After a rendition of "The Star-Spangled Banner" by graduate members of the Bowdoin Chamber Choir and a cappella groups, Chair of the Bowdoin Board of Trustees Robert F. White '77, P'15 introduced Madeline Sarah Hasson '20, who gave the annual Greetings for the State, which is customarily offered by a representative from Maine. An economics and education double major from South Portland, Hasson was perhaps best known as a standout player on Bowdoin's women's basketball team, being named the 2020 Women's Basketball Coaches Association Division III National Player of the Year.
Last September Hasson moved to Dublin, Ireland, where she studied for a master's degree in international business. She also did community work there, coaching a youth basketball team. Next month, she plans to move to Boston to begin a job as a financial representative at Fidelity Investments.
"Over the past year, we have spread across the globe and returned to this spot," Hasson remarked. "Come the end of the weekend, we will all return to our lives in our locations scattered thousands of miles apart. Luckily, we all share this state and this campus, a home to return to regardless of distance or time." Read the full text of Hasson's remarks.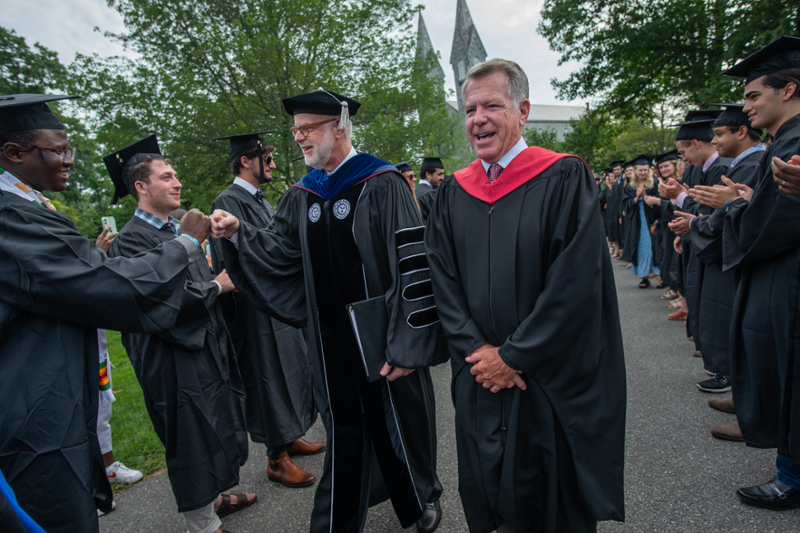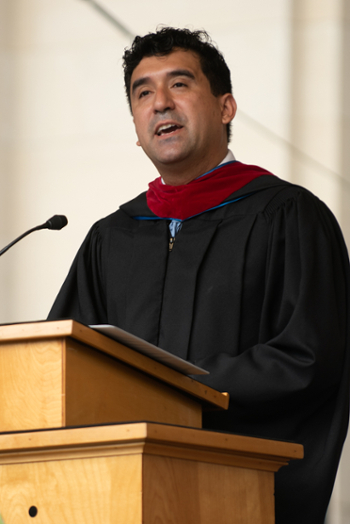 President of the College Clayton Rose welcomed the graduating class, honorands, trustees, faculty, staff, and all the alumni, friends, and family attending either in person or watching the livestream. He recalled sitting on a near-empty stage during last year's remote Commencement ceremony. "As we conferred your degrees," he said, "I shared with you then my advice to make nurturing the gift of love from family and friends your highest priority, and that this is the source of the greatest joy you will have over the course of your life. The events of the last year have only served to reinforce this idea," he added.
"You have graduated at a time of significant challenge—an understatement, for sure—a climate emergency; a recognition that we have so much to do to create racial justice in our country; political, social, and cultural divides that are as stark as we have witnessed in many generations; and divisions that raise serious questions about the direction of our democracy. And, of course, the pandemic," he added. 
While we are still in a difficult time, Rose said he feels optimistic, but not in a naïve way. "There is no magic wand, and benign neglect won't work. I am optimistic because I know you, and I know what you can and will do. I have witnessed it firsthand while you were here, and I have seen it over the course of the last year in all that you have already been doing. Class of 2020, keep doing it. What you do, and will do," concluded Rose, "will make the world a better place, and we need you."
Read the full text of President Rose's remarks
.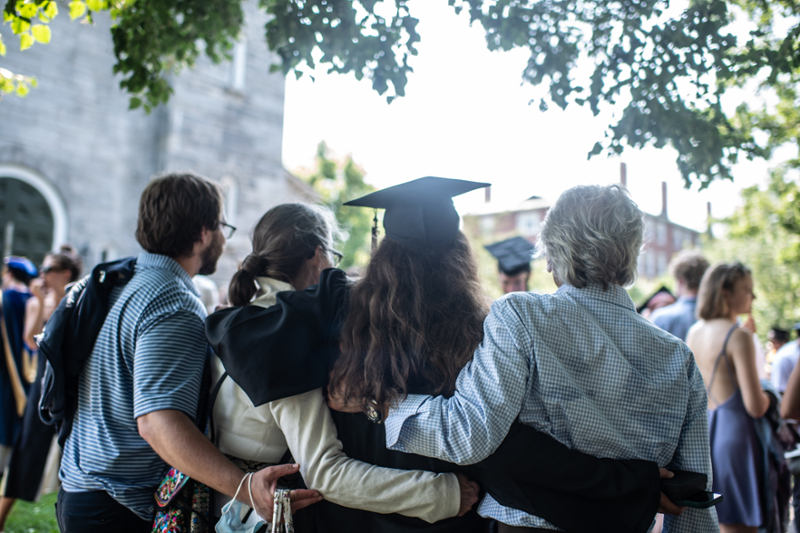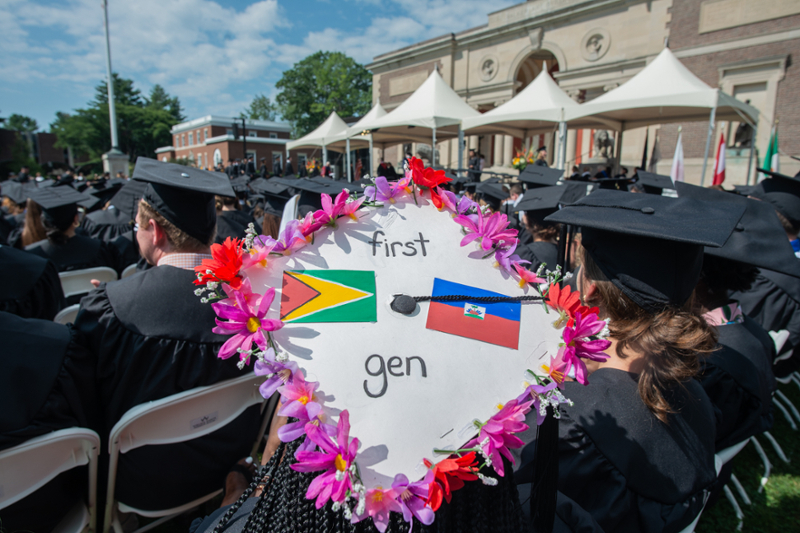 Class of 2020 Commencement Speakers
Julianna Lenoff Kiley '20: winner of the DeAlva Stanwood Alexander Prize. An English and education major and Hispanic studies minor, Kiley pursued many extracurricular roles during her time at Bowdoin. She was a writing assistant, an Aspirations in Maine Day Fellow, a Denning Fellow for The Telling Room, an intern with the Forest Foundation, a board member for Maine College Circle, a volunteer English language teacher for Learning Enterprises, and a teaching intern at King Middle School.
Kiley spent the past school year serving as a LearningWorks Aim High AmeriCorps member at Talbot Community School in Portland, Maine, where she got to work with, in her words, "the coolest, brightest, and kindest second graders." Since June, she has been interning in the publishing group W.W. Norton's high school division, making some travel plans, and exploring courses that will prepare her for a career in education.
Kiley credits Brock Clarke's Advanced Fiction Workshop with helping her learn to resist planning and follow her instincts, and her experiences on the Bowdoin swimming and diving team with giving her a deeper belief in her own capabilities. Her address is titled "Signposts," and it is about learning to trust that, when you get lost, you will indeed find your way. Read the full text.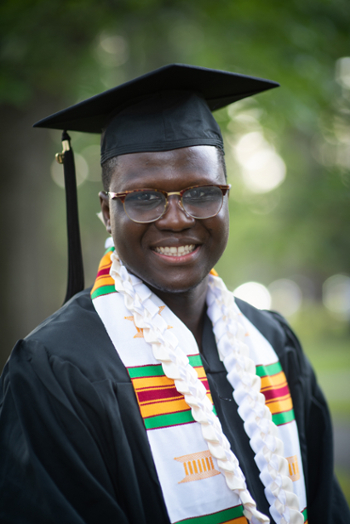 Mamadou Diaw '20: winner of the Class of 1868 Commencement Prize. A sociology major and earth and oceanographic science minor, Mamadou was on the residential life staff for three years, an experience he credits with developing leadership skills and increasing self-confidence.
He also served in Bowdoin Student Government and was part of the entertainment board that helped bring artists to campus.
A son of Senegalese immigrants, Diaw is from Harlem, in New York City. He is currently working at Fidelity Investments as an associate in an eighteen-month rotational program for emerging leaders, which places him across different business units. 
Diaw has also started his own podcast, called The Impact Podcast, in which he interviews people from different backgrounds about how they make an impact in their fields. The motto for his podcast is: "Leave an impact wherever you go, no matter the scale, as long as you are making yourself and those around you better every day." With proceeds from his podcast's merchandise line, Mamadou helps support The Innocence Project, a nonprofit legal organization committed to exonerating those who have been wrongly convicted. Diaw's talk is titled "The Rubber Band Ball of Life." Read the full text. 
James O'Shea '20: winner of the Goodwin Commencement Prize. O'Shea majored in biology, focusing particularly on ecology, evolution, and marine biology. He earned a minor in environmental studies. He has occupied himself in a variety of ways over the past highly unusual year, working as a park ranger, a pizza chef, and a substitute teacher.
He has also found time to walk in the woods, looking for birds, moths, and salamanders. This fall, O'Shea will be teaching high school biology. He also plans to continue working on his watercolor illustration and salamander identification skills, in the hope of someday creating the next great guide to North American salamanders.
As an undergraduate, James says, one of his most meaningful experiences was spending a summer at the Bowdoin Scientific Station on Kent Island. Living on the remote island in the Bay of Fundy surrounded by seabirds and wildflowers, he said, was "truly unparalleled."
Alongside his science classes at Bowdoin, James also studied painting with A. LeRoy Greason Professor of Art Mark Wethli, an experience that, he says, fundamentally changed his relationship with art and how he sees the world. O'Shea's address is called "Living in Raven's World," and it draws on his love of art, literature, and the natural world. Read the full text.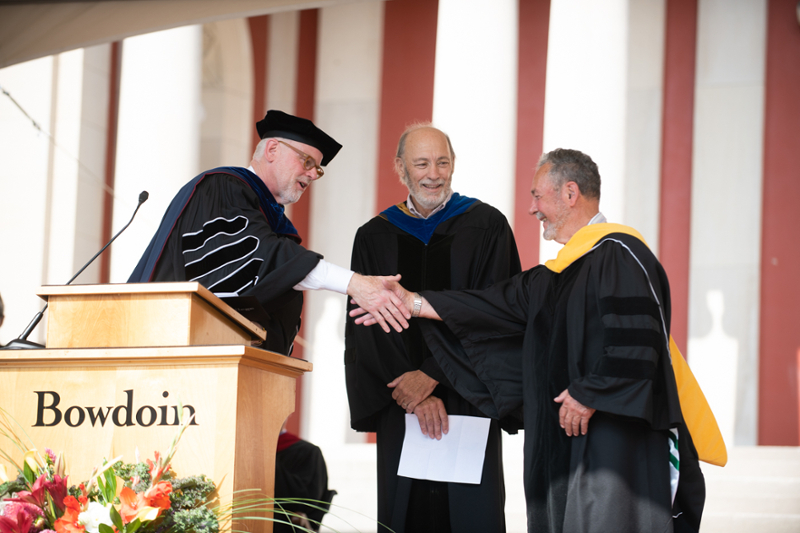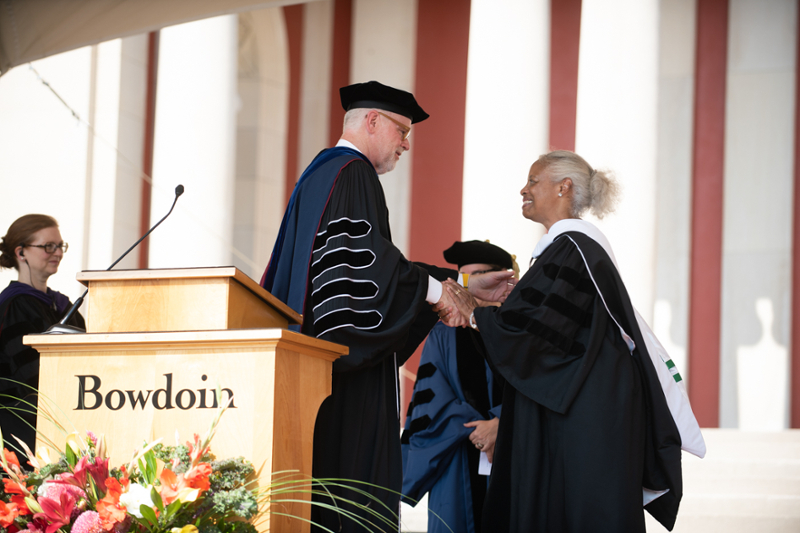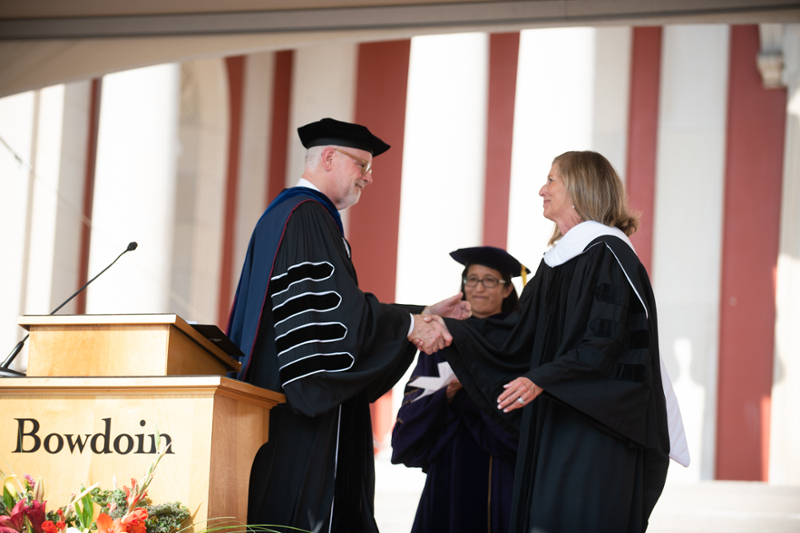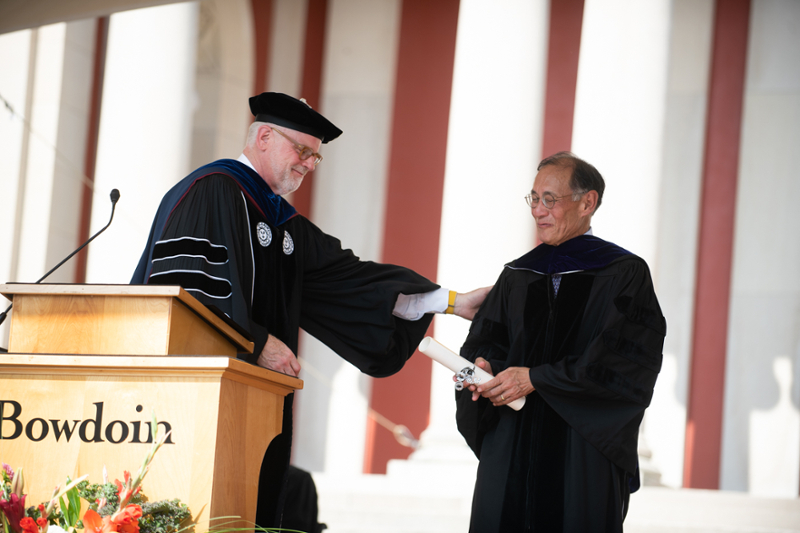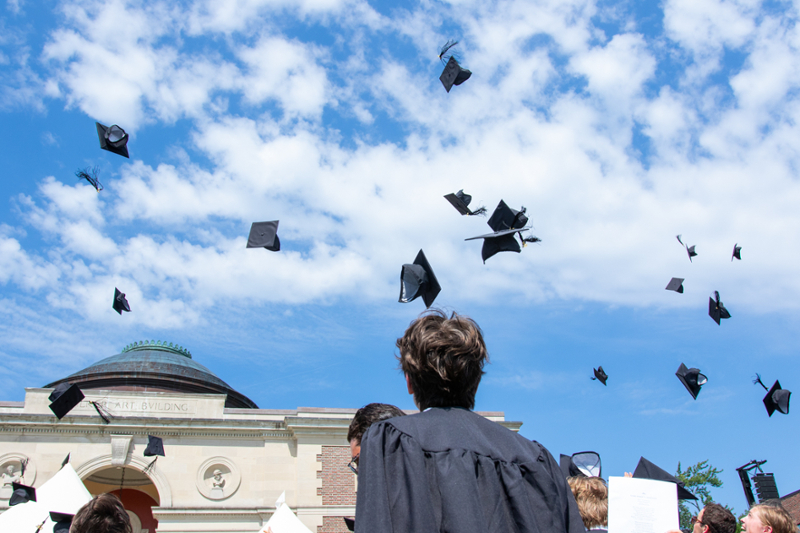 Celebrating Degrees
President Rose went to on the celebrate the awarding of honorary degrees to four recipients in 2020.
Edward P. "Ted" Ames has been a commercial fisherman, scientific researcher, educator, and advocate for marine conservation and for sustainable fisheries in the Gulf of Maine. He was awarded an honorary doctor of science degree.
Deborah Jensen Barker '80, P'16 was a member of the Board of Trustees of the College for twenty years (from 1999 until 2019). She was awarded an honorary doctor of humane letters degree.
Ann M. Fudge is the former chairman and CEO of Young & Rubicam Brands, a global network of marketing communications companies. She was awarded an honorary doctor of humane letters degree.
William F. Lee P'00, a leading trial and appellate lawyer and intellectual property litigator, is a partner at the law firm Wilmer Cutler Pickering Hale and Dorr. He was awarded an honorary doctor of law degree.
Rose proceeded to officially congratulate the members of the Bowdoin Class of 2020. Graduates came from all corners of the US and of the world, including Central and South America, Asia, Europe, and the Middle East. The ceremony concluded with a rendition of "Raise Songs to Bowdoin," led by members of the chamber choir, closing remarks by Jean Yarbrough, and a recessional march performed by Chandler's Band.
Watch the video: