Published August 28, 2021 by Rebecca Goldfine
They've Arrived! President and Deans Greet the Class of 2025
After all first-year students had returned from their
orientation trips
, they gathered as a class Saturday afternoon to be welcomed by President Clayton Rose, Dean of First-year Students Melissa Quinby, and Dean of Admissions Claudia Marroquin.
It's a tradition for the president and deans to greet the new students on the steps of the Bowdoin College Museum of Art. Behind the podium, the College flies a line of flags representing all of the students' home countries. The Class of 2025 is made up of 522 students, 12 percent of whom have international backgrounds. More than 70 percent come from outside of New England, while 8 percent are Mainers.
Rose congratulated the class for having arrived on Bowdoin's campus for this long-awaited day, after a difficult year and a half.
"The hand you've been dealt right now is a tough one and it is not what you expected, but it is the hand you have and I know you will continue to face down the challenges ahead with thoughtfulness, kindness, determination, grace, a sense of community, and hopefully some good humor," he said.
He noted that they will be held to a high standard here, and that the College expects each student to adhere to its values as outlined in its academic honor code and social code. "In great measure, you were accepted to Bowdoin because of your character. We expect you to use your sound judgement to do what's right, to act with integrity every day in everything you do," he said.
Rose then shared two aspirational ideas with the class: "First, you are here to be challenged like never before, and, second, you are here to become intellectually fearless."
He encouraged the students "to push yourselves out of your comfort zone—in the degree of sophistication of the material and in the subjects that may not be natural for you. In doing so, you will learn a lot, and discover a lot about yourselves. In stretching and pushing yourself, you will find what you are really capable of accomplishing, and the satisfaction from this is amazing. This is not to say that you won't fail or come up short of your expectations. You will, and you should."
He then defined what he means by intellectual fearlessness—a concept he has spoken about with each incoming class—and explained why he believes it is so important that students embrace this attitude.
"Our education and our experiences are about questions more than answers. They are about challenging deeply held views and pushing ourselves to comprehend new material—to engage with new ideas and ideas we disagree with and, in doing so, to consider material that shakes us up, that unsettles us, and yes, that may offend us," he said. "Don't avoid being uncomfortable, embrace it."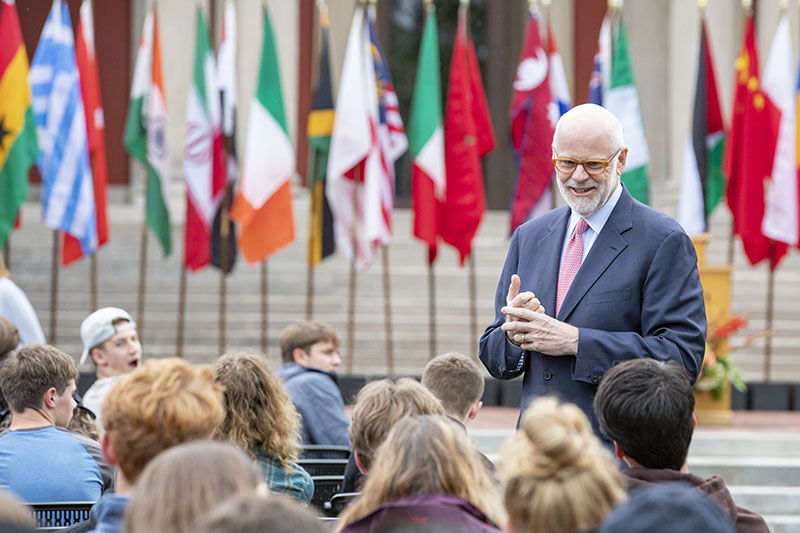 "Tomorrow, a week from now, a year from now, when you are in a discussion in class, listening to a speaker—in the dining hall, dorms, wherever—and you hear something that really pushes your buttons, that makes the hair on the back of your neck stand up, you should run to it, embrace it, figure out why you are uncomfortable, unsettled, offended, and then engage with it. Engage with it in a thoughtful, objective, and respectful way. This is how you learn. This is how you develop the intellectual tools and emotional strength to face down and deal with our biggest problems and opportunities. And this is how you change the world." — Read the full text of Clayton Rose's welcome to the Class of 2025.