Published July 28, 2021 by Rebecca Goldfine
Summertime is for Surdna Fellows, to Dive into Research
This summer, seventeen students have Surdna Foundation Research Fellowships to pursue faculty-mentored, independent research in the field of their choice.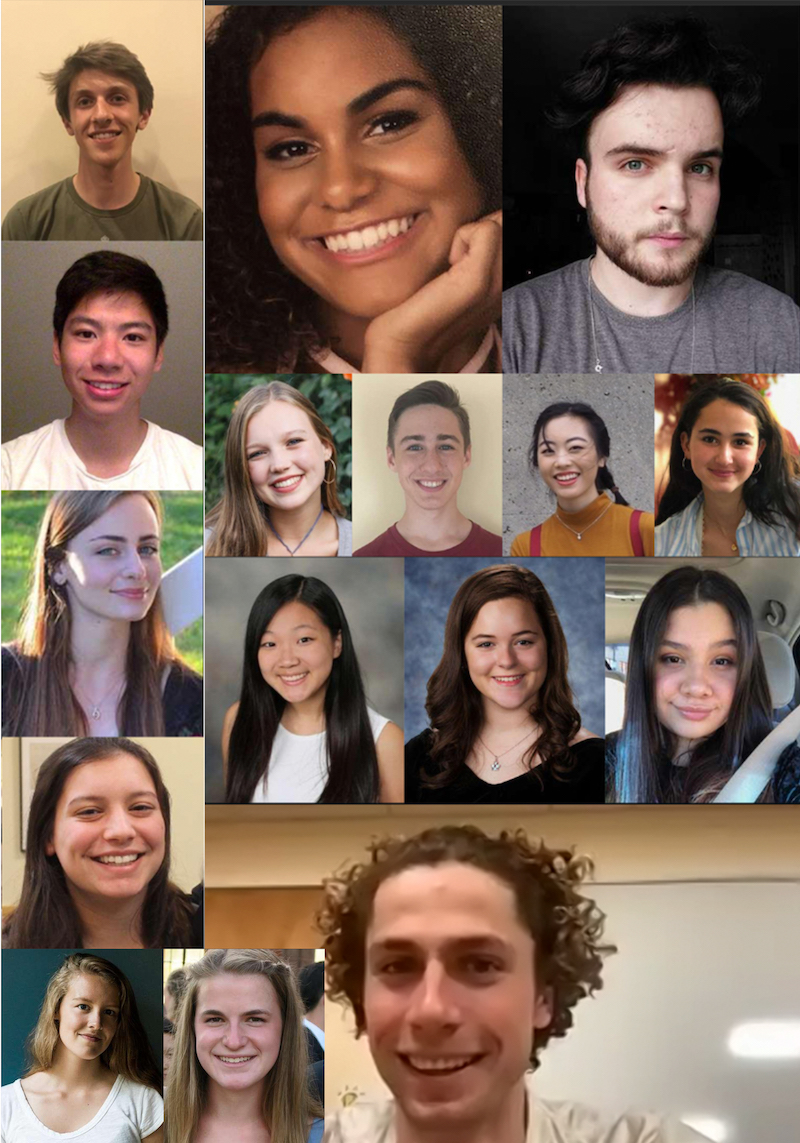 Surdna grants are not restricted to specific disciplines, and this year are supporting students doing research in anthropology, Africana studies, Asian studies, biochemistry, digital and computational studies, economics, English, sociology, Romance languages and literatures, urban studies, and more.
The undergraduate fellowship program was first established in 1959, making it one of Bowdoin's oldest research funds for students. It is named for the Surdna Foundation, a philanthropic organization formed in 1917 by John Emory Andrus that supports social justice reform, healthy environments, inclusive economies, and thriving cultures across the United States, according to its website.
The fellowship is part of a group of funds that support approximately 200 Bowdoin students over the summer or academic year. 
Below are brief descriptions of the 2021 summer's cohort of Surdna fellows, based on their original project proposals. (Some projects may have changed over the course of the summer as students redirect their research). At the top is a spotlight on the work of Noah Gans, whose project combines his interests in computer science, sociology, urban studies, and the common good.
Noah Gans '22
merges his two majors—computer science and sociology.
Can you briefly describe your project this summer?
I am attempting to use computer science algorithms to optimize city infrastructure layout to reduce racial segregation.
What inspired you to pursue this?
2020 was a dynamic year in general, and we saw a lot of racial awareness spread around the country. I was thinking about interesting ways I could help address racial problems, and I was living in the San Francisco Bay area with a friend who works for a housing nonprofit, and we spoke a lot about the value of infrastructure and how much it perpetuates racial problems. I love computer science and know it is a powerful tool, and I don't think it is applied as much as it could be to social problems. 
Are you looking at many cities?
I knew it would be important to have a case study, or a specific study to focus my analysis on, and I looked at a few cities, like Portland, Oregon, Detroit, and Atlanta. I chose Atlanta because it has great potential for comparative analysis, with strong enclaves of Black and white communities.
What kinds of infrastructure are you looking at?
The examples I'm looking at represent differences in access to certain commodities, like access to good food. This requires figuring out where grocery stores are and how much time it takes to get to them, and how affordable the food is. Then you can do that with schools, health care facilities, transportation, and green spaces. With this information, you can start to formulate an understanding of inequality—how these things scale with the income of a place. Theoretically, you could also produce maps that have an overlay of racial make-up with different infrastructure. Moving on from that, it becomes an issue of how we address these problems; for instance, where do we put a food source and what food source? 
What's your ultimate goal for the project?
I think it would be neat to produce a website where I can make this implementable to any city. So anyone could look at their city and see the inequality. It could be a tool for individual action and awareness. 
The project of
Anthropology:
Anthropology major Jessica Bae '22 is researching the "in-between generation" of Korean American immigrants, that is, children born in Korea and raised in the United States. This includes her father, who immigrated with his parents from South Korea to Chicago when he was thirteen, and who confesses to feeling as if he fully belongs neither in Korea or in the US. "Especially with a rise in blatant anti-Asian racism and hate crimes, I have been forced to reflect on the feeling of invisibility that often pervades the Asian American community, especially that of more specific demographics," she writes in her project proposal. "Scholarship on 1.5-generation Korean and Asian Americans in general is few and far between." Advisor: Krista Van Vleet, professor of anthropology.
Julia Perillo '23, a Romance languages and literatures major and anthropology minor, is investigating the postwar linguistic assimiliation of Italian immigrants in Australia and Argentina after WWII. "I am exhilarated to pursue this project, a hybrid of my personal and academic interests that is intricately connected to my own identity," she writes in her proposal. "I am of Italian and Latin American descent, and my grandfather left Italy as a young man after the war and visited his brothers in Australia and Argentina before choosing to settle in New York." Fluent in French, Italian, Spanish, and English, her goal is to pursue a PhD in linguistic anthropology. Advisor: Krista Van Vleet, professor of anthropology.
Adela Rios '22, a double major in anthropology and gender, sexuality, and women's studies, is exploring how Mattel, the maker of the Barbie doll, has over the past sixty years "reconfigured Barbie's identity through aesthetics, clothing, and Barbie's 'direct' voice." Rios is curious about how consumers have impacted decisions to update the doll while simultaneously being influenced by the doll's identity. "Looking at Barbie anew will help us understand how gender identity evolves, and what physicality or material objects aid in that curation," she writes. Advisor: Krista Van Vleet, professor of anthropology.

English:
English and psychology major Ella Crabtree '22 is conducting research for her honors thesis, which examines the role of children in segregation-era literature, from 1870 to 1954. "As sympathetic figures, child characters serve as an emotionally resonant tool for integrationists; when readers sympathize with negatively affected children, the cruelty and impracticality of segregation become much more difficult to ignore," she states in her project proposal. "Such tactics were employed not just by fiction writers, but by legal advocates as well." She hopes to obtain either a PhD in English (focusing on American literature) or become a child advocacy lawyer. Advisor: Tess Chakkalakal, Peter M. Small Associate Professor of Africana Studies and English.
This summer Max Freeman '22 is reading Ralph Ellison to investigate the author's understanding of America and American democracy. "The reason I am an English major is because I think literature is a reservoir that we should draw from to imagine a brighter future," he writes. "The spirit of imagination that animates my research motivates my career aspirations as well. Reimagining America's form, as well as its content, characterizes the work I'd like to do in the future—through my research, my graduate studies, and my career, whether it be as a writer, an activist, or a policymaker." Advisor: Marilyn Reizbaum, Harrison King McCann Professor of English.
Kyubin Kim '22 writes that as a Korean American student majoring in English, she has "rarely been given the opportunity to study literary works that come from my community even while the contemporary Western canon is attempting to become more inclusive." Consequently, her goal this summer is to study Korean American literature through a "transnational framework, considering how memory and Korea as 'past' also play roles in emoting Korean American self-realities." She writes that, "as a student passionate about influencing the publishing industry," she plans to use her summer to "analyze works written by marginalized, underrepresented writers and find ways to amplify and uplift the emotionally charged, high-stakes nature of their art from the margins." Advisor: Belinda Kong, John F. and Dorothy H. Magee Associate Professor of Asian Studies and English. 
Miranda Vierderman '22 is researching Renaissance English literature, exploring how writers—like Shakespeare, Christopher Marlow, Thomas Nashe, Edmund Spenser, John Donne, and others—have written about female purity and impurity, patriarchal control over women's bodies, and fears relating to female sexuality and gender expression. Her goal is to complete an honors project that will combine the study of Renassance texts and sex/gender theory, and she hopes to do postgraduate research in the United Kingdom. Advisor: Aaron Kitch, associate professor of English.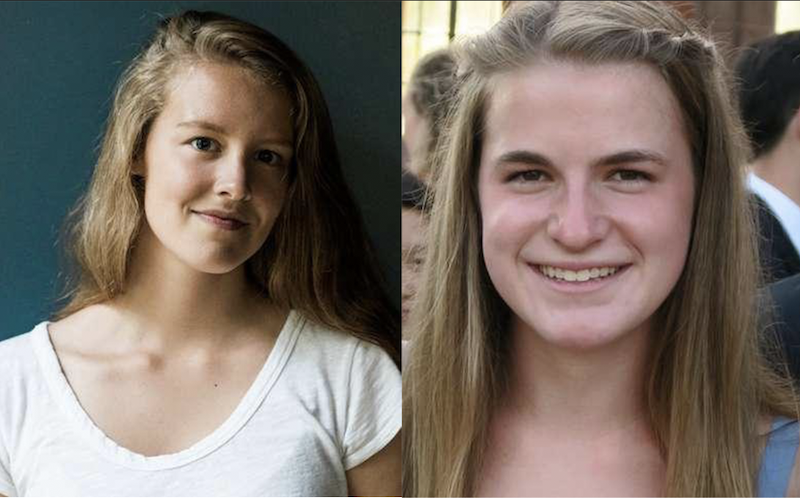 Romance Languages and Literatures:
Kate McKee '22, an Italian studies major and cinema studies minor, is taking an interdisciplinary approach to her study of Caterina Vigri (1413-1463), a Franciscan nun, teacher, artist, writer, musician and mystic who was canonized and elevated to patron saint of artists and the city of Bologna after her death. McKee's project "considers Caterina Vigri's life and Italian-language writing in relationship to her relic, her reliquary, and the Cult of Saints," which refers to worshippers of a particular saint. Her summer project will inform an honors project looking at female artists and writers in medieval Italy; her long-term goal is to obtain a PhD in Italian studies. Advisor: Arielle Saiber, professor of Romance languages and literatures.
Kate Tapscott '22 is studying "a variety of Spanish-language texts in the Southern Cone tradition that offers new ways of thinking about gender and power, specifically domination/resistance paradigms of women," she writes in her proposal. Her research focus, "into new, subtle possibilities for emancipation for women through literature and otherwise" is, she adds, "fundamentally a novel, cutting-edge one that deals with a question central to contemporary feminist literary scholarship." She is considering pursuing a PhD in Hispanic studies, or gender, sexuality, and women's studies. Advisor: Sebastian Urli, assistant professor of Romance languages and literatures.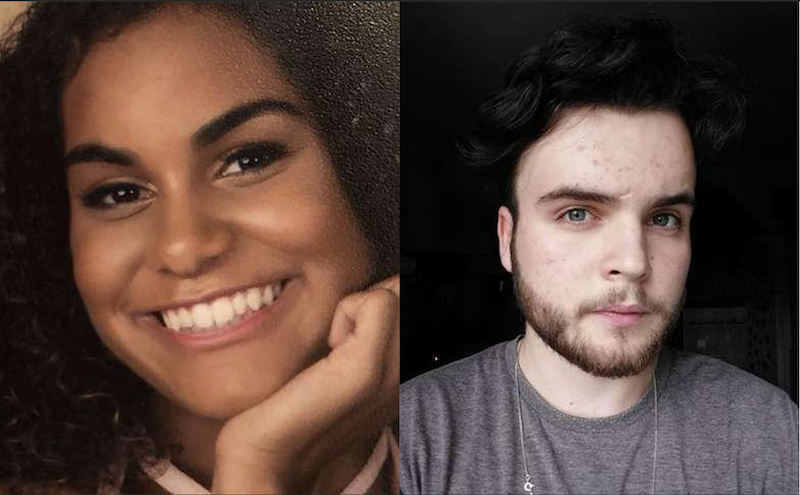 Sociology:
Alia Haskins '22, a Latin American studies and sociology major, is researching "female masculinity in the queer Latinx community" in Washington, DC, Maryland, and Virigina. She's collecting oral histories of  queer Latinx women between the ages of eighteen and thirty—as well as observing them—to try to answer questions about how they define masculinity and femininity and in what settings they're open to expressing their sexuality. "I know this research opportunity will push me to develop new skills that will benefit my future," she writes. "In addition to completing an honors project, I plan to go to graduate school to study Latin American Studies." Advisor: Theo Greene, assistant professor of sociology.
Catherine Jánszky '22, an earth and oceanographic science and Latin American studies major, is studying the Brazilian diaspora via the economic, cultural, and personal impacts of food. "Through interviews with Brazilian immigrants, and drawing on my experience as a Brazilian American, this project seeks to describe the political economy of Brazilian food production and the significance of food production to the Brazilian community," she writes in her proposal. "Given the increasing intensity with which immigration is being debated, this research will provide insight into how immigrant communities might approach the issue of assimilation." Advisor: Theo Greene, assistant professor of sociology.
Radu Stochita '22, a history and sociology major, is examining the video game industry through the lens of labor relations. The industry, Stochita claims, has spun a myth that it is a "passion industry," requiring intense dedication and long hours from its employees. He will interview game developers in the US and UK, as well as union organizers in the industry, current workers, and aspiring workers. "The research will contribute to the growing scholarship on video game studies by bringing a light on the production aspect of video games and the narratives around it," he writes. Stochita aspires to an academic career in industrial sociology. Advisors: Shruti Devgan, assistant professor of sociology.

Biochemistry:
Asper Garrison '22, an environmental studies and biochemistry major, is continuing a project in the lab of Bruce Kohorn to study cell adhesion in plants. "Mutations and protein function are highly popular and relevant subjects in the field of biochemistry, and the importance of specific findings in these fields are often publishable," Garrison says in his project proposal. "The chance to collaborate with other Bowdoin students under Professor Kohorn on a research paper would provide the exact work experience of a research scientist that I would like to pursue in my postgraduate career." Advisor: Bruce Kohorn, Linnean Professor of Biology and Biochemistry.
Economics:
Shuhao Liu '22, an economics major, is researching the "GameStop miracle"—when small investors drove up the struggling company's stock price to thwart Wall Street—as well as investor behavior during the pandemic. "I am interested in investigating whether this event reflects structural changes in investor demographics due to the pandemic, and whether it influences the future dynamics in the stock market," he writes. The project gives him the chance to learn more about the financial market and economy, as well as learn how to scrape web data (from Twitter), do econometric analyses, and analyze text, he writes in his proposal. Advisor: Daniel Stone, associate professor of economics.
Digital and Computational Studies (DCS):
Micaela Simeone '22 is looking into the implications of human-computer interactions and how this has changed over time. In the past, she says, computer programming "necessitated a complete understanding of a computer's internal architecture." Today, however, "a programmer's interaction with the machine is mediated by multiple layers of abstraction...and that examining these changes from a humanistic perspective may illuminate what our aspirations are (and, maybe, what they should be) for the programmer's role in 2021 and for our relationship with computers more broadly." Simeone, an English and DSC major, wants to attend a graduate program next year that fuses social science and technology studies.

 Advisor: Crystal Hall, associate professor of digital humanities.
Urban Studies:
The summer project of Lily Tedford '22 examines the manifestations of medievalism in urban spaces, from the medieval era to the twenty-first century. Her research question, broadly, is "how has the architecture, urban design, culture, and aesthetic of the medieval city been represented/manifested in various cities across time and literature, and to what ends?" Paying particular attention to literary representations and reimaginings of the medieval city, she is exploring themes such as the politics of preservation, medievalism in modern urban design, and connections to the medieval in public transportation systems. "This project would not only prepare me to do honors work as a senior, but would also allow me to synthesize knowledge across an exciting academic field and make new interdisciplinary connections between medieval studies, English, and urban studies," she writes. Advisor: Jill Pearlman, senior lecturer in environmental studies.