Published July 28, 2021 by Tom Porter
Snake Handling and Other Pursuits: Students Undertake Conservation Internships
The Office of Career Exploration and Development (CXD) has secured funding for more than ninety students this summer, enabling them to pursue internships or career-related projects of their choice by providing them with a generous stipend to live on.
These interns are working in a number of areas during the summer months, including law, politics, health care, social justice, and energy. Several of them have also undertaken internships in the fields of conservation and climate science education. Here we profile four of them.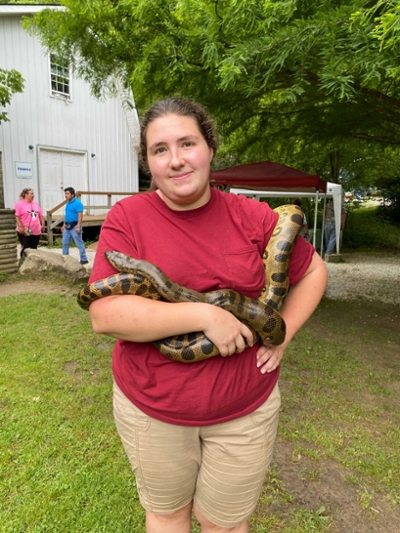 Elizabeth Baker '22
Biology Major.
Working at the Kentucky Reptile Zoo in Slade, KY.
"The zoo is a nonprofit that provides snake venom for medical research and antivenom production. Venom has been used to save hundreds of lives! We also produce exhibits for the public and work with educators, researchers, and law enforcement to support the conservation and study of reptiles. As an intern, I focus on looking after about a hundred nonvenomous snakes and other reptiles, including turtles, tortoises, and alligators, which can grow up to fourteen feet. We also support the zookeepers as they work to maintain the other 1600 venomous snakes we have onsite. Education is a big part of the zoo's mission, which can be difficult as many people have preconceptions that snakes are dangerous and mean. Through talks and live animal demonstrations, we aim to show people that they are actually beautiful and curious creatures. I have also spearheaded a project here to help the zoo do on-site tests for a disease called crypto. I learned the basics of how to do the test in Anne McBride's and Sandra Fussel's microbiology class/lab!
"I chose this internship because I am interested in zoology and wildlife rehabilitation, and because I had not worked with reptiles much before now. It's been a really great experience, and the staff here are amazing. Because it's a small staff, they dedicate a lot of time and energy to the zoo, and the interns learn a lot about the animals as a result. Working with a group of people who care so much has made this a wonderful summer."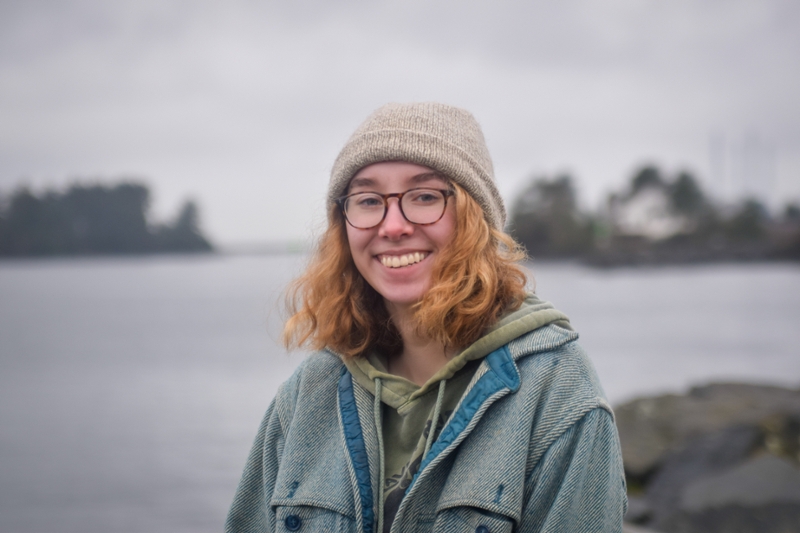 Cora Dow '24
Major not yet decided.
Working at the Sitka Conservation Society in Sitka, Alaska.
"Sitka is my hometown, and I'm working on a climate education project here, among other things. I'm specifically trying to address the question of what can be taught in schools to prepare students for climate change. This could be in the context of science education, workforce development, or emotional, cultural, and traditional support. To do this, I'm interviewing teachers, community members, students, and members of the Sitka Tribe of Alaska about their experiences and opinions surrounding climate change.
"I chose to work on this project because I've worked with the people at the Sitka Conservation Society in the past and they've been supportive of youth efforts to advocate for more comprehensive climate change education. It's an important subject for me because, although I grew up seeing changes in the environment around me, I learned very little in school about why it was changing and even less about what this would mean for my future."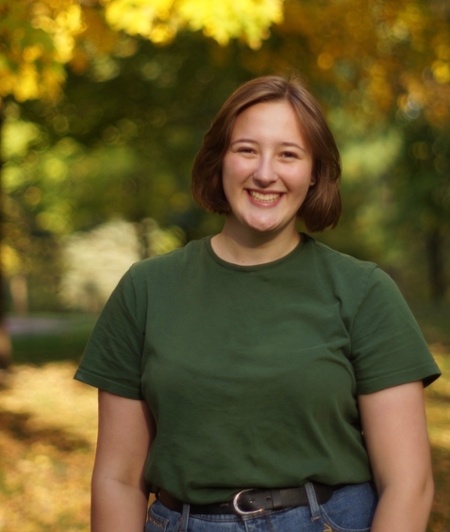 Rory Kliewer '24
Prospective Biology Major and History Minor.
Working at Wildlife Rehabilitation Center of Minnesota, located in Roseville, MN.
"The WRC is the busiest wildlife hospital in the world (as of 2020), and this summer I'm working at their avian nursery. I specifically work with infant and juvenile songbirds, many of whom come to us orphaned or injured. We keep them fed, clean their habitats, monitor their behavior, and administer medications. This work is difficult but incredibly fulfilling. It is a challenge to see animals I love so much come to us alone and terrified, often badly hurt. However, I also get to see our patients grow, and that makes it all worthwhile. Some of my favorites to work with are crows, blue jays, woodpeckers, and the incredibly unique herons we get in on occasion. Each bird has their own personality and quirks; it's amazing to watch them learn and eventually be released to perform their critical roles in our local ecosystem.
"I chose this internship because I wanted to make an impact in a way that was personally meaningful. I already had a deep love for birds when I entered the WRC, although my interests often lie more on the side of research than clinical care. There is something so special about holding a living creature in your hand, knowing its fragility, and knowing how much responsibility you're holding in that moment."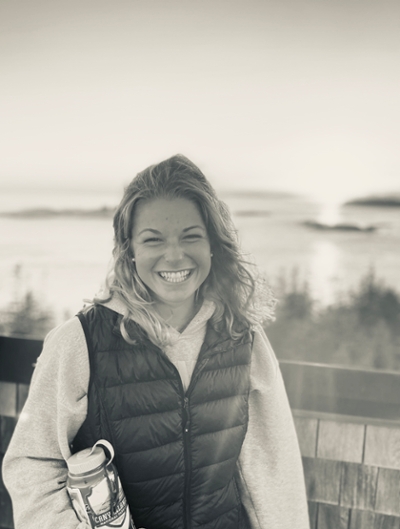 Sophia Lisle '23
Biology Major. Sociology Minor.
Working at Hurricane Island, a small, sustainable island "off-the-grid" in Penobscot Bay, Maine. 
"Hurricane delivers STEM education programs for middle and high school students and performs research on an aquaculture site to study scallop ecology. The island has a mission to inspire environmental stewardship through hands-on, field-based learning in their educational programs and improve the local fishery economy and environmental sustainability through their scallop research. As an education intern, I am mainly responsible for leading marine biology education programs on the island. Lessons have included sorting through 'spat bags' (to study populations of young scallops), exploring the intertidal zone, dissecting various sea creatures, analyzing marine debris, and collecting and viewing plankton under the microscope. We also grow our own food, maintain the island's trails and campsites, and teach about sustainable systems here, including composting, collecting solar energy, and maintaining a gray water wetland area.
"I chose this internship because I was excited to live in a close community that cares so much about wildlife conservation and public outreach. A big theme of the summer has been the question 'What do you notice?' This internship has allowed me to explore my own curiosities in the land and sea around me as well as evoke curiosity in my students."