Published June 14, 2021 by Bowdoin Magazine
Strawberry-Rhubarb Pie
Recipe by Stephanie Richards

Strawberry-rhubarb pie is a New England classic, and June in Maine means you can find local rhubarb in the stores and farmers' markets all around. This version has a touch of orange and, if you want, a hint of warm spice from the cardamom, and the tapioca helps the slices stay together neatly.
Makes one ten-inch pie.
3 cups strawberries, hulled and quartered
3 cups rhubarb, cut into ½-inch dice
2 tablespoons minute tapioca
½ cup white sugar
½ cup light brown sugar
1 teaspoon orange zest
¼ teaspoon salt
¼ teaspoon ground cardamom (optional)
1 egg white, beaten with 1 tablespoon water and a pinch of salt
2 ten-inch pie crusts
demerara sugar for sprinkling


Directions
Preheat oven to 425 degrees.
Place the strawberries and rhubarb in a large bowl and then gently mix in the tapioca, sugars, zest, salt, and cardamom (if using) and let the mixture sit while you roll out your pie crusts.
Roll out the bottom crust to a minimum of twelve inches in diameter, place it in your pie plate, and let it rest in the refrigerator while you roll out the top crust to the same size. Remove the pie plate from the refrigerator, brush the bottom crust with the beaten egg white, and mound the strawberry-rhubarb mixture on top of the bottom crust. Place the top crust over the fruit, trim the edges as needed to make them even, and then crimp them together. Cut several small slits in the top crust, brush the top crust with the egg white, and sprinkle the pie with the demerara sugar (regular sugar is fine if you don't have demerara).
Place the pie pan on a baking sheet to catch any juices that escape and bake for thirty-five to forty-five minutes, removing it when it is golden brown. Let the pie cool for two hours before slicing.
DID YOU KNOW?

Rhubarb is a strange stalk. It's one of the weirder things that we persist in baking into pies, and it's one of the only foods in the world that you can actually hear grow—in England's "Rhubarb Triangle," a nine-square-mile area between the West Yorkshire towns of Wakefield, Morley, and Rothwell, rhubarb plants are moved into pitch-black "forcing sheds" after two years out in the fields. The plants think that they're just underground, so spend all their stored-up root energy by growing taller at a fantastic rate. If you're quiet in a shed, you can hear the rhubarb cells crackle in the dark as they reach up and up, sometimes doubling in height in the span of a day.
Stephanie Richards
,
a lecturer in biology at Bowdoin who earned her BS at Bates and her PhD at the University of Vermont, is on Instagram as piecrastinator. "My mom made pies," she says, "and now I do too. I grew up in Portland, and my mother would take us strawberry picking every year. I love this pie because it tastes like summer."


---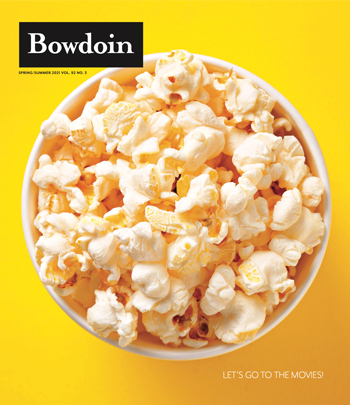 This story first appeared in the Spring/Summer 2021 issue of Bowdoin Magazine. Manage your subscription and see other stories from the magazine on the Bowdoin Magazine website.