Ramping Up, Ramping Down: A Year of COVID Testing
Published by Rebecca Goldfine
For the past year, Bowdoin Head Athletic Trainer Dan Davies and his team have been running the College's COVID-19 testing center, helping to collect thousands of nasal swab tests to keep the coronavirus at bay. Their job is finally winding down.
Pictured in the banner photo: Joe Shaw, Mike Ranen, Chelsea Tibbetts, Dan Davies
The Plexiglas booths and social distancing floor stickers are finally gone from Morrell Gym, the site of Bowdoin's testing center since last August. The final nose was swabbed there May 26. Now, a new, smaller summertime testing center has opened in Farley Field House, run by a coordinator from Bowdoin's events office.
And a lot of people on campus are saying, "Job well done." (Along with, "Phew!") Zero student-to-student transmissions—and just a handful of staff-to-staff transmissions—occurred at Bowdoin over the past year. 
Much of the achievement is credited to Davies, who has been an athletic trainer at Bowdoin for eighteen years.
Bowdoin community members often expressed their appreciation when they went in to test. "People came in and said thank-you all the time, that they appreciated us keeping the campus safe," Davies said. Virus testing, along with face coverings and physical distancing, was part of Bowdoin's three-pronged strategy to stay breakout-free this past year.
View this post on Instagram
On most days over the past year, Davies could be found sitting in his Morrell Gym aerie, at a temporary office he set up high on the folded bleachers. "Cap pulled low while he leaned over his laptop, participating in countless meetings, his eyes ever watchful on the team below," described Associate Director of Human Resources Cindy Bessmer.
Though his workspace was perched above the scene, Bessmer said that Davies also spent many hours on the floor, "and never asked anyone to do anything he wouldn't do himself," like training volunteers, ordering test kits, and filling hand sanitizer dispensers.
"In my opinion, quiet, effective, ever-present Dan deserves to be recognized alongside our winningest coaches in Bowdoin athletics history," Bessmer said.
While the leap from head athletic trainer to testing center director seems like a big one, for many who know Davies, it was an obvious move. Last spring, when administrators decided Bowdoin could only open its doors if it could conduct regular testing, Dean for Student Affairs Janet Lohmann settled on Davies as the ideal candidate.
"As the head athletic trainer, it is evident Dan situates his professional practice on health, wellness, and best practices," she said. "Playing that focus alongside his exceptional attention to detail made him an excellent choice."
When Lohmann first spoke with Davies about the job, neither had any idea what the center would look like or how long it would need to operate. "He took an idea about how we might make the test center work, applied his knowledge of information, practice, and systems, and the test center and the testing protocols came to be," she said.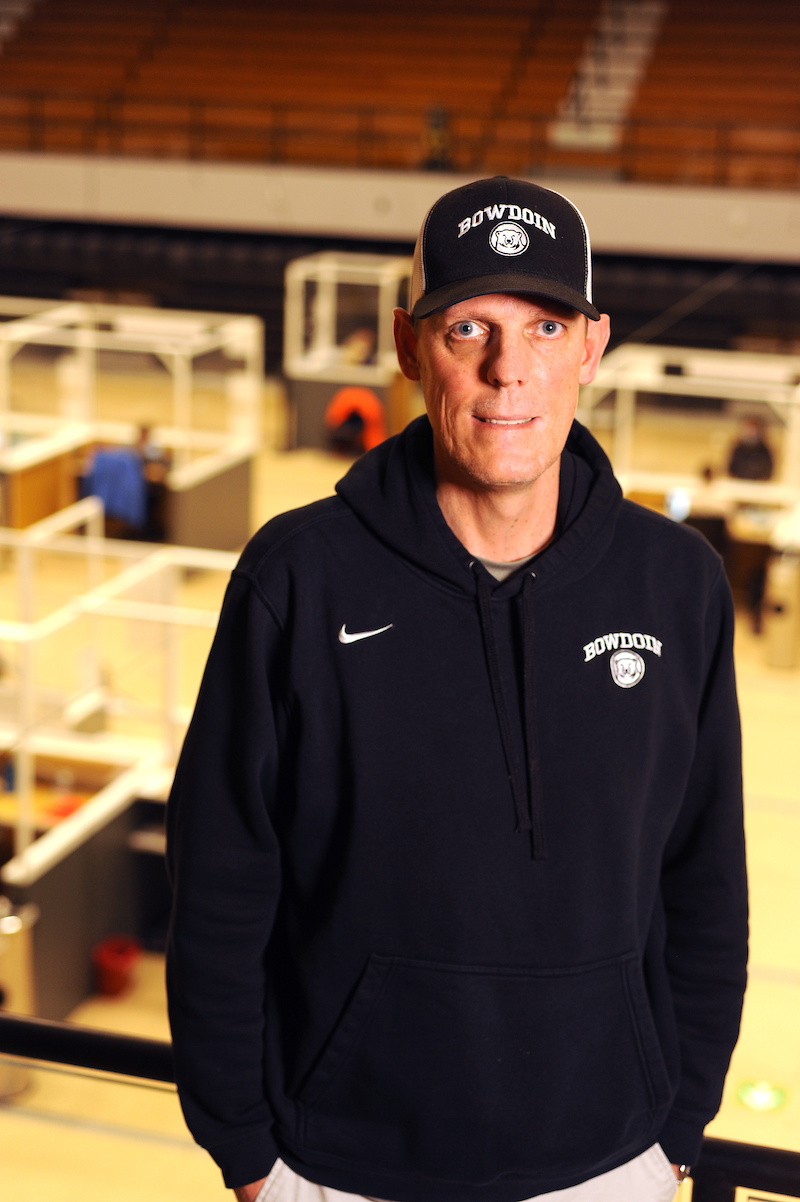 Many colleges and universities outsourced their training centers, according to Mike Ranen, who, as associate dean of student affairs and director of residential and student life, took on the role of managing Bowdoin's COVID-19 response.
"We didn't because we wanted people who knew Bowdoin to run our testing center," he explained, adding that he appreciated the huge amount of work and the long hours Davies and his team have put in.
Since it first opened last August, Bowdoin's COVID-19 testing center has collected more than 111,000 nasal tests from staff, students, and faculty for processing in a Massachusetts lab. Over the past year, only forty-seven samples came back positive for the virus—for fifteen students and thirty-two staff. While most cases in the fall were asymptomatic, they tended to be more severe in the spring, Ranen said.
Helping Davies throughout both semesters was a team of 100 Bowdoin employees who were trained to guide people through the process of swabbing their own nostrils for the virus. 
"Yes, I was in charge of testing, but it took a village—from the carpentry shop's Rickie Black, Mike Taylor, and John Drake who built the booths, to IT's Amy Kerr and Jason Pelletier setting up the computers, to Katie Toro-Ferrari in the dean's office, to Mike Ranen in Res Life, to the volunteer staff and my right-hand person, Joe Shaw," Davies said. Many people in athletics helped out, he added. "I can go on and on. I can't thank everyone enough for their time and dedication."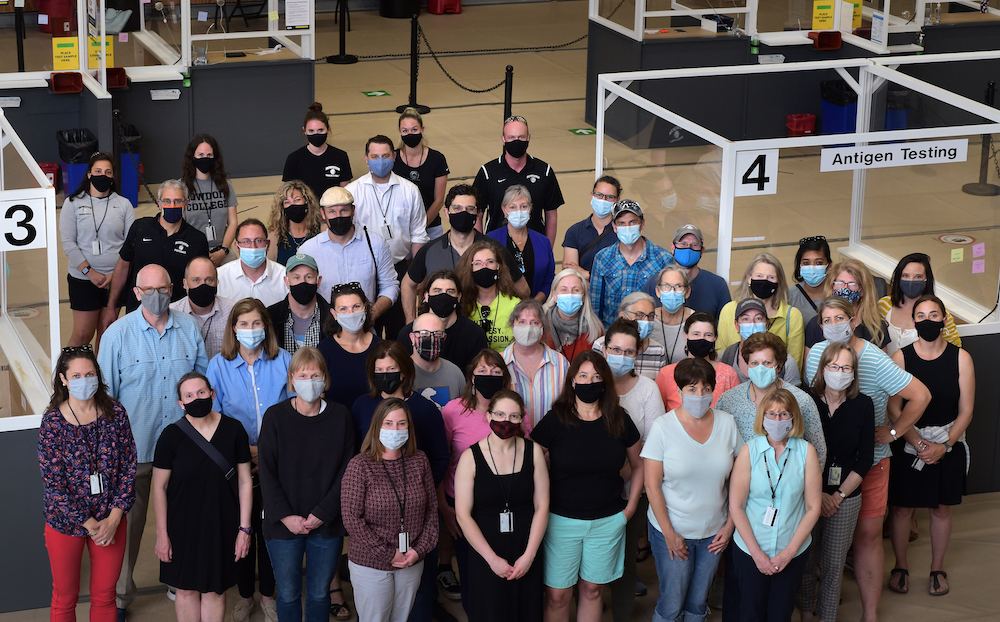 Just a handful of the many testing center volunteers, gathered in Morrell Gym one last time before operations move to Farley Field House. 
Davies is now passing the COVID-19 testing mantle to Chelsea Tibbetts, who is Bowdoin's events and summer programs coordinator. She, with Administrative Coordinator for Counseling Services Lindsay Jacobs, will be running a smaller testing operation in Farley Field House for the summer.
"It was a great experience," Davies said, "but it will be nice to be an athletic trainer again."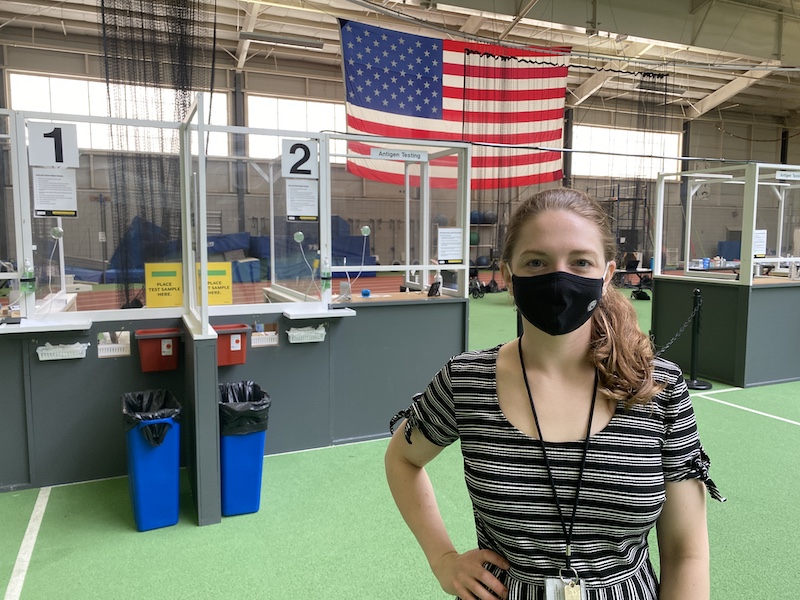 COVID-19 Testing Center Part II
The Farley Field House COVID-19 testing center opened June 2, and going forward will be open Mondays and Wednesdays between 8:00 a.m. and 10:00 a.m., at least through August. The staff has dwindled from 100 to fifteen.
Their main task is to ensure the remaining staff, faculty, and students working on campus who are not yet fully vaccinated get weekly tests. They'll also be helping to test all the people who attend summer programs at Bowdoin.
Tibbetts, like Davies, never imagined herself running a COVID-19 center. Hired to help organize events at Bowdoin in January of 2020, she didn't have much time in that role before the College moved to remote learning. "I got my feet wet with minor conferences, some brunches and dinners, and then everything changed," she said.
She joined the effort to run the Morrell Gym testing center, serving as the staff scheduler. Starting this April, she began transitioning to take over management of the summertime operation.
"I consider it like one big event," she said. "There are guests who come through here, and we try to treat them as best we can, like we would any other guest, even if it is to give them a swab up the nose."