Published June 10, 2021 by Bowdoin News
Paula Volent Honored with CEE Visionary Award
Chief Investment Officer and Senior Vice President Paula Volent has been honored by the Council for Economic Education (CEE) with the organization's Visionary Award, which recognizes leaders who, in alignment with CEE's overall mission, promote economic and financial literacy to create a better-informed society.
Volent and her fellow honorees—Harvard University's William A. Ackman Professor of Public Economics Raj Chetty and Peter Stavros, cohead of US private equity at KKR—were presented the awards during a virtual benefit, which included a discussion moderated by CNBC Senior Economics Reporter Steve Liesman P'22.
During her nearly twenty years at the College, Volent has grown Bowdoin's endowment from $465 million in 2000 to more than $2 billion in 2020, providing nearly $72 million to the annual operations of the College last year, including $33 million for need-based financial aid.
Volent has mentored interns and staff members in the Office of Investments to become skilled investors and portfolio managers, and has been an advisor to several organizations, including the Rockefeller Foundation (investment committee member), National Women's History Museum (board member), Maine Coastal Heritage Trust (council member), and MSCI Inc., formerly Morgan Stanley Capital International (board member).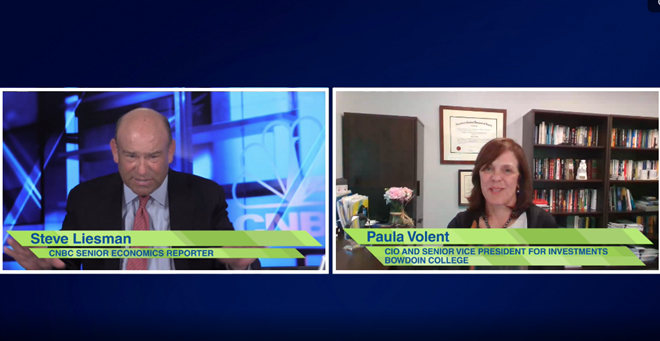 The financial press has called Volent "one of the savviest investors in the non-profit world" and "a pioneer in a male-dominated field." In 2020, Volent was included in Barron's list of "100 Most Influential Women in US Finance."
In early 2021, Volent announced she would be leaving Bowdoin at the end of June to pursue the next chapter in what has been a varied and tremendously successful career at the College.