Published June 22, 2021 by Bowdoin News
Aquaponic Farmer Trevor Kenkel '18 Grows Springworks to Accommodate Increased Demand
Trevor Kenkel '18, founder and president of Springworks Farm, the largest and first certified organic aquaponic farming operation in New England, has announced an expansion of its greenhouse space to meet increased demand for organic lettuce and other greens.
The expansion of 500,000 additional square feet of greenhouse space will help sustainably serve the Lisbon, Maine, farm's largest customers, the Whole Foods and Hannaford supermarket chains, as well as a wide range of local restaurants and stores.

Kenkel, who founded the farm in 2014 at the age of 19, attributes much of the growth to increased orders from supermarkets in response to COVID-19.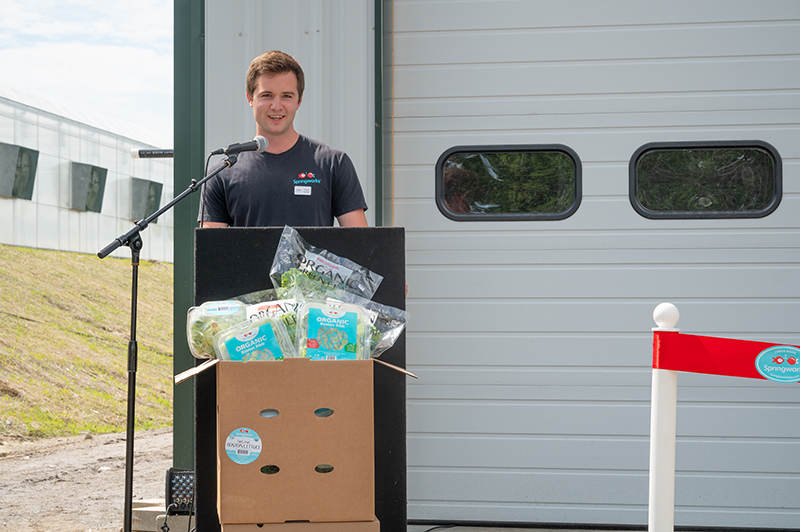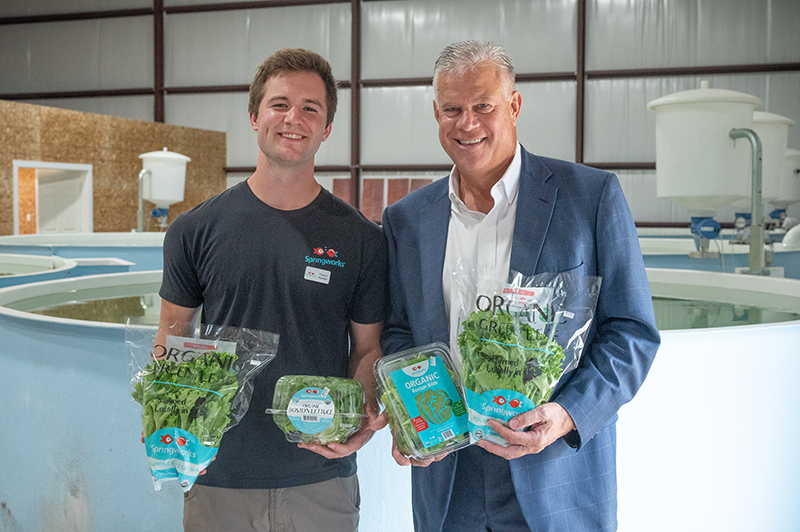 "The pandemic caused a lot of disruption for grocery stores and the buyers who support them," Kenkel said.
"Shipping delays from west coast vendors forced supermarket buyers to seek out local and regional sources for safe, nutritious, and sustainable food of all kinds."
A ribbon cutting June 19, 2021, celebrated the expansion's first installment, a 40,000-square-foot greenhouse that came online in May, immediately tripling the company's yearly production of Bibb, Romaine, leaf lettuce, salad mix, and other produce, and provided for thousands of additional pounds of tilapia, which are instrumental to
Springworks' aquaponic greens-growing process
.
Aquaponics is a type of farming that fosters the natural symbiotic relationship between plants and fish. 
Kenkel says the Springworks aquaponics system uses ninety percent less water than soil-based agriculture and uses no synthetic pesticides.