Published June 15, 2021 by Bowdoin News
Alex Marzano-Lesnevich and a Double Dose of Joy and Empowerment in Two New York Times Pieces
It's perhaps a sign of the times that Alex Marzano-Lesnevich has been in the Times twice in as many weeks.
"I've been thinking a lot about queer joy lately—about how the fight for justice for trans and queer lives often necessitates documenting the hate and violence we endure, but that same focus can mean that on a public discourse level, the lives of LGBTQ people get associated with pain instead of joy," said the assistant professor of English.
"And my experience of who I am, and of my community, is deeply joyful. So, both pieces came out of the desire to speak to queer joy, and then they had different starting points."
"X is the Best Letter in the Alphabet" was published June 1, 2021, as part of The New York Times Magazine's "Letter of Recommendation" series featuring "essays celebrating the overlooked and underappreciated."
Marzano-Lesnevich had researched the history of the letter for another project and kept finding fun details they couldn't use—how it acquired mystical significance, in part for its resemblance to the Christian cross, and the origins of how it came to signify the unknown in algebra.
Another fun fact: Marzano-Lesnevich had given their Longform Nonfiction Writing class an assignment to write columns in the style of the "Letter of Recommendation" feature.
"They did a fantastic job," Marzano-Lesnevich recalls.

"At a certain point midsemester, it occurred to me—why don't I write one recommending the letter x?"
Another piece, "The Healing Power of Queer Coming-of-Age Stories," which appeared online June 13 and in print the following day, shares Marzano-Lesnevich's perspective on queer young adult literature from thoughts elicited while watching a talk by colleague Angel Daniel Matos, assistant professor of gender, sexuality, and women's studies, whose work is referenced in the essay.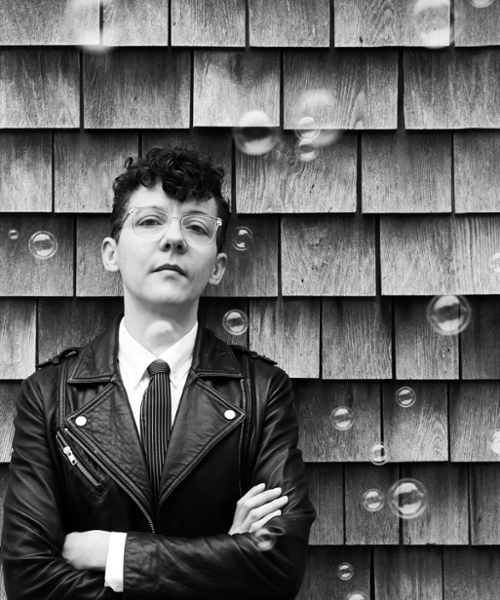 Alex Marzano-Lesnevich spoke about the transformative nature of LGBTQ coming-of-age stories on New York public radio station WNYC's The Takeaway. 
Both pieces are powerful in the impact they surely have for many readers, not only for those who've had similar life experiences but perhaps for younger people who recognize pieces of themselves in what Marzano-Lesnevich has written, and still others for whom Marzano-Lesnevich's thoughts on these matters are informative and enlightening.
"I do feel a sense of responsibility," says Marzano-Lesnevich, author of The Fact of a Body: A Murder and a Memoir and a forthcoming memoir about nonbinary identity, Both and Neither, for which they were recently awarded a Shearing Fellowship at the Black Mountain Institute for spring 2022.
"I am keenly aware that my writing has given me a platform that is still largely denied to trans people, and the result of this systemic denial is that trans lives, and trans histories, are still largely obscured to the larger public. Often, I'm told that who I am is just too new, as a category, for people to have to concern themselves with it. But, of course, trans people aren't new. We've been around as long as there have been people. Anything I can do as a writer to help remedy that erasure, and help my community feel less alone, is my honor."