Students Expand a School Library as Professor Builds a Language and Anti-Bias Program
Published by Rebecca Goldfine
Using the Bates College tool 
Diverse Book Finder
, Mohamed Kilani '21 and Norell Sherman '21 purchased 250 new picture books about many different cultures and languages for a Brunswick elementary school.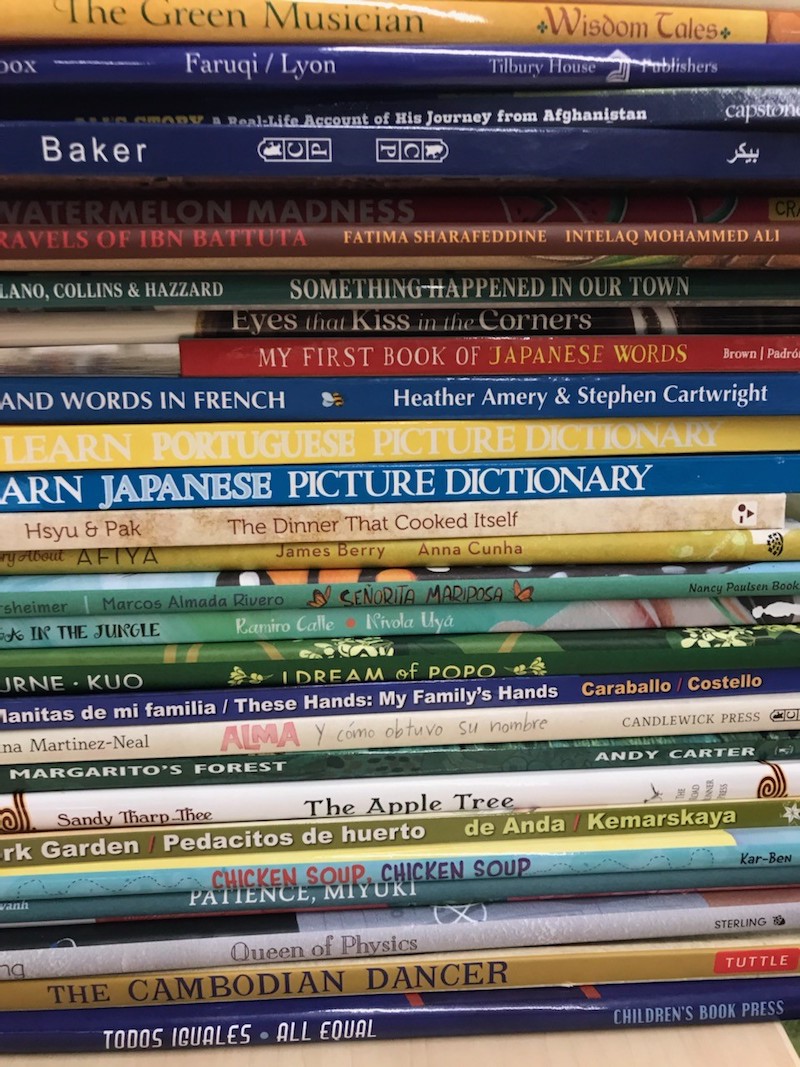 This semester, they also visited the Kate Furbish school weekly to scour the library's collection, identifying multicultural books and cataloguing them by language and culture to make them easier to find.
Additionally, the two seniors taught Arabic and Spanish three times a week at the school, which has been conducting in-person classes.
Their work is part of Multilingual Mainers, a program launched by Associate Professor of Romance Languages and Literatures Margaret Boyle four years ago. Multilingual Mainers places Bowdoin students in elementary classrooms to teach a language they're fluent or proficient in. These have included—besides Spanish and Arabic—German, Japanese, French, Korean, and Russian.
The program provides a multilayered education. Learning new languages, in addition to being good for cognitive development, has been shown to reduce bias in young children. Boyle, with help from many Bowdoin students, has created a curriculum that "promotes critical thinking, ignites enthusiasm for a lifetime of language learning, and provides age-appropriate tools to combat xenophobia, racism, and intolerance."
Since 2017, when Boyle launched Multilingual Mainers as a student club at Bowdoin, the program has taken off. Boyle now teaches a Multilingual Mainers education course at Bowdoin, which she offered for the first time last fall. She received a $10,000 grant from the Whiting Foundation to develop the program.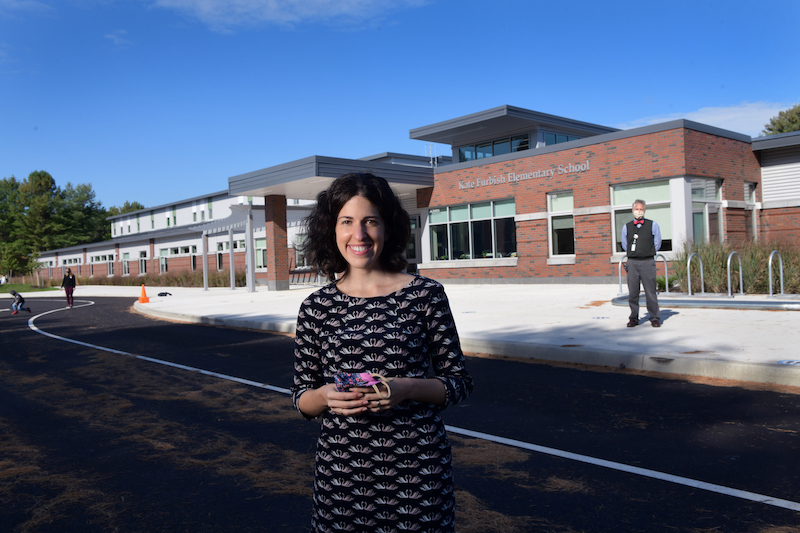 Boyle's public engagement work* was recently recognized by Maine Campus Compact, which gave her its 2021 Donald Harward Faculty Award for Service-Learning Excellence. As part of this recognition, she has been asked to serve on a Maine Department of Education advisory committee on world languages for grades K-12. 
An Independent Study but a Community Endeavor
Norell Sherman, a Latin American studies major and history minor, had never taken an education class before she enrolled in Boyle's Teaching Languages and Learning course in the fall. It opened her eyes to the possibility of a teaching career, and she asked Boyle if she could continue working with her this spring semester in an independent study.
Kilani is a Hispanics studies and education major, and though he didn't take Boyle's Multilingual Mainers class, he has known for a while that he wants to work in a school, teaching Spanish. (He is also fluent in Arabic and French and is learning Russian.) He, too, worked on an independent study with Boyle this spring.
"I felt like my teachers welcomed me when I came to Portland," he said. He moved to the US with his Iraqi family, as refugees, when he was nine, settling first in Texas before relocating to Maine. "My teachers were the reason I became the student I am. And now I want to empower other immigrant students."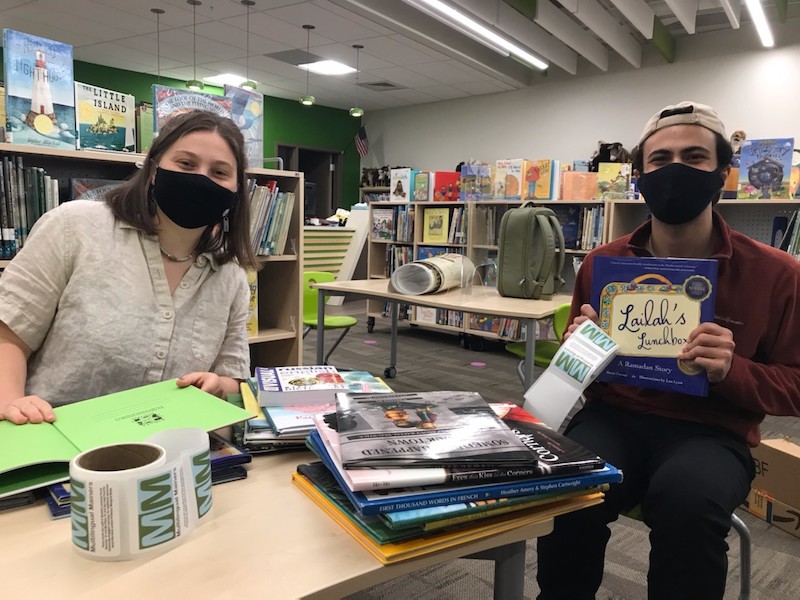 Under the mentorship of Boyle, Sherman and Kilani have been studying theories of second-language acquisition, as well as developing and implementing lesson plans for children from pre-K to second grade. Most critically, "Mo and Norell are thinking broadly about anti-racist, anti-bias education and tying those goals with language proficiency goals," Boyle said.
For Sherman, the work has been life-changing. "This experience has motivated me to pursue language education," she said. "I just found this huge passion and excitement for this work." She recently accepted a job as a teaching assistant at a bilingual Spanish/English elementary school in the DC area.
Kilani has been recently awarded a Fulbright fellowship to teach English in South Korea next year. He is considering this position or attending the Bowdoin Teacher Scholars program to become certified to teach in a public school anywhere in the US.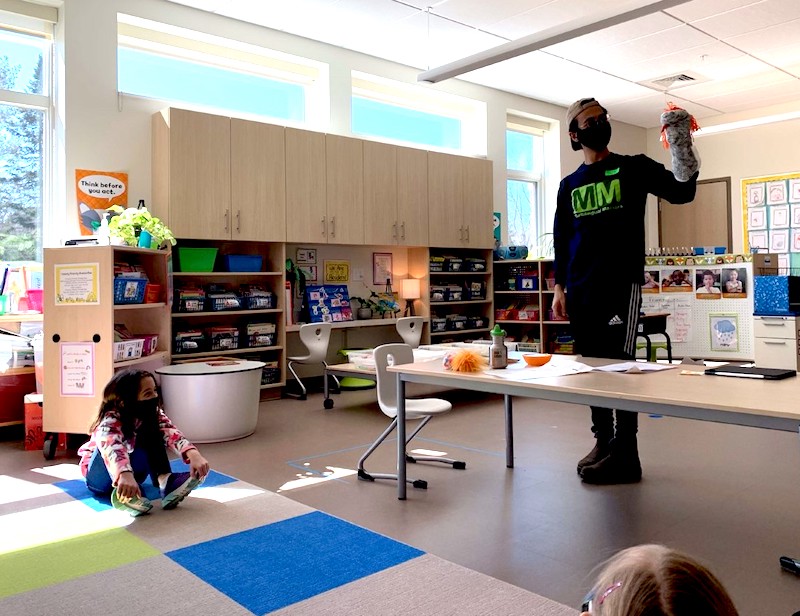 Books, Books, Books, and a New Language
To assist Kate Furbish Elementary School librarian Margy Soule '73 fill any diversity gaps her library might have, Kilani and Sherman used Diverse Book Finder's new analysis tool, which scans picture book collections to help libraries diversify their holdings.
Kilani took on the job of acquiring books about people from the Middle East and Africa, while Sherman focused on researching and buying books about Hispanic, Asian American, and Native American cultures.
(This work builds on research Sherman did last semester for Boyle's class on Latinx representation in children's books. She, along with several of her classmates, contributed research findings to Diverse Book Finder's blog about representation of language and culture in US books.)
The two Bowdoin seniors each received $500 from the Ladd Fund for Community-Engaged Learning, administered by the McKeen Center, to purchase books and teaching supplies. Combined with funding from the school, they were able to buy 250 new picture books, which they vetted for quality and appeal to children as well as how they portrayed languages and identities.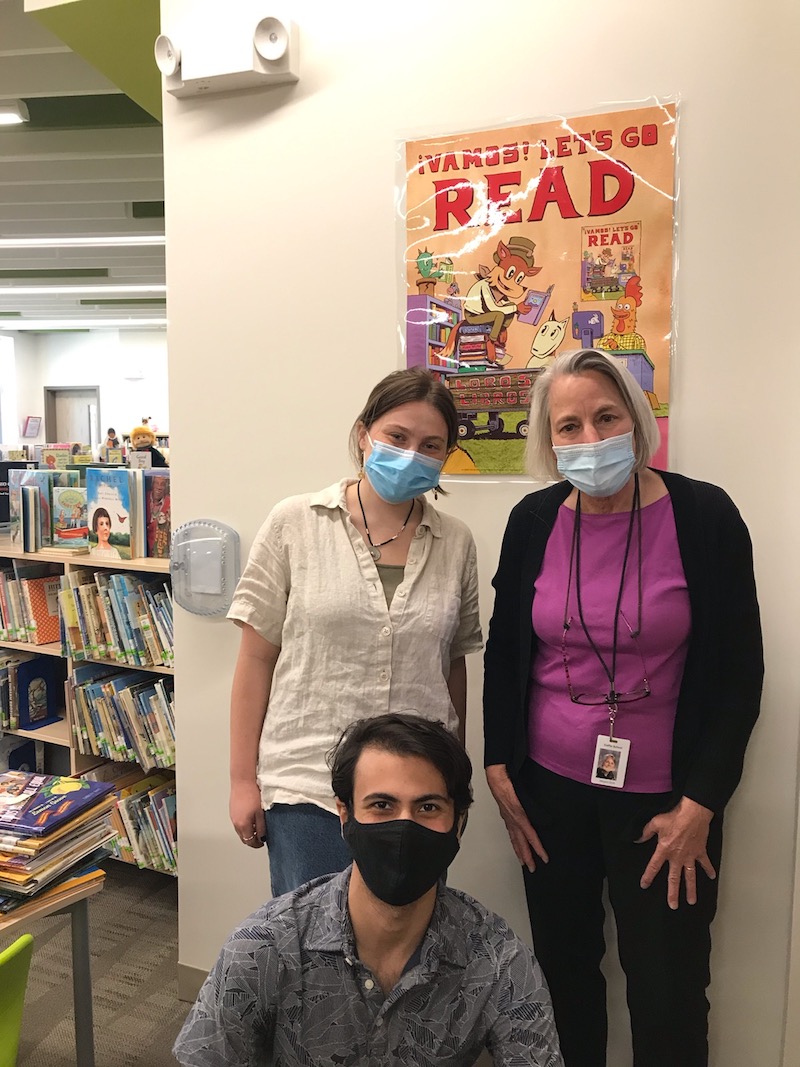 "The library deeply appreciates the work of these two students who put their ideals into action by teaming up with Kate Furbish School to make good things happen for Brunswick's youngest students," Soule said. "As a result of this ongoing collaboration, primary students at Kate Furbish School can grow a broader understanding of America's diverse cultural heritage and languages."
When they weren't in the library, they were teaching Arabic and Spanish in the classroom three times a week.
"It has been so fun to see my students start to feel confident about speaking a new language," said Sherman, who taught Spanish, a language she began studying in middle school. "It feels like we've been making an impact on their language journeys."
One of the students in Kilani's Arabic class is a new Mainer from the Middle East. When he read The Arabic Quilt, a book about a girl whose family moves from Egypt to the US,  she became very excited. "She connected to the book and the food and words in it," he said.
*Margaret Boyle was recognized by Maine Compass Compact broadly for all the work she's done to link academics to the community, particularly the Hispanic community in Maine and beyond. An early modernist who has recently published her second book, Health and Healing in the Early Modern Iberian World: A Gendered Perspective, Boyle says she strives to make historical connections in how we think of an idea, whether that is language or medicine. "Public engagement provides pathways for using this informed thinking to impact our local communities," she added.
This spring, she is teaching the seminar Medicine, Literature, and Spanish "with a community-engaged lens," exploring what literature across time has to teach us about health inequalities—an especially pertinent subject during a pandemic that has exacerbated them. Throughout the semester, she has invited experts—including alumni—to speak to the class via Zoom, opening up the space for "wide conversations and access points to the bridges between humanities and science," she said.