Published May 12, 2021 by Tom Porter
Seniors Demonstrate Theater and Dance Skills
Eight new and original projects by theater and dance students were premiered last month as the Department of Theater and Dance held the annual Senior Studio performances. Due to the COVID-19 pandemic, however, this was unlike previous years.
The performances were streamed via Zoom to the Bowdoin community between April 5 and 15. They featured the work of both current seniors and members of the Class of 2020, who were unable to stage their shows last year due to the pandemic. 
Here's a sampling of what was on offer:

Honey I'm Home is a play by Tori Clarke '20 and Caroline Farber '20, directed by former Bowdoin theater professor Sally Wood. It's a one-act show about two women in their early 20s, says Clarke. "Claire and Millie met in their freshman year of college and were best friends during those four years. The play takes place during their first year out of college and focuses on how the transition changes their friendship. Over the course of five scenes, Millie and Claire navigate how to maintain their close connection under new circumstances."
As a special gift to those playwrights from the Class of 2020 who took part in this year's Senior Studio series, all their Zoom performances were produced using professional actors, says Associate Professor of Theater Abigail Killeen.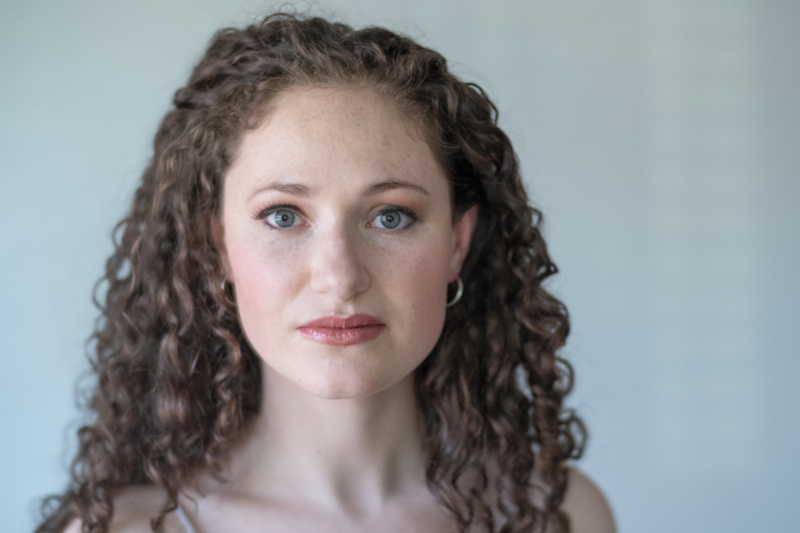 The Folding is a dance piece by Lucia Gagliardone '20. "This solo work explores the intimate experience of confronting a body in unexpected mourning, through text and movement," she says. Drawing from the writing of author Rebecca Solnit in her book A Field Guide to Getting Lost, as well from her own written text, Gagliardone says the dance catalogues and deconstructs the loss of small yet monumental elements of life. "I wanted to explore the question: How does the body experience loss when that loss is undefinable? Imperceptible? Intangible? I am finding myself bewildered by the absence that defines this time in history, the negative space in my proprioception."

The Adoration of Annika is a play by Jessica Speight '21, directed by Holden Turner '21. The play's main character is a young Black woman whose encounter with a mysterious man at a cocktail party throws her into a world unlike her own. "In order to escape," says Speight, "she must learn to trust herself and her inner power." Speight says the work was inspired by the Black Lives Matter protests of 2020 and asks what it would be like "if Black people in America could 'escape' the violence enacted against them." Speight drew from her own experiences in the play, as well as interviewing close family members and friends about their experiences being Black in the USA. "Overall, this play focuses on what it means to own your power and brilliance as a Black woman in a world that constantly tries to degrade and belittle you for being Black and a woman."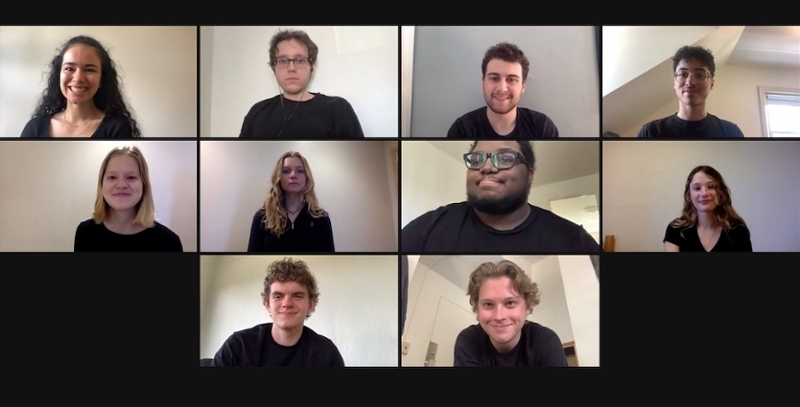 WALDO is a play by Spencer Wilkins '21 and directed by Lou Sydel '22. The play is a surreal exploration of a dystopian future. (The eponymous Waldo is a flashing octopus floating in a tin of canned tomatoes!) Wilkins wrote the piece in 2020 as the world struggled to deal with the initial trauma of the COVID-19 pandemic. WALDO is set in the near future in a world where a minority of the population is physically incapable of receiving a vaccine. Those people are labeled "Insiders" and live in one unbroken quarantine, says Wilkins. He cites Aldous Huxley's groundbreaking novel Brave New World as one of his major influences: "It got me thinking of a dystopia regulated through pleasure."
NOTE: some of the YouTube links in this article may expire after the conclusion of the spring 2021 semester.