Senior Explores Franco-American Musical Heritage
By Tom Porter
Lowell Ruck '21 has a passion for music. Until the pandemic came along, he played French horn in the Bowdoin orchestra and trombone in the College jazz ensemble. He also loves traditional Irish music and plays a mean tin whistle, and it was this, he said, coupled with living in Maine, that led him to French Canadian music.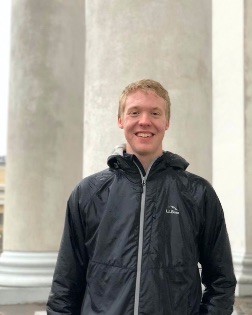 "This type of music draws on a lot of the same foundations as traditional Irish music," said Ruck. As an anthropology major, he also developed an academic interest in the broader linguistic and cultural heritage of Maine's Franco-American population. Many of them originally came to Maine from Quebec in the nineteenth century to work in the mills, he explained, attracted by the economic opportunity of working in the Pine Tree State's burgeoning textile and paper industries.
"They brought their language and culture—including their music—with them, but as French-speaking Catholics in an English-speaking and largely Protestant state, they faced a lot of discrimination," said Ruck. In order to assimilate, many of them abandoned their traditions, while the speaking of French was often publicly frowned upon. However, Maine's French culture has enjoyed something of a rebirth in recent years, he explained, with many Mainers developing an interest in exploring their identity.
"For my senior honors project, I had originally planned to look at the linguistic and the musical aspects of French culture in Maine," said Ruck, "but the pandemic meant I was unable to do much of the language-related fieldwork, so I shifted my focus solely to the music, which has been fascinating." Much of the French musical tradition in Maine, he explained, has been kept alive orally through contra dances, a New England folk dancing tradition that dates back centuries. Even when other aspects of French culture were being suppressed, Franco-American contra dances persisted, said Ruck, which helped the culture survive. The restrictions imposed by the COVID-19 pandemic have put a pause on the contra dances, but, said Ruck, this also underlined their importance to the community. Nor have the restrictions stopped musicians from playing for each other, either in a physically distant setting—often outdoors, weather permitting—or over digital platforms like Zoom.

For his project, Ruck interviewed five musicians, most of them Mainers of Franco-American descent. He asked them about their experiences playing French Canadian or Acadian* traditional music, and what elements of the music and its social setting they find to be the most genuine. "The project focuses on the idea of 'authentic music' and 'authentic tradition,'" said Ruck. As he developed the theme of authenticity, Ruck said he considered questions like: What defines an authentic tradition? Should folk music preserve history? Should it evolve and change with the times? Where should the music be played and who should play it? "We have this essentialized idea of culture," he continued, "this notion that traditions are fixed, but these people's narratives showed different ways of thinking about the idea of tradition."
What it all comes down to, though, is community, said Ruck, and how these musicians frame the music they play in terms of community. "Like any form of cultural expression, music doesn't exist in isolation, and I'm especially interested in what this music tells us about the past and the present of Maine's Franco-American population."
Meet Ruck's Five Interviewees
Greg Boardman: Lewiston fiddler and contra dance veteran, music teacher at Lewiston public schools and instructor at Maine Fiddle Camp.
John Cote: Lewiston guitarist and multi-instrumentalist, instructor at Maine Fiddle Camp. 
Cindy Larock: musician, dancer, caller, and community organizer from Lewiston.
Lisa Ornstein: political activist, fiddle virtuoso, and expert on French Canadian music based in the Pacific Northwest. Former director of University of Maine at Fort Kent's Acadian Archives, and former member of Québec folk group La Bottine Souriante.
Robert Sylvain: Portland singer and guitarist, member of the folk bands Boréal Tordu and Sylvain's Acadian Aces, author of "Mémère's Notebook," a collection of Acadian songs from the St. John Valley.
"I never really wanted to perform, and I still don't, because I really believe that folk music and dancing is all about community, it's about sharing, it's not about performing. You put somebody on stage with a spotlight on them and the audience down below a distance away, and it becomes more kind of artificial... [in social dancing] you have a partner but you also dance with your neighbors, and you can do it – you can learn how to do a good old French-Canadian or New England or simple English contra dance. In five minutes you can be up there and doing it!"

Cindy Larock: musician, dancer, caller, and community organizer from Lewiston. 
*The term "Acadian" refers to a particular strand of French immigration—those people from the Canadian Maritimes who settled in northern Maine, as opposed to immigrants from Quebec.
Published May 24, 2021