Bowdoin College Celebrates Its 216th Commencement
By Rebecca Goldfine
After an extraordinary year, Bowdoin College conferred 467 bachelor of arts degrees to the Class of 2021 during its 216th Commencement ceremony on Saturday, May 29, 2021.
The ceremony was held outside on the Quad this year, in colder-than-normal temperatures and rain that lessened as the morning went on. It was the first in-person graduation the College has held in two years, after the 2020 Commencement gave way to a virtual event due to COVID-19 safety concerns.
Following a rigorous COVID-19 testing program at the College throughout the year and the successful nationwide rollout of vaccines—and in accordance with the latest guidance issued by the US Centers for Disease Control and Prevention—Bowdoin's graduating seniors were able to invite an unlimited number of guests. Graduating seniors who were studying remotely were also permitted to return to campus for the ceremony and for class celebrations and activities in the days leading up to Commencement. All students, faculty, and staff who participated in person at Commencement were tested for COVID-19 on Friday, the day before the event, and face coverings were required for everyone assembled on the Quad.
See more moments of the celebration captured by our photographers.
College Marshal Jean Yarbrough, Bowdoin's Gary M. Pendy Sr. Professor of Social Sciences, officially opened the Commencement Exercises ceremony. Eduardo Pazos Palma, director of the Rachel Lord Center for Religious and Spiritual Life, offered the invocation.
41
States
22
Countries and territories
75
48
New York
47
Maine
38
California
Pazos asked the audience to join him in a moment of reflection. "Class of 2021, against all odds, changes, and unexpected turns, you made it to this very special day." Read the full text of Pazos Palma's invocation.
Chair of the Bowdoin Board of Trustees Robert F. White '77, P'15 introduced Maine governor Janet Mills, who gave the annual Greetings for the State, which is customarily offered by a representative from Maine. 
"Today I am proud of how so many Maine people, including all of you, have met the challenges of another trying time—a worldwide pandemic," Mills said.
She congratulated the College as well. "Bowdoin has demonstrated resiliency and leadership, adapting to protect students and staff from a deadly virus while focusing on knowledge and connectivity during an extraordinarily difficult year."
President of the College Clayton Rose welcomed the graduating seniors, honorands, trustees, faculty, staff, alumni (attending virtually), and all the friends and family attending in person or watching the livestream from around the country and world.
He wryly noted that he was exercising some restraint with his opening statement, "In what I am sure is the short list of all-time understatements, this has been a historic year."
"Very few institutions have been as durable as Bowdoin, a place that embraces both change and a steadfast commitment to our core values as essential elements in providing a great liberal arts education," he continued. "Through thick and thin—wars, social upheaval, pandemics, financial and economic calamity—Bowdoin perseveres, changes, and thrives."
He acknowledged the toll the virus has had on the world these past months—with millions dead—as well as the men and women of color who have died by or suffered from racial violence.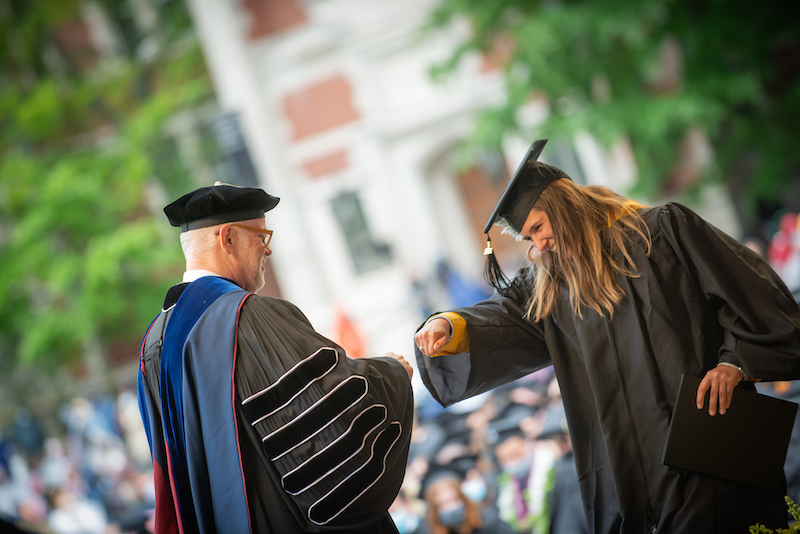 After thanking this year's honorary degree recipients, Dr. Anthony Fauci, William Harbour, DeRay Mckesson, and Dr. Jessica Meir, he noted that Harbour's degree would be presented posthumously. Harbour died last August, as Bowdoin's letter of invitation was on its way to him. His widow, Doris, and other family members were present by Zoom to share the moment and receive the degree for him.
Rose then shared personal philosophies accrued from his own life and career. Genuine happiness, he began, is not found in material success but rather in the bonds of family and friends. "If we have learned anything from the past year, it is how much this matters. How essential it is."
Additionally, the past fifteen months and its devastating pandemic, unrelenting racism, and hardening political and social divisions has only strengthened his faith in the value of higher education and a liberal arts education.
"The essential power of a liberal arts education—critical thinking, analysis, the ability to reason, to learn, to collaborate, and to communicate—will be central to successfully navigating our way through the morass of social, political, cultural, ethical, and scientific issues that confront the world you will live and lead in," he said.
"It will put us back on the moon and take us beyond, and it will help us to create the conditions for racial equity, for naming and ending racism, and for creating a shared sense of belonging."
He urged seniors to reflect on how they will use recent experiences to make themselves better and to make a greater difference. "What will you do to help tackle big problems? To bring people together? To call out injustice? To push the boundaries of what we know and who we are?" he asked.
He encouraged the Class of 2021 to "take the experiences, heartbreak, and growth of the last year, learn from them, let them strengthen your resolve and self-confidence, and go out and make the change that is necessary." 
Commencement Speakers
As has been the tradition since Bowdoin's first graduation ceremony in 1806, Commencement addresses were delivered by graduating seniors.
This year's speakers, chosen through competition, were Sarisha Kurup '21, David Zhou '21, and Ruby Ahaiwe '21. Michael Edwards '21 was selected as the alternate speaker. Read his remarks.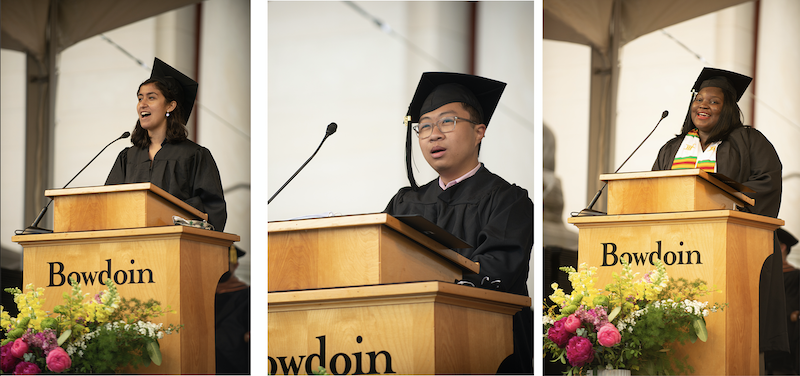 ---
"Imagined Communities"
Sarisha Kurup explained that she had first encountered the concept of "imagined communities" in a Bowdoin history class about post-war Europe. The term, coined by historian Benedict Anderson to explain nationalism, refers to the bonds people believe hold them together as a nation.
She compared Bowdoin to such a community, one held together over time by the connections students and alumni feel to the place. And it is a community, she said, that persisted this past year and a half, despite its relative emptiness as students studied remotely, many returning only this spring.
"Bowdoin, although not a nation, does resemble a kind of imagined community, anchored in our collective minds, powerfully unshakeable because we students, professors, parents, everyone believe in the image of our communion."
She continued: "If this year has taught me anything, it's that community can be everything. That it is important to hold the people you feel bound to close, that that can make all the difference in weathering the unpredictable tides of history. And it has taught me to be unequivocally grateful for the powerful imagined community I have found here, which is ours to shape even in the coming years."
---
"A Love Letter to the Impractical"
David Zhou thanked the College for giving him the chance to share "his personal love letter to learning."
For the past two years, Zhou has been researching gravitational waves—the small ripples in spacetime from the early universe. When people ask him why, he acknowledges that his pursuit won't result in solutions to end world hunger or reverse climate change.
Yet, it has been an invaluable experience. "...Embarking on this project has transformed me from a pretty timid and awkward human being to a more confident, decisive, and—awkward human being," he said, to laughter from the audience.
"When I get stuck on a problem and don't know how to proceed, I have learned to just…try something. Taking risks and studying something that I just found fascinating has given me confidence," he said. "Studying what I loved has given me a sense of my own value as a malleable thinker, a more confident decision-maker and risk-taker."
He promised that passions will change the people who pursue them and make them better versions of themselves. "Let's take the time to look back with pride knowing that learning something we loved has prepared us to thrive long after we've left this campus," he said.
Read the full text of Zhou's speech here.
---
"Your Eyes Have Seen Me"
After admitting she had not lived up to her father's expectations of bringing home a husband from college, Ruby Ahaiwe explained that the title of her talk is a play off the Ibo word for love, ahuru m gi n'anya. It literally translates as 'I see you in the eyes.'
"This word captures the infinity of love, and the empathy we get with seeing each other and seeing the world around us in the eyes," she said. She juxtaposed it with the South African phrase "umuntu ngumuntu ngabantu," meaning that a person is who they are because of other people.
As a newly arrived first-year student signing her name in Bowdoin's matriculation book in President Rose's office—a longstanding tradition at the College—she said she felt she was being seen in the eyes.
"Bowdoin truly knew our names and recognized us individually," she said. "Yet, we signed the book together as a group, showing we all need each other. I feel a deep gratitude for everyone who has been on this journey with me: classmates, faculty, staff, my host parents, alums, and friends who see me in the eyes."
Despite the reality that her father is celebrating just his daughter's graduation today and not her wedding, Ahaiwe said she hopes her father does get the chance to meet the beloved people so central to her Bowdoin experience.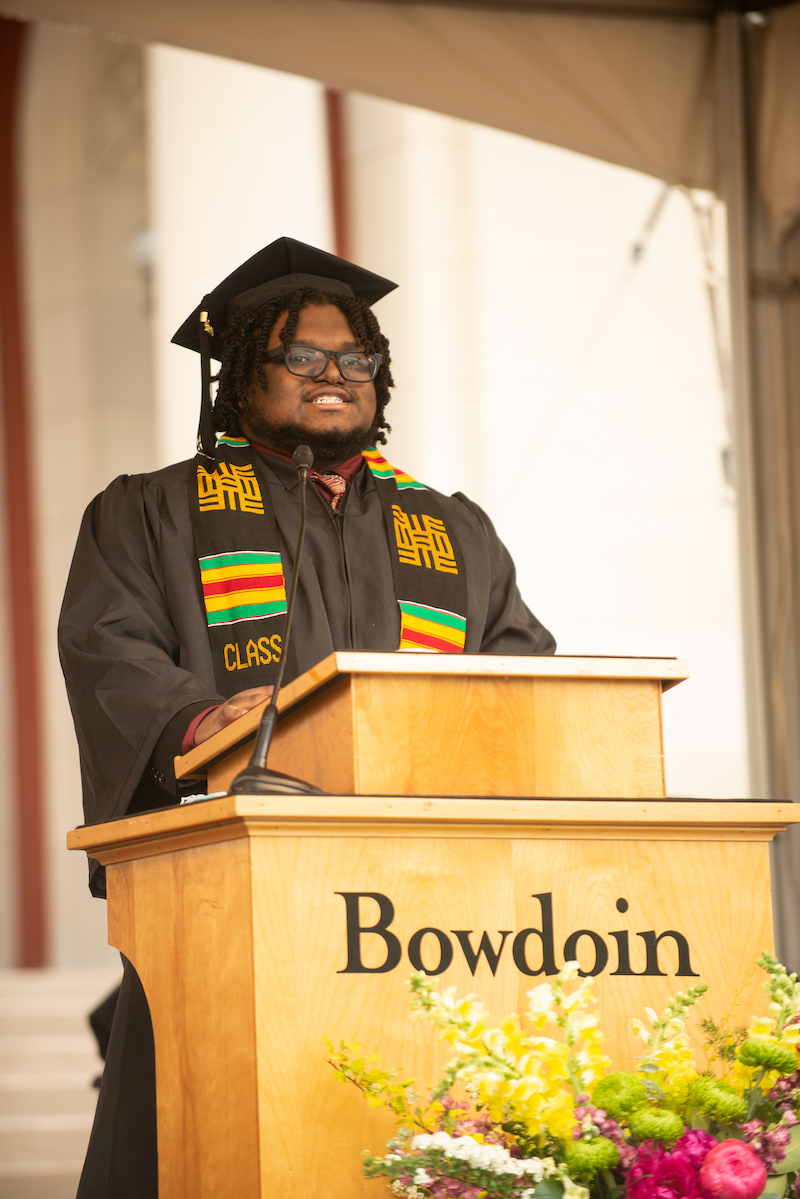 She concluded: "Today, I invite you all to keep love deeply rooted in your hearts, to pause, to listen, and to truly see others in your eyes. As we leave Brunswick, I encourage you to use your education and opportunities to see others, to build communities, and to leave the world better than you met it."
 Read the full text of Ruby Ahaiwe's remarks.
---
 Wayne Harding '21, president of the Class of 2021, made brief remarks and announced the class gift, a scholarship for a member of the incoming class, the Class of 2025.
"As I look out and see the faces of my peers, I see the products of 467 distinct Bowdoin experiences out of all the endless possibilities that have come before and have yet to come," he said. "With this scholarship, someone new will have the opportunity to write the story of yet another unique Bowdoin experience—and that should be cause for excitement." 
Rose conferred four honorary degrees this year. 
Anthony S. Fauci, Doctor of Science
—Citation by Anne E. McBride, Associate Professor of Biology and Biochemistry
William Harbour, Doctor of Humane Letters
—Citation by Brian J. Purnell, Geoffrey Canada Associate Professor of Africana Studies and History
DeRay Mckesson '07, Doctor of Humane Letters
—Citation by Paul Franco, Barry N. Wish Professor of Government and Social Studies
Jessica Ulrika Meir, Doctor of Science
—Citation by Michele LaVigne, Associate Professor of Earth and Oceanographic Science
Commencement Music
Members of the Bowdoin Concert Band and Orchestra—Coleman Brockmeier '21, Lorenzo Hess '23, Christine Chapman-Sung '21, Ethan Hill '21, Thomas Daley '22, Lowell Ruck '21, and Maria Perez Mendoza '21 performed the opening fanfare, Canzona per sonare, no. 2, by Giovanni Gabrieli (1554–1612.
The ceremony included a recorded performance of the "Star-Spangled Banner" by the US Military Bands.
Kathryn McGinnis '21 played the musical interlude, "Bourré anglaise," from Paritia in A Minor for solo flute, by Johann Sebastian Bach (1685-1750).
"Lift Every Voice and Sing," written by James Weldon Johnson and set to music by J. Rosamond Johnson, was played in a recording made by the US Army Field Band.
"Raise Songs to Bowdoin" was performed via a recording by members of the Bowdoin College Chamber Choir.
Bowdoin wind and brass musicians performed a recessional march following A. LeRoy Greason Professor of Art and College Marshal Mark Wethli's official conclusion of the Commencement Exercises.