Art Class Creates 3D Virtual Sculptures that Glisten, Spin, Catch Light, and Astonish
Published by Rebecca Goldfine
When Jackie Brown's sculpture classes moved online, she encouraged students to venture forth into the digital world—and their imaginations—to find inspiration.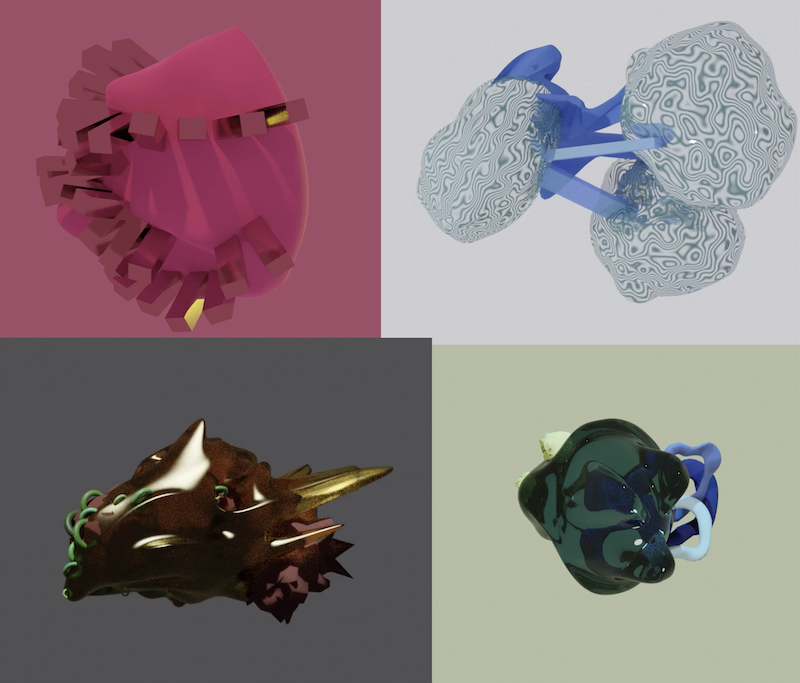 The pandemic year has been challenging for professors who have had to convert their in-person classes to online. It's been especially tricky for faculty in the Visual Arts department. How do you teach students when you can't stand in front of a canvas together or train them on power tools in the wood shop? 
One solution has to been to ship supplies to students who are learning remotel. Like many other Bowdoin faculty, Brown, an associate professor of art, developed kits to send to all her sculpture students. These included "basic tools and supplies" like X-Acto knives, tape, wire, Sculpey clay, cardboard, and hot glue guns.
She also introduced them to Blender software, a free 3D-modeling program often used by creators of virtual reality environments. She taught herself how to use the software last summer.
"Being online was a chance to think about digital tools and other ways of making things," Brown said. "The hope was that through virtual space, we could create something sculptural that suggests physicality." 
How do you get someone to slow down, to invite them into the experience of looking, to encourage curiosity and keep them looking? —Associate Professor of Art Jackie Brown
"Can you make a virtual object feel tangible?"
In Sculpture I courses this spring, students crafted a series of mysterious objects that float, rotate, or spin in an ambiguous space. Some glisten and shine like metal or translucent glass, catching light from an unknown, off-screen source. One has moving, pulsing skin, like something inside is desperate to get out. A few are adorned with spikes, hoops, and printed surfaces.
While they are not meant to resemble anything in particular, a few could, if you looked at them a certain way, be an odd children's toy or perhaps a body part of some fantastical creature.
A Visual Dialogue between Virtual and Physical Worlds
In her fall and spring sculpture classes, Brown's students worked on both hand-sculpted pieces and virtual sculptures. For all her assignments, she asked that students not make anything recognizable, like a dog or a shoe, but rather to think in terms of form, shape, color, and texture.
"While they were making virtual objects, they were physically sculpting with Sculpey, so they could have a back-and-forth dialogue, to see where there are similarities and where there are limitations," she said. "I wanted them to have a lot of freedom."
They started with a lump of clay in the real world, and in the virtual world, they began with a gray sphere. They could add or subtract material to the sphere, pull and stretch it, just as they would with a physical object.
A perk to working in the digital world is that you can delete, undo, and save drafts. Another is it breaks the laws of physics. "You're not bound by gravity," Brown said. "Virtual space also allows for shifts in scale, so a virtual object can simultaneously feel microscopic or colossal, like bacteria or like a planet."
Abstract physical artworks by, in order, Sawyer Gouldman '23, Zubin Kenkare '23, Katherine French '24 (with the plant stems), Olivia Pena '21, and Rory Devlin '23.
For students' "real-world" artworks, Brown encouraged them to find objects in their home, like a piece of glass, plant stems, a toothpaste cap, or thumbtacks, and to transform them into abstractions.
"All of the works were about a flight of the imagination and the process required students to experiment, take risks, and discover things along the way. The experience was also about sensitizing yourself to detail—to material, form, and surface—and to the formal relationships among them," she said. 
Elena Sparrow '22 made a virtual sculpture that gleams like an old-fashioned soda bottle. It has hornlike projections, like a dragon's. As you spin it, you see other matte surfaces and small green hoops.
"What I most appreciated about creating sculptures in a virtual space was that it provided freedom to explore my own creative whims without the restrictions of the physical world," Sparrow said. "We were all entering this new and unlimited space of creation for the first time together, so it was particularly exciting to look at everyone's sculptures because it was getting a window into each person's imagination."
Brown has been inspired by the past year to continue teaching virtual sculpture in her future classes, possibly even dedicating a 2000-level class to digital sculpture. This course would work with 3D-modeling programs like Blender, as well as other digital tools like laser cutters and 3D printers.
"There's an exciting relationship between the physical and virtual that opens up possibilities for things to shift and transform," Brown said.