Published May 17, 2021 by Rebecca Goldfine
Anthony Yanez '22 Receives Goldwater Scholarship for Science
This year the Barry Goldwater Scholarship and Excellence in Education Foundation, established by Congress in 1986, awarded
409 scholarships
to college sophomores and juniors who show exceptional promise in the natural sciences, mathematics, and engineering.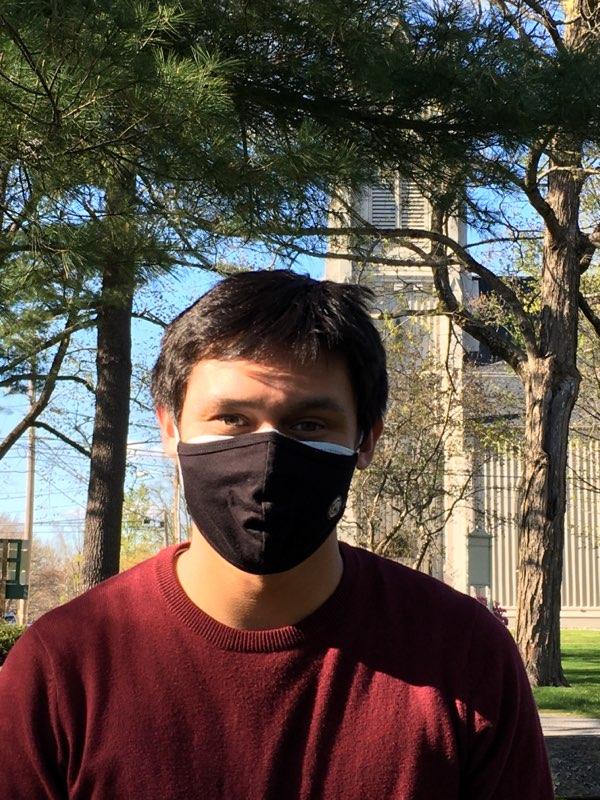 Though his professors encouraged neuroscience major Anthony Yanez '22 to apply for a prestigious Goldwater Scholarship his sophomore year, he didn't think he had enough research experience yet.
So, he planned on devoting last summer to working a second season with professor Patsy Dickinson. But "that was the year everything went crazy," Yanez said.
Due to COVID-19, he couldn't get into the lab to continue researching neural circuits in crustaceans. Instead, he dove into an area that was new to him: computational modeling. He was mentored by Daniel Powell, a post-doctoral research associate at Bowdoin.
"I approached the same question I was asking the summer before from a completely different standpoint," Yanez said. "Using models, I looked into how does this one molecule, octopamine, change the activity of the cardiac ganglion in lobsters and ultimately leads to changes in heart activity. And I got interesting results."
Buoyed by his productive summer, Yanez last fall was convinced he was ready to apply for the Goldwater Scholarship, which provides up to $7,500 for college tuition. Part of his confidence came from acquiring new skills that will be foundational to his career.
"I was able to adapt," he said. "I didn't give up on my project. I was able to do something new and clever and cool, with help from Dan. That is a big silver lining in everything that happened last year."
The Goldwater application is demanding, and Yanez said it encouraged him to think deeply about his future and to discuss his career path with his mentors, including Dickinson, Professor of Biology and Neuroscience Hadley Horch, Associate Professor of Mathematics Thomas Pietraho, and Corey Colwill, assistant director of the Center for Co-Curricular Opportunities. 
"The application became a coherent picture of where I was as a research student and where I am going," he said. "As I was writing, it was an act of reflection, and I ended up putting a lot of thought into how my experiences have led me to the kind of scientist I want to be, and how the pandemic and remote experience have influenced the kind of scientist I want to be."
He wants to pursue an MD-PhD, he says, to one day work as a physician-scientist focusing on "neurophysiological phenomena and the neural circuitry that arises from them." He's drawn to this study in part because it requires a multidisciplinary approach that integrates physiology, computation, and molecular biology.
"I really enjoy research and trying to answer questions and diving into the unknown—research is the attempt to extract truth from the universe," he said. "It seems like a valiant effort to me, and something I would love to devote my life to. But I also really care about helping people and I wouldn't be happy if I couldn't be directly helping people." 
Part of how he wants to help, beyond working to understand and cure disorders of neuronal development and excitability,like Angelman Syndrome or epilepsy, is to encourage students with backgrounds like his to enter science. His parents immigrated to the US from Guatemala without completing high school.
"We weren't academics. We were house cleaners, waiters, and waitresses who worked hard to just put food on the table," he wrote in his application. "Scientists were others; they didn't look like me. They didn't come from my background. While others worked with their parents at the local national lab, I worked as a busboy to help my mother make rent."
When he got to Bowdoin, he said he almost laughed out loud when someone asked if he wanted to do science research. "Then I thought. I already loved science. I'd worked hard to get to a place where I could stop and think about what I wanted to do. I've always been curious. Despite having no idea where to even begin navigating the world of science research, the hard work ethic I learned from my family environment earned me a chance at this career. Pedigree doesn't matter. I'll show other underrepresented students that they can make it, too.".