Q&A: Bowdoin and the Pandemic
Published by Bowdoin News
In a wide-ranging interview, President Clayton Rose reflects on a year of managing COVID and the prospects for a return to normal in the fall.
BOWDOIN: What's your view of how the College has managed COVID-19 this past year?
Clayton Rose: Very well, so far. That said, it's been incredibly difficult and exhausting for everyone involved—for the whole world.
But when I think about why we've been able to do as well as we have, I think about the two goals that we set for ourselves last spring: to protect the health and safety of the campus and local communities and to be able to deliver an excellent Bowdoin education to all of our students. On both of those scores I think we've done very well.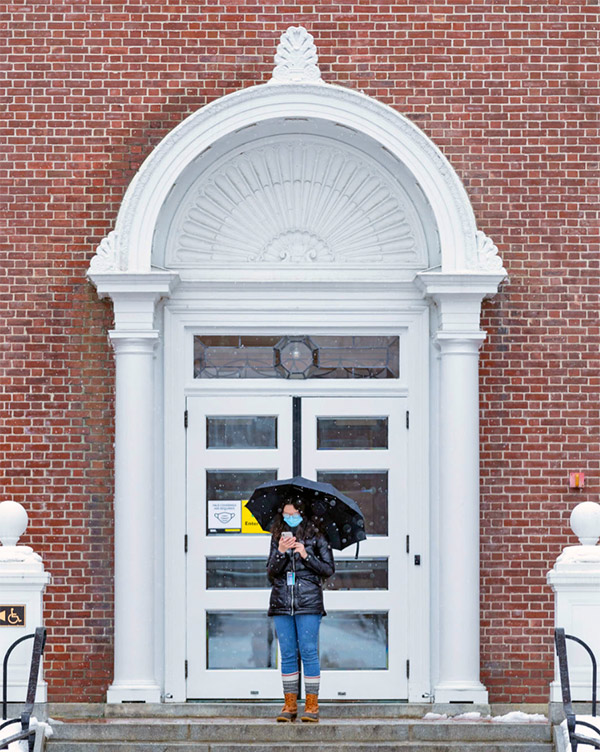 We've had very few positive cases both in the fall semester and so far in the spring. We reduced the density on campus. We have a remarkable testing regimen—an amazing setup, really. And then our students, faculty, and staff have really been fantastic about following the safety protocols of masking and social distancing and hygiene and so forth. There are so many people at the College who created the conditions and systems that made this happen over the last year.
On the goal of delivering an excellent education, feedback from students and from faculty has been very strong. We've seen how amazing the faculty and the staff who work with them have been in adapting the curriculum for an online environment, and students have stepped up to meet the faculty, with everyone working in an environment that none of us has seen before. So, it's pretty remarkable.
Now, there were huge sacrifices—things we lost. Key aspects of the curriculum—some labs, music, dance, theater, and others. All of our other attendant co-curricular and extracurricular activities—athletics, clubs—were diminished, if they existed at all. And the ability for students to engage in the traditional social aspects of College that are really important to the college experience were also diminished, if they existed at all.
There's no denying that this past year has been exhausting for everyone, and especially so for students. The intellectual engagement has been there but so much else—including the normal outlets and the ability to blow off steam—has been missing. Students are more than ready to shift from online to in person, and to get to know their peers and their faculty in person.
We also need to be clear that the last year has not been only about COVID. We've also been immersed in the efforts to acknowledge, understand, and work to end racism and racial violence, and what the implications of this are for Bowdoin. These are two of the most consequential challenges in our country in a very long time.

BOWDOIN: Last summer, when you announced plans for the fall that had mostly just first-year students on campus, some thought the College was being too conservative.
Clayton: Every school made decisions for themselves, and a number of peer schools followed models very similar to ours. Others did things differently.
The most important responsibility I have is to protect the health and safety of the members of our community and to pay attention to the health and safety of the broader Brunswick community. I've been involved in risk management for my entire career. One of the things I've learned is that risk management isn't about planning for when everything goes right; it's about figuring out how to stay safe and carry on if things go wrong. So, that's what we planned for, recognizing that there were going to be costs to that.
It wasn't an easy decision, of course. But in protecting the health and safety of our students, faculty, staff, and the town—given all the things we knew at the time, all the things that we know now, I'm comfortable we made the right decision for Bowdoin.
BOWDOIN: A year ago you predicted that the College was going to see the largest budget deficit ever. What's the state of the College's finances now?
Clayton: We will have the largest budget deficit in the history of the College this year. It's manageable, but a year ago that wasn't at all clear.
From a financial planning perspective there were several key questions associated with the pandemic. First, we didn't know what our enrollments would be for the fall or the spring, and much of our budget is driven by our enrollment. Second, we didn't know how severe the pandemic would be and whether we would have to shut down again as we did last spring. We also couldn't know what the costs would be of managing through the pandemic. And we didn't know how long this was going to last—would it be a one-year or a five-year issue?
Enrollments for the fall and spring were better than we expected. We also now know that, with the vaccines and a little bit of luck, it will be a one-year phenomenon. So, while we will run a deficit of something like $8 to $10 million, we have operating reserves that—along with sacrifices by our faculty and staff—will allow us to deal with it. And we've been able to manage this without having to resort to furloughs or layoffs, and that's something we should be very proud of.
BOWDOIN: Among the cost-cutting moves was a salary freeze for faculty and staff and a reduction in retirement benefits, both of which have now been restored. Given the deficit, some might argue that those should stay in place… that people need to continue to sacrifice.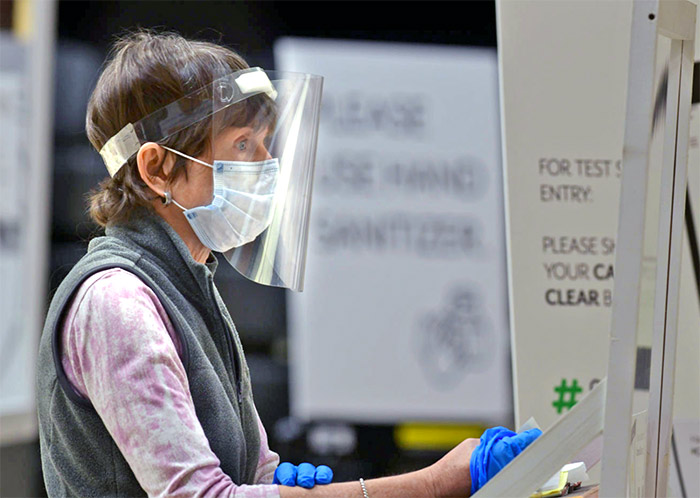 Clayton: Our faculty and staff have made significant sacrifices. We've been able to deliver a powerful Bowdoin education to every one of our students no matter where they were, and the student feedback from the fall course questionnaires and anecdotally has been very strong. Students recognize that our faculty have gone above and beyond in really recrafting the curriculum to work in the online environment. That's not something anyone wanted to do. All of us want to be back in the classroom, but this required enormous effort.
And our staff—to stand up and manage the pandemic, to volunteer and to take on new roles and grow into them, to work with our students no matter where they are, to deal with the myriad problems that come from COVID-19, not to mention all the other things going on in our country, and to keep the College operating safely day in and day out required enormous dedication and sacrifice. So, when we were in a financial situation that we knew we could manage, it was appropriate to return our faculty and staff back to a more normal situation. It doesn't make up for what they've lost, but it was the appropriate and fair thing to do.
BOWDOIN: You've said that the College has been able to manage its finances during the pandemic without having to change the way the endowment is managed. Some might wonder about that. If the endowment is there for a rainy day, this has been a deluge.
Clayton: Actually, there's a lot of misunderstanding about what an endowment is, which is understandable unless you're in the weeds on all this. An endowment seems like a big pot of money that we can draw on whenever we want, but nothing could be farther from the truth. The endowment is a permanent fund that allows us to operate the College in perpetuity. We are only allowed to spend the earnings, not the principal, and while there are some undesignated parts that can be used for various things, the vast majority of the funds are directed to very specific needs of the College by contract with the donors. That's particularly true with financial aid, which is the largest piece of our endowment and can't be used for other purposes.

BOWDOIN: Speaking of financial aid, how has the College supported students in need this year beyond what we normally do?
Clayton: We've been very mindful since the moment we made the decision last spring to send nearly all of our students home and to continue in remote mode that our highest-need students were going to face unique financial challenges. Many of our students' families had been facing challenges but, given where the economic impact of the pandemic hit most acutely, it's those families at the lower end of the socioeconomic spectrum who were most affected. So, depending on specific cases, we devoted significant extra resources to support those students over the last year in terms of housing and travel and, in some cases, managing certain costs that they have at home. For this academic year, we waived our normal work expectation, where a student receiving financial aid is expected to cover a portion of their bill from summer work and from work on campus in the fall and spring. We were in a fortunate enough position to be able to pull this off financially.
We also recognized that families were incurring additional food and other costs for students who were working remotely from home or some other place, so we increased the financial aid budget to take that into account as well.
These are things that we are very fortunate to be able to do because of the generosity of our alumni and parents.
BOWDOIN: Even this year?
Clayton: Especially this year. Bowdoin alumni stepped up in so many ways, first financially. Just a few months into the pandemic last spring, during what looked like horrible economic and financial conditions for the country, we had the largest dollar result for the alumni fund in the history of the College. The From Here comprehensive campaign started at $301 million last February; we're now at just shy of $380 million and there are a number of great conversations going on, so we're knocking on the door of $400 million after a little over a year in the middle of a pandemic. So, financially, our alumni and parents have just been amazing.
Alumni and parents have also worked to help students find jobs in a very troubled job market last year. We sent out a call for help, they stepped up big time to help, and we couldn't be more grateful. And they're back again this year. That's what the Bowdoin community does.

BOWDOIN: Let's talk about the coming fall. You've been very optimistic about prospects for a fall semester, and announced on March 4 that you were confident we will be back to normal in the fall. How did you get there?
Clayton: One of the things I've done all along—going back to February 2020—is to talk to experts in science and medicine who live in different parts of the country, and who each bring a different focus and a different perspective to the issues at hand.
That guided us in the summer and in the fall. As we moved into December, we could see that multiple vaccines were going to be available, and that they were the real deal—that the efficacy of those vaccines was very high. Then we started to see a plan for how those vaccines were going to be manufactured and distributed. That's when the thinking shifted from "When will we be back to some notion of normal?" to "When will we be back to normal?"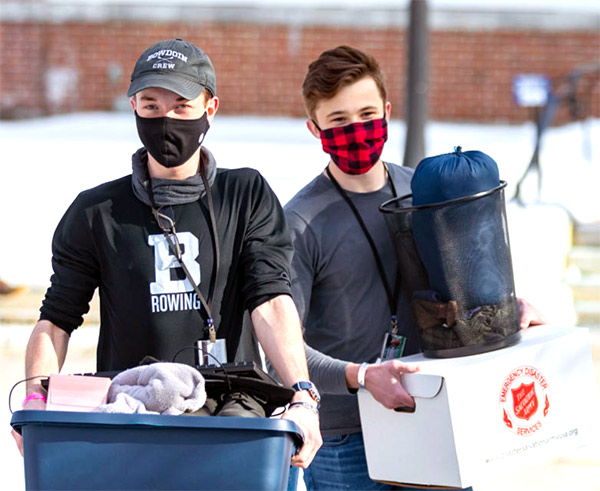 Ultimately, you have to make a judgment call about how fast you think the vaccines are going to get produced and how fast they're going to get in people's arms. So, I made a judgment, and I leaned into it early because I had a view based on what I'd heard from the experts.
I also thought it was appropriate and important to give our community hope when there is hope.
I have felt very strongly from the beginning that I have to be clear and transparent and honest with our community, and I've delivered a lot of bad and unpleasant news along the way. But if I felt that we were really in a position where we could anticipate being back to normal, I needed to say that as well.
BOWDOIN: Of course, as we sit here in mid-April, cases of COVID-19 are climbing again, particularly for those under thirty, and the variants remain a serious threat. Does any of that give you pause about the fall?
Clayton: Not about the fall, but it gives me a lot of pause about right now. We're in a race. We're making great progress on the vaccines and with vaccinations, but society is also falling back in terms of the behaviors and adherence to reasonable safety protocols like masking and social distancing. The variants of the virus are also much more communicable than the original strain. So, while we're making great progress, we're also creating more and more opportunity for infection before we have enough folks immunized.
But none of that makes me concerned about the fall. The effectiveness of these vaccines is very high. They deal with the variants, maybe not to the same level, but in a very robust way, and we may well have boosters against the variants when we get to the fall. So, I don't see any reason to change the plans for the fall, but I do worry a lot about right now.
BOWDOIN: So, how do you see the fall semester playing out? Similar to the fall of 2019?
Clayton: For students, faculty, and staff, it will feel very normal. I think we may have concessions in some distancing and masking in classrooms. I'm not sure about that. But in terms of size of classes, use of the gym and other athletic facilities, dining halls, Pickard Theater, Wish, Studzinski, the studios and galleries in Edwards, and our new Schiller Coastal Studies Center—I expect us to be back to normal.
Part of that expectation is based on a requirement that students, faculty, and staff will be fully vaccinated for the fall semester, subject to exemptions for medical reasons for students and medical or religious reasons for employees. Through a partnership with Mid Coast Hospital, we are well on our way toward fully vaccinating all of our students on campus and in the area by the end of this semester, and many of our faculty and staff are already vaccinated or are partway through the process.
I expect the quad in the warm weather to look like it has in the past, with folks hanging out and visiting with each other. I expect Outing Club trips and our Orientation trips to take place. We'll be back to multiple occupancy in our dormitories. And there may be more than a few parties that take place on campus.
BOWDOIN: Are you at all concerned as we get into the semester and the weather sends folks inside? What about Thanksgiving break? That's when we sent everyone home for the semester last year.
Clayton: Which was certainly the right call, because we saw what happened shortly thereafter. But, no, I don't see the same issue this year because everyone will be vaccinated.
BOWDOIN: What about things like Homecoming and Family Weekend? Do you anticipate we'll be able to hold those events?
Clayton: Yes, we are planning to hold these as usual, with the requirement that visitors to campus must be vaccinated.
BOWDOIN: You spoke earlier about the ongoing work on issues of race. How is that going, and how do you see it continuing into the fall?
Clayton: In the year of COVID, I'm proud of and humbled by how our students, faculty, and staff have engaged in this work to help us establish a plan, and how serious folks have been about engaging in the work and moving us along.
I've also been heartened in my observation of things that are going on outside of the College—in organizations I'm involved with and organizations that I know about from friends who lead them or are involved in leading them. Engagement with this work and the commitment to this work is at a level that I have never witnessed before in my professional life. The question is whether it will be sustained. I'm hopeful, but time will tell.
At Bowdoin there are three pillars to the work we're doing: one is around providing training and education for everyone in our campus community—faculty, staff, students, trustees—to understand better the history, context, and lived experience of our communities of color and those with racial and ethnic identities that are not white, then to change the behaviors, practices, and policies in each of the divisions of the College that impede opportunity and the equity of opportunity, and that cause differing outcomes and a different sense of belonging. We also need to understand our own history with respect to race.
It's like we're peeling back layers of an onion, and we're basically at the first layer. So, we are going be at this for a very long time.
BOWDOIN: Are you at all concerned that, if we get back to normal in the fall and with all the activities and initiatives that take place during a regular semester, that this work will be overshadowed?
Clayton: Well, we have to guard against that. There's no business as usual. Business as usual is pushing hard here. The issue of racial justice, of being an antiracist institution, of recognizing that race is a critical factor in defining opportunity in America, and that inequality of opportunity can determine inequality of outcome and of lived experience is a reality in our world and at Bowdoin.
We want to live up to the expectation that we can be a place where there is equity of opportunity regardless of your identity and where everyone has the same opportunity to know that they belong here. And we have a responsibility to train our students to understand these issues and to be able to lead in this world to make the change that's necessary.
By the Numbers
Alumni Fund record: $9.91 million
Cost of the College's COVID-19 testing program: $3.7 million (by June 30, 2021)
Enrollment:
— Fall 2020: 1,777 (compared with five-year average of 1,817)
— Spring 2021: 1,740 (compared with five-year average of 1,793)
Number of job/internship opportunities identified by alumni/parents: 500 (250 in 2020; 250 in 2021)
Number of positions not filled due to a hiring freeze: 50
Record amount raised through Annual Giving: $13 million
BOWDOIN: Given all that's happened, and particularly how education has been disrupted, are you at all concerned about the preparedness of the sophomore and first-year classes this fall?
Clayton: I'm not worried about the sophomore class in that regard, but I do think for the next few first-year classes we're going to have to pay attention to the level of preparedness. None of that diminishes the intellectual abilities of our student body, their character, the leadership they exhibit, or the amazing things they're going to do on our campus. All of that remains the same.
But whether they've had all of the same curricular background and training and grounding as those who've come before and that our faculty would expect is an open question. And it's a major worry for every academic institution as we get into this next year. We're going to have to pay attention to it and perhaps make some adjustments as we help the students move to the right place here.
There's also the mental health challenge of having gone through all of this. The evidence is clear that this has been a profoundly difficult time, and this is also a generation that is already dealing with greater levels of anxiety and depression and other clinical issues.
So, students have had to weather a lot. Some dismiss that, saying these young people lack resilience and grit. But, in my view, it is a pretty resilient and gritty group of students who come here—students who have worked tremendously hard and often through very difficult circumstances to arrive at Bowdoin. I am so pleased that they're here and so proud of them.
BOWDOIN: You've said that the pandemic experience is likely to change people—that some will emerge with different priorities and that this will play out with some big life decisions.
Clayton: We're seeing it already. This has been an incredibly difficult period. COVID has left almost 600,000 Americans dead, with many more dead outside the US. Millions have been sick, and many families have been affected financially. It's been scary for every single person.
And so it's natural to take stock and consider reordering one's priorities. Wonderful people who have done wonderful things at the College and people in every other organization are going to think, "How do I want to spend the next chunk of my life, and where do I fit family into that? How do I fit in all the things I have put off doing?"
And so I think we're about to go through a period where we're going to see some of that. We will see retirements and other life changes maybe sooner than would have otherwise happened. I'm not encouraging anyone to go, but I do think it's important to be thinking affirmatively about the essential things in life.
At the same time, we will be welcoming new students, faculty, and staff to our community who have all lived through the pandemic and this time of racial turmoil, and who will bring new perspectives to the College. So, it is a time that will bring both change and renewal.
BOWDOIN: What about you? How has this experience changed the way you look at the world or how you look at your job as president?
Clayton: [Laughs] Well, look, I don't think I really know the answer to that. We're still in the middle of the whole thing.
But I'll answer that in two ways. First, I have for almost my entire professional career stayed focused on the fact that the most important thing to me is my family.
Ever since the first chapter of my career, my family has come first, and I have many friends who are not involved in anything I do in my work. That's always been true. I try to keep myself focused on that.
I have a great relationship with my kids. I have a great partner in Julianne. So, none of that's changed. The pandemic has reinforced the importance of relationships with family and friends.
The other thing I would say is that it has been truly amazing to be part of this community at an incredibly difficult time, a historically difficult time, with this confluence of these two issues where the threat from both is really high, and to see how our community has come together.
Now, I don't want to make it a fairy tale. There are people with differing points of view who thought the decisions I made about COVID were wrong. There are people who think decisions I've made about issues of racial justice have been wrong, again with differing points of view.
And that's fine. It comes with the territory to have people disagree with the decisions you make. I try to listen and learn and respond thoughtfully. But, in the main, it's been wonderful to see how the community has pulled together.
BOWDOIN: As you've said, it's been a really difficult period, but it hasn't all been bad.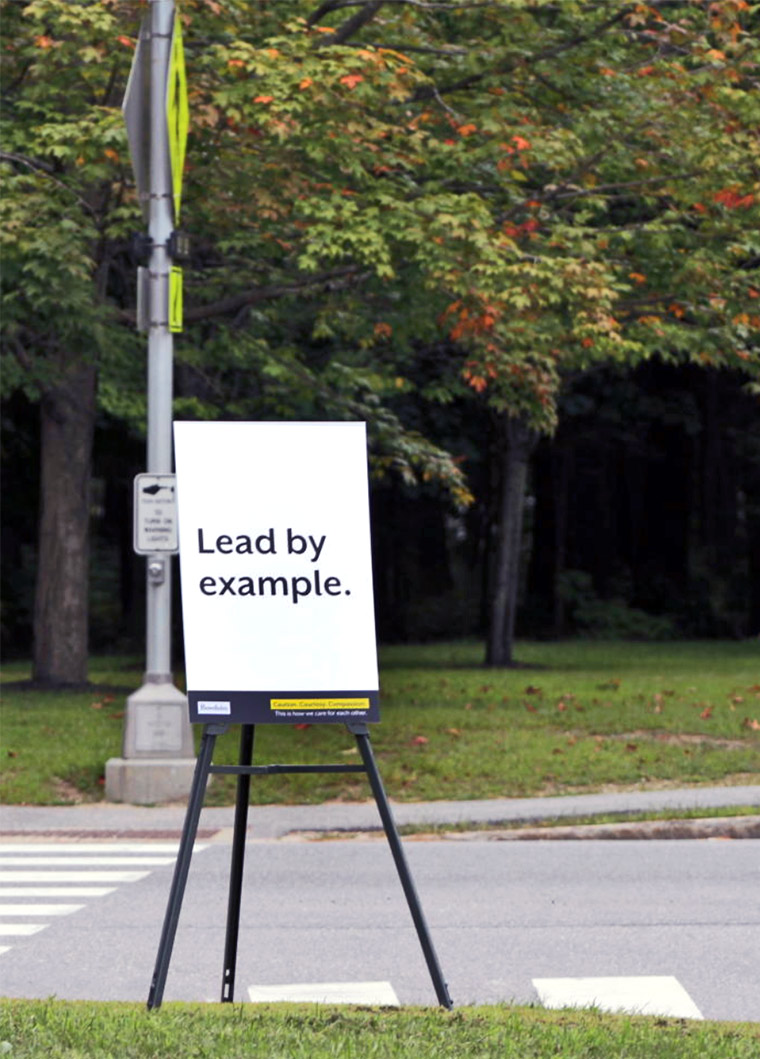 Clayton: Not at all. Students continue to do amazing things—academically, artistically, in service, in work, and in taking care of one another. We granted tenure to six fantastic faculty and promoted another four to full professor. Several faculty won prestigious grants and fellowships. We've begun construction on two new buildings—Barry Mills Hall and the John and Lile Gibbons Center for Arctic Studies—and we've finished work on the Schiller Coastal Studies Center and new Harpswell Apartments.
Our alumni have stepped up to help our students in a variety of ways. Jobs is one that's obvious. But support in lots of different ways that has been fantastic.
Also, I know it's a good idea for job security for a president to shower the board with praise, but Bowdoin truly has a terrific board. And over the past year of COVID the trustees have been fantastic. They have been engaged all along the way, offering great advice, questions, insights, and support.
But frankly, the most uplifting thing has been marveling at the things our faculty, staff, and students have done to create the situation where we could be safe, where we could support one another, and where great teaching and learning could take place. It's really quite amazing, especially because they're simultaneously dealing with every manner of issues in their own lives and all of the challenges, fears, costs, and in some cases, tragedies. 

BOWDOIN: What about the larger community and Bowdoin's relationship with the town of Brunswick and the College?
Clayton: Brunswick has been nothing short of fantastic. The relationship has always been very strong. It starts with a really tightly knit but unofficial set of relationships—the Friends of Bowdoin, the host families, and just the engagement from so many folks in the area who are so used to coming to everything going on here or to just walk the campus. We can't wait to welcome them back when this is behind us.
And when you think about the more official entities—the town government, the town council, the downtown association—it's been both tough and inspiring. Like every other town in America, the pandemic has caused a significant increase in food insecurity, in homelessness issues, and massively reduced revenues for businesses, among other challenges. It's been really hard.
Some businesses have closed, fewer than I thought might have to, actually, which I think is a tribute to the area and to the resilience of the folks who run those businesses. I know it hasn't been easy. I've spoken to a number of them. It's been really challenging.
But I think for both the College and the town, the relationship has strengthened, and I think we're both working to help each other get through this. I've gotten more than a few emails from folks in town about our plan for protecting the health and safety of our neighbors as well as our campus, and there is a lot of appreciation for that.
BOWDOIN: What are you most excited about for post-pandemic Bowdoin College?
Clayton: Before we get there, we're going to hold Commencement for the Class of 2021 and then a commencement celebration in August for the Class of 2020. I'm really looking forward to seeing our graduating students walk across the museum steps next month and to celebrating with last year's graduates later this summer and watch them finally be able to walk across the steps.
For the fall, I would say two things: having our new first-year students at college in a normal academic environment after fifteen months of remote learning and pandemic learning, and having our new sophomores experience a normal Bowdoin College. I'm thrilled to have everybody back, but I have to say that.
BOWDOIN: And what about for you personally? What are you most excited about, post-pandemic, in your own life?
Clayton: Oh, going to see my grandchildren.
BOWDOIN: And you can go fishing again.
Clayton: I've got that on the books already, so we're going. But my grandchildren are number one.