Published April 14, 2021 by Bowdoin News
Four Faculty Members Appointed to Full Professorships
Four faculty members have been promoted from the rank of associate to full professor based on their excellence in teaching, distinction in scholarly or artistic engagement, and service to the College.
The appointments, which are effective July 1, 2021, were announced in a letter from President Clayton S. Rose sent to each of the professors at the recommendation of Dean for Academic Affairs Jennifer Scanlon following reviews in their respective departments and by the Committee on Appointments, Promotion, and Tenure.
"I'm delighted to recognize these four faculty members, who are each so talented in their fields of study and who are dedicated to sharing that work with their students," said Dean Scanlon. "Promotion to full professor highlights their individual commitments and the invaluable contributions they make to the College and the Bowdoin community."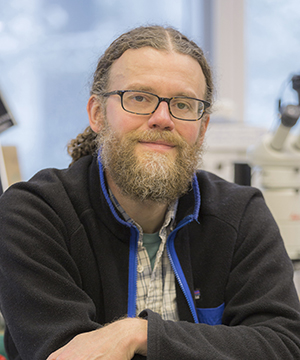 Professor of Biology Jack Bateman
Using the fruit fly as a model organism, Jack Bateman's lab investigates gene regulation, or how clusters of genes are turned on and off. Some of his courses include Personal Genomes, Genetics and Molecular Biology, and Advanced Genetics and Epigenetics. In his career at Bowdoin, Bateman has received more than $1.2 million in grants from the National Science Foundation (NSF) and National Institutes of Health to pursue these basic research questions, as they could one day lead to advances in our understanding of disease. In recent years, he has published articles in top journals in his field, including Genetics and PLoS Genetics. Bateman is also a cofounder of the Personal Genetics Education Project, which raises public awareness about the ethical, legal, and social issues around personal genome sequencing. He arrived at Bowdoin in 2008, and was promoted to Samuel S. Butcher Associate Professor of the Natural Sciences in 2015. His 2014 grant from the NSF was an early-career development award that recognized his gifts as both a scholar and educator. Over the years, he has mentored many senior honors projects and independent studies. Bateman earned his BS at Dalhousie University in Nova Scotia, Canada, and received his PhD from Harvard Medical School, where he was also a postdoctoral fellow in the department of genetics.

"It has been a privilege to work with so many amazing students during my time at Bowdoin," Bateman said.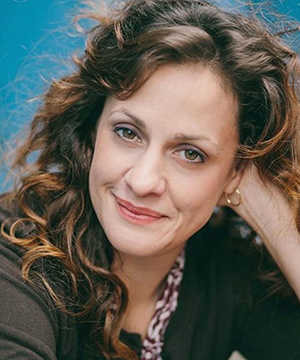 Professor of Theater Abigail Killeen
Theater artist Abigail Killeen arrived at Bowdoin in 2008 with a BFA in acting from NYU's Tisch School of the Arts and an MFA from Brandeis University's Professional Actor Training Program. As a performer, she has trained and performed extensively in the US and internationally. Her many acting credits include a 2019 Broadway World Best Actress nomination for her work as Nora in A Doll's House, Part 2 at the Good Theater in Portland. On the screen, she recently portrayed Civil War spy Elizabeth Van Lew in Southern Women, Union Spies on America's Hidden Stories, which premiered in February on the Smithsonian Channel. Killeen's credentials as a director and producer are equally impressive, and she has developed a reputation for theatrical projects that place women in leadership roles. In 2018, for example, she generated, produced, and performed an award-winning theatrical adaptation of Isak Dinesen's short story "Babette's Feast," which enjoyed a nine-week off-Broadway run. Killeen's achievements as an educator include an Outstanding Teaching Award from Brandeis University and being selected to give a Karofsky Encore Lecture at Bowdoin.
"I am humbled to be granted this honor," said Killeen, "possible because Bowdoin honors diverse expressions of teaching and research—in my case, the nexus of theory and practice distilled in performance. I'm delighted to keep engaging in what has become one of my greatest joys: helping students understand, through the art of acting, that the pursuit of knowledge is an embodied experience: a synthesis of heart, body, and mind."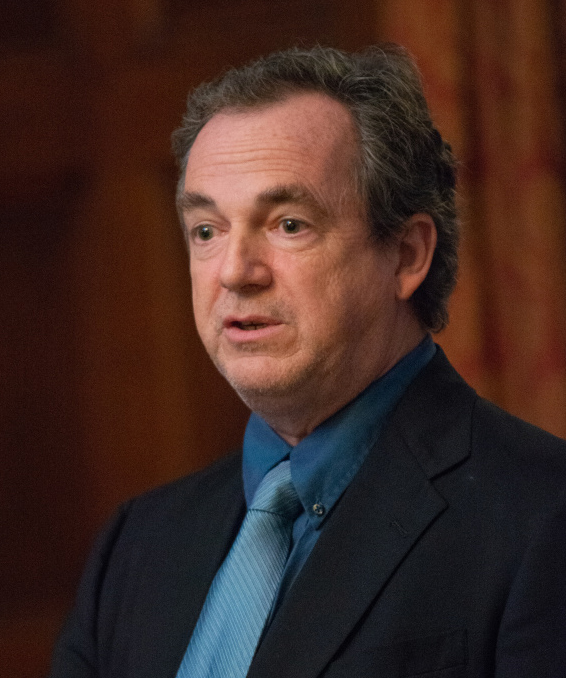 Professor of Art James Mullen
James Mullen came to Bowdoin in 1999 with an MFA in painting from Indiana University. He previously taught at the University of Evansville, the Savannah College of Art and Design, and Indiana University. His current work is interested in depictions of the natural environment and the way that it interfaces with the human presence. Though he is principally a painter, his research interests also include explorations in both drawing and photography. Mullen, who earned his bachelor in fine arts in sculpture from the University of New Hampshire, has received numerous awards and scholarships, including an individual artist grant from the state of Georgia, as well as research grants from both the University of Evansville and Bowdoin College. He has also received fellowship residencies from the Virginia Center for the Creative Arts, the Ragdale Foundation, the Spring Island Trust Artist-in-Residence program, and the Petrified Forest National Park Artist in Residence. He has had thirty-three solo exhibitions of his work at venues that include the Gertrude Herbert Institute of Art in Augusta, GA, Artemisia Gallery in Chicago, IL, and The Center for Maine Contemporary Art in Rockport.
"In my classes I strive to help my students learn to see with a greater clarity all of the complexities of the world that they inhabit," said Mullen. "I believe that this engagement is especially important to help students break down their traditional assumptions about things, ideas, and even people. This is particularly crucial," he explained, "in the context of a liberal arts education, as a way to supplement and enhance modes of thinking and learning associated with academic disciplines."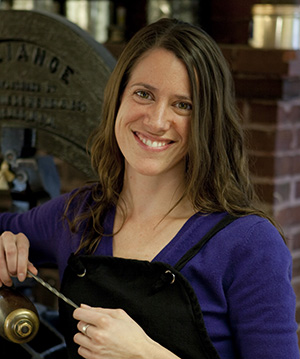 Professor of Art Carrie Scanga
A multidisciplinary artist, Carrie Scanga came to Bowdoin in 2009 with an MFA from the University of Washington, Seattle, and a BA from Bryn Mawr College, to teach printmaking, drawing, and installation art. Her installations and works on paper reflect on personal mythologies, examine nostalgias for place and identity, and engage theories from ecology, architecture, and design. Scanga's works on paper, artists' books, and installations have been exhibited throughout the world in solo and group exhibitions and have received critical recognition in The New York Times and Boston Globe. Some recent notable exhibitions include those at the Portland Museum of Art (Portland, ME), Lawndale Art Center (Houston, TX), PLUG Projects (Kansas City, MO), Islip Art Museum (East Islip, NY), St. Louis Craft Alliance (St. Louis, MO), Tiger Strikes Asteroid (Philadelphia, PA), El Conteiner (Quito, Ecuador), Janet Turner Print Museum (Chico, CA), and the Samuel Dorsky Museum of Art (New Paltz, NY). Fellowship awards from the Pollock Krasner Foundation, Fine Arts Work Center in Provincetown, New York Foundation for the Arts, The MacDowell Colony, Sculpture Space, Blue Mountain Center, and Fundación Valparaíso have supported the development of her work. Scanga has shared insights about her works and processes in lectures, on panels, and in workshops across the country nearly every year of her professional career. She has been awarded a number of fellowships and artist residencies, including those at Art Print Residence in Barcelona, Spain; Lo Studio dei Nipoti, in Monasterace, Italy; and Institut für Alles Mögliche, in Berlin, Germany.
"Collaboration is a core value in the printmaking field, where art is made in communal workspaces with shared equipment and freely traded methods and recipes," Scanga said. "While my courses emphasize personal expression in their learning goals, they also incentivize students to participate in this ethos of collaboration by mirroring for them how their individual success is intrinsically tied to the achievements of their peers."