Published April 05, 2021 by Tom Porter
Ford Foundation President Darren Walker H'16 Profiled on CBS's 60 Minutes
The president of the Ford Foundation Darren Walker H'16 paid a virtual visit to his Texas hometown as the subject of a recent profile on the CBS news magazine program 60 Minutes.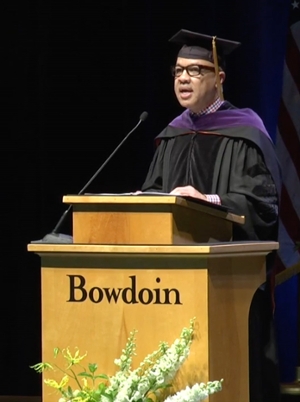 He revisited the shotgun house—now abandoned and overgrown—where he was raised by a single mother and talked about the struggles of growing up in the South during segregation.
"Inequality is the greatest harm to our democracy because inequality asphyxiates hope," Walker told CBS correspondent Lesley Stahl. Born in 1959 Walker was one of the first children in the country to benefit from the Head Start program. He graduated from the University of Texas in 1982 before earning a JD from the University of Texas School of Law in 1986. Walker pursued a career in law and banking before moving into the world of philanthropy.
He now oversees a $14 billion dollar endowment as head of the Ford Foundation, which gives away around $500 million each year to nonprofit organizations. Walker told Stahl that the fight against inequality is central to the mission of every grant he oversees. Watch Darren Walker: The 60 Minutes Interview.