Published April 23, 2021 by Rebecca Goldfine
Corporate Leader Mellody Hobson Emphasizes the Critical Role of Businesses in Our Democracy
In Bowdoin's sixth and final
talk in the series 
"Conversations on Democracy,"
businesswoman Mellody Hobson said corporations must bring more diversity into their executive ranks or risk dying.
Hobson spoke to Bowdoin via Zoom on Tuesday night. She's the final guest in the lecture series that President Clayton Rose launched in the wake of the January 6 attacks on the US Capitol. 
Senior Vice President and Dean for Academic Affairs Jen Scanlon, who is also the John S. Osterweis Professor of Gender, Sexuality, and Women's Studies, moderated the talk. She said in her introduction that the January 6 clash "serves as a stark reminder that we take our freedoms and our democracy for granted at our peril." 
Hobson is CEO and president of Ariel Investments and, as of March, the chair of the board of directors for Starbucks Corporation. She also serves on the board of JP Morgan Chase and was a longtime board member for the Estée Lauder Companies.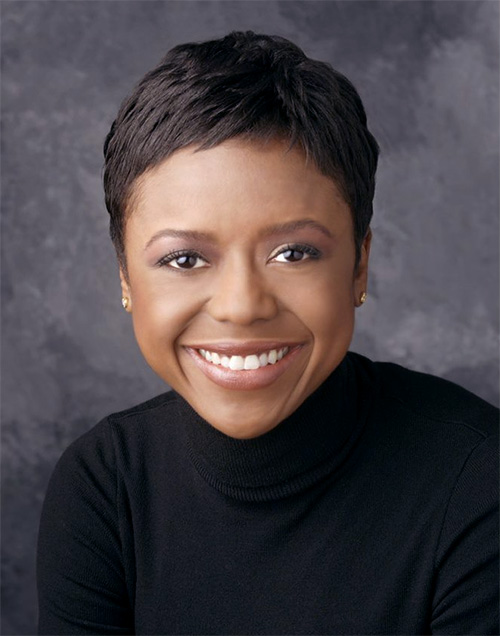 Forbes named her one of the 100 most powerful women in the world in 2020, and in 2015 Time designated her as one of the 100 most influential people in the world.
Scanlon posed questions about how businesses might foster greater social justice and, in particular, support voting rights. In her responses, Hobson said corporations cannot be silent on many of the current issues affecting the US and its people.
"They can't look the other way on these issues, because these issues are inside of the organization," she said, mentioning specifically the topics of mental health and gun violence, which can impact both employees and customers.
"Our people are demanding and expecting us to have points of view," she said. "Our society is questioning our values. And at the end of the day, again, all of this can either enhance shareholder value or detract from it. And I'm not saying that that's the be-all-end-all, but there are repercussions for this, both positive and negative, in terms of the job that we do as fiduciaries for shareholders."
She recently signed a letter, along with seventy-two other Black leaders around the country, to speak out against the restrictions on voting that Georgia's legislature passed and that other states are considering. While acknowledging that it can be tough for company leaders to make the decision to step into the political fray, she argued that the voting issue, at least, "is not controversial."
"This is not political. This is about basic democracy and making sure that we all have the right to exercise what our constitution says we get for being an American, which is the right to vote," she said.
She emphasized that one key to changing corporate behavior is making corporate boards better reflect the make-up the country's population.
Both CBS News and Bloomberg News reported on Hobson's Bowdoin talk, highlighting her message that companies are committing "corporate suicide" if they "are not being thoughtful about diversity and their board composition in the twenty-first century."
"You can't be a leading company in the world and not have a diverse board or have a real agenda around diversity without dying at some point as an organization," Hobson said. "I would strongly advise corporations to think long and hard about having targets for what kind of representation they want in their boardrooms, and how to get there over time." 
Based on the most recent statistics available, she said roughly 20 percent of US boards include women—compared to 40 percent in France and 30 percent in the United Kingdom. These figures are even lower for Black and Lantinx people.
"To give you the facts and the math more specifically, I love this line: Math has no opinion," she said. "White males make up 70 percent of board seats in this country, but they only make up 30 percent of the US population."