Published April 12, 2021 by Tom Porter
Bowdoin Grant to Help Neuroscience Scholars and Students in Puerto Rico
Manuel (Manolo) Diaz-Rios says it's a dream come true. The professor of neuroscience and biology recently secured a grant from the Grass Foundation to help students and faculty in his native Puerto Rico by supplying them with laboratory equipment for teaching and research.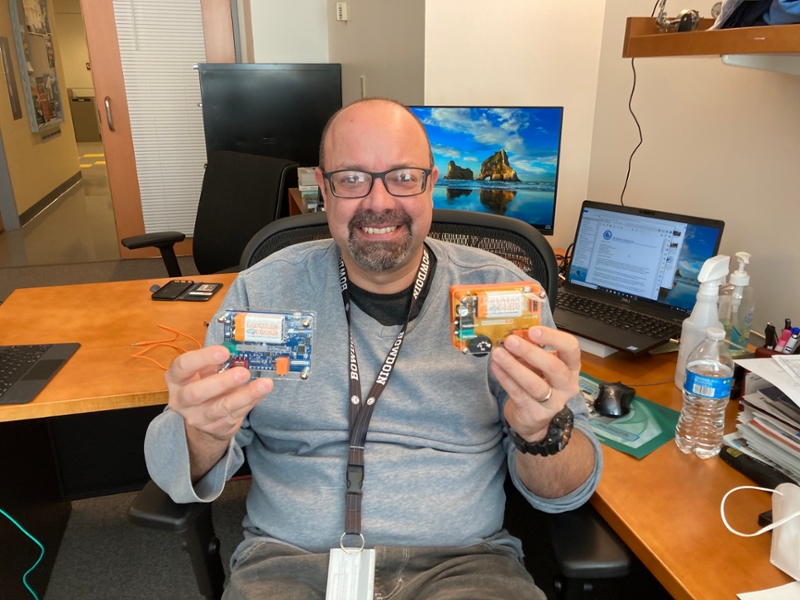 The award, he explains, will impact four campuses of the University of Puerto Rico and is part of an initiative to help students and scholars at underresourced colleges in underserved communities. Under the supervision of Diaz-Rios, each campus recently received a package containing thirteen sets of so-called "spiker boxes"—twelve sets for students to share and one set for faculty.
The equipment is made by a company called Backyard Brains, which promotes hands-on, do-it-yourself (DIY) learning for students of neuroscience—a particularly useful resource at the moment, when the COVID-19 pandemic is forcing many lessons to be taught remotely. Among the campuses being served is the island's Medical Sciences campus, where Diaz-Rios earned his doctoral degree.
After shipping the equipment to Puerto Rico, Diaz-Rios held a remote workshop for some fifty faculty and students, explaining and demonstrating how the spiker boxes can be used to gather data. "There are three types of these devices measuring different types of waves," he explains. "There's the neuron spiker box, the muscle spiker box, and one for the heart and brain, all of them designed to monitor and record the electrical impulses emitted when our brains 'talk' to different parts of our body."
For the muscle spiker box, for example, Diaz-Rios demonstrates how electrodes can be easily and painlessly attached to the forearm, measuring the electrical activity and displaying it on a screen. This activity can also be heard as white noise which increases in intensity when a muscle is used, or contracted, explains Diaz-Rios, "so when you contract your muscle by making a fist, you can both see and hear your neurons firing. It's like a simplified version of an electromyograph used in hospitals. It's very cool. 
This equipment enables students to include more interactive and engaging experiments as part of their classes, says Diaz-Rios, who used spiker boxes in the Brains in Motion class he taught remotely to Bowdoin students last semester. "They discover how the central nervous system interacts with organs of the body by exploring concepts such as respiration and cardiovascular function. In one exercise, we show how respiration affects heart function by causing hyperventilation and seeing how your heart rate changes. Another shows how meditation and deep breathing help the heart rate slow down. We can also measure things like muscle fatigue by having a student hooked up to the muscle spiker box and stand against the wall while holding a heavy object against gravity." (NOTE: Some of these experiments require willing and healthy volunteers!)
"When you contract your muscle by making a fist, you can both see and hear your neurons firing... It's very cool." 
After the initial workshop, which was held in early March, Diaz-Rios will be following up with individual faculty members across Puerto Rico to help them further develop lessons using the Backyard Brains equipment. "One of the great things about this project is the multiplier effect, because once they're familiar with it, they will pass their knowledge on to other educators." For Diaz-Rios this is also part of a bigger plan to build on his ambitions for educational outreach. "This is just the beginning. Now that I have a formula to follow for future programs, my next target is to do this kind of work with local high schools and small colleges here in Maine."
Read the article Developing and Implementing Low-Cost Remote Laboratories for Undergraduate Biology and Neuroscience Courses, coauthored by Diaz-Rios, in The Journal of Undergraduate Neuroscience Education, Fall 2020.