Published March 02, 2021 by Rebecca Goldfine
McKeen Center Offers First Anti-Racism Volunteering Workshop
As part of its educational mission, the McKeen Center for the Common Good provides its student volunteers with many opportunities—through seminars and more impromptu conversations—to reflect on the dynamics of power and privilege in community service.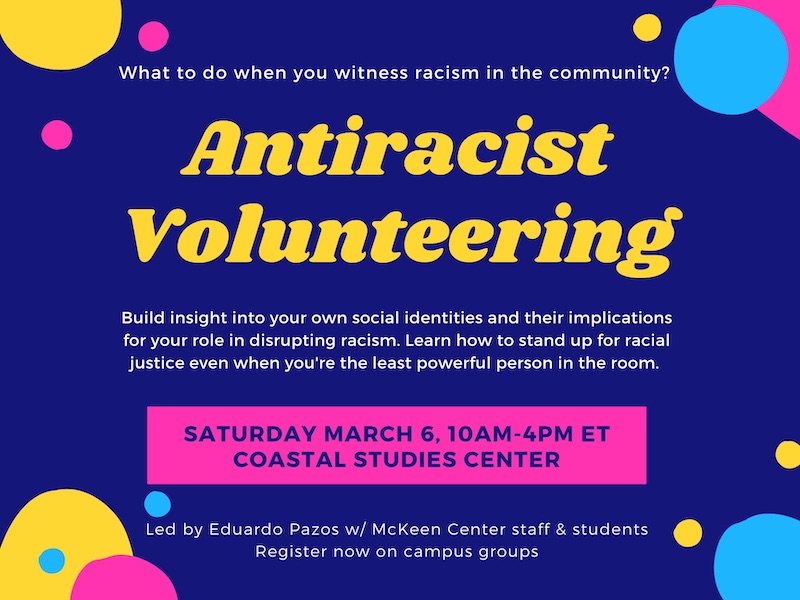 While it is common to find groups of students in the McKeen Center discussing race, class, or gender as they reflect on past experiences or prepare for upcoming service trips, the Center has never organized a workshop to look at race exclusively.
"For a long time, we have talked about identity in community engagement and emphasized the importance of students recognizing various elements of their identity, especially when privilege comes into play," McKeen Center director Sarah Seames explained. "But we have not in the past focused specifically on race."
The idea for the new anti-racist volunteering workshop came as the McKeen Center team evaluated its structure, programs, and student experiences in light of the Black Lives Matter movement. "We really want to make sure we are taking an anti-racist approach to our work, both with our students and the community," Seames said.
Seames will run the workshop this March with Andrew Lardie, the McKeen Center's associate director for service and leadership, and Eduardo Pazos, the assistant dean of inclusion and diversity for student affairs. It will be held in person at the Schiller Coastal Studies Center. Students can sign up here.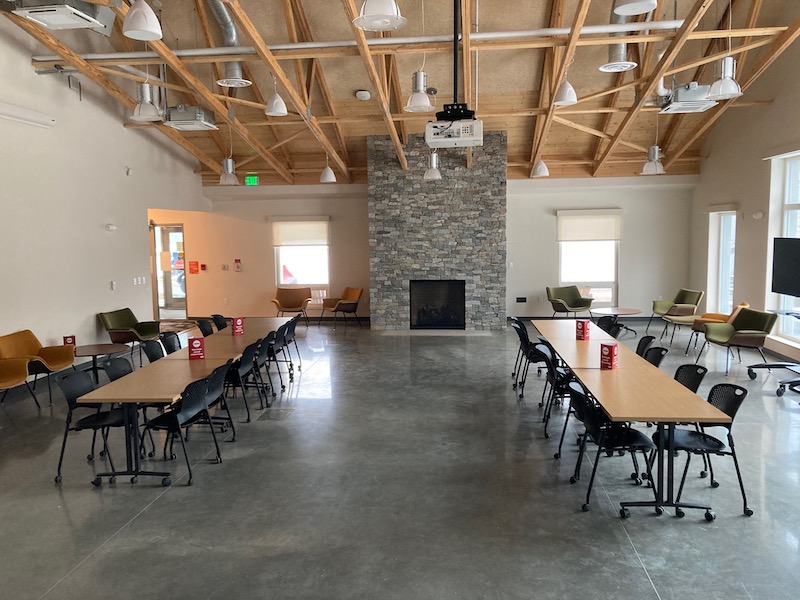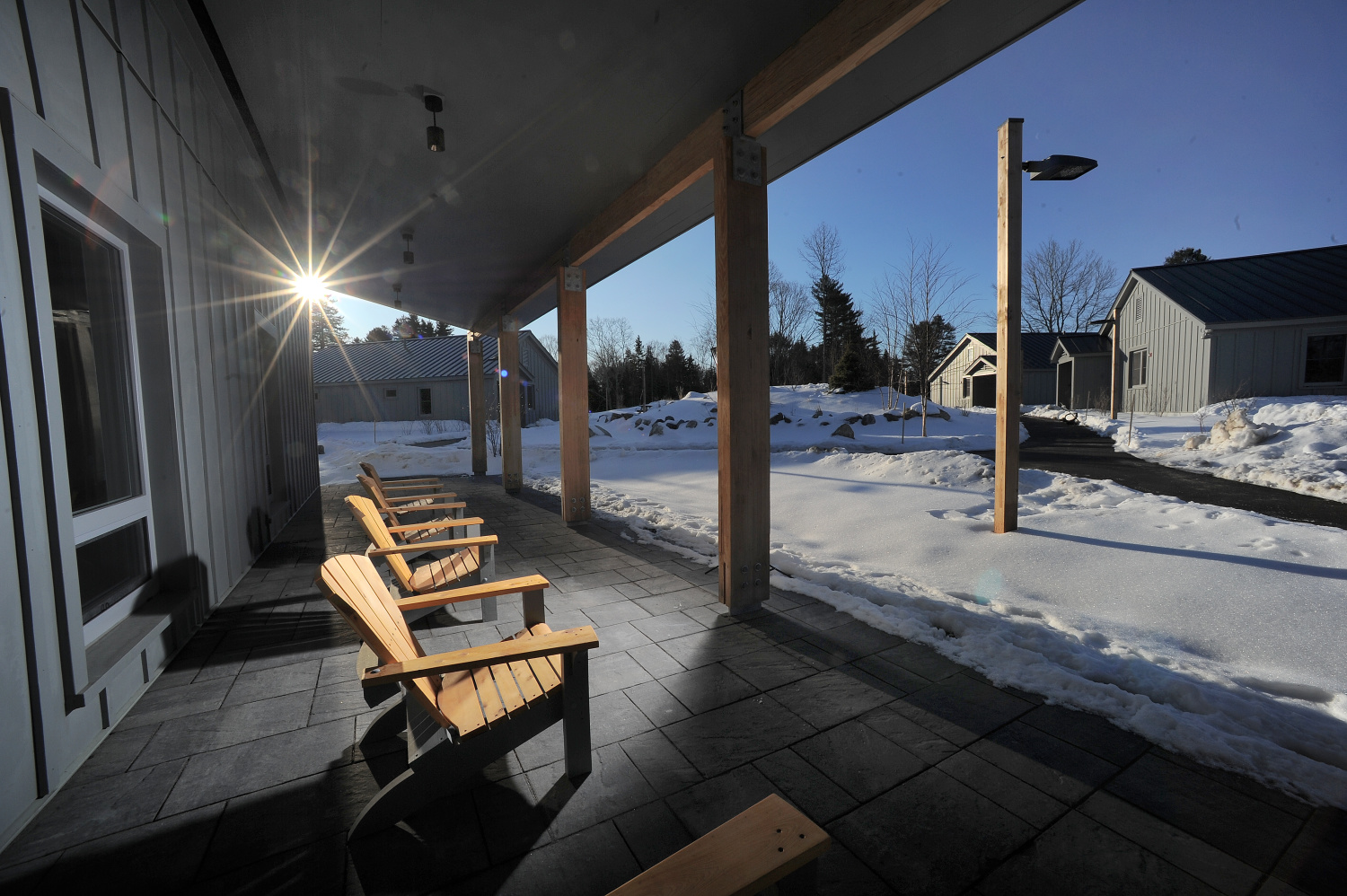 Pazos said merging the work he does for inclusion and diversity with the McKeen Center's expertise in community service creates a unique learning environment for students. "We are preparing our students to be leaders and to be actively engaged in communities in ethical and anti-racist ways," he said. "It's a really exciting opportunity."
The anti-racist volunteering workshop will begin with students examining their own backgrounds and identities and considering ideas like "cultural humility." 
"The goal of cultural humility is to hit home the concept of an asset-based approach to community engagement rather than a deficit-based approach, to recognize the strengths of the communities we're working with," Seames said. "It's important to recognize that you're not an expert and you have to listen to the people in the community and not come in and assume you understand it, know it, and have all the answers."
The workshop leaders emphasize that the anti-racism program will equip students with tangible skills and the confidence to address racial issues that might arise when they're volunteering.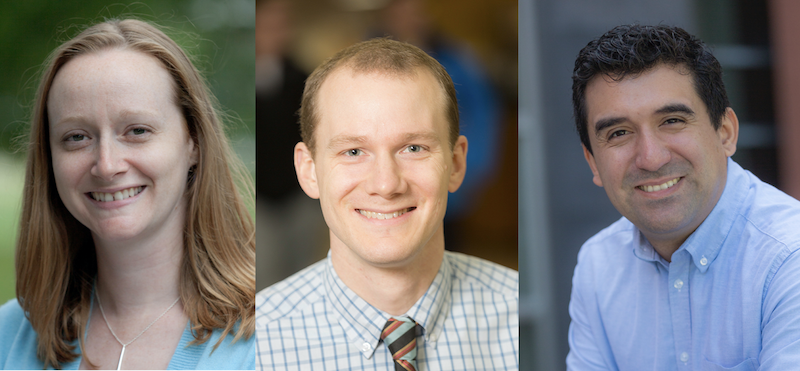 "We want to take students through scenarios that could come up," Seames said. "Those scenarios could be microaggressions that they unintentionally commit, or ones that could be directed at them, or they could be a bystander and witness one take place."
The McKeen Center offers many avenues for students to volunteer, from summer fellowships with nonprofits to weeklong alternative winter and spring break trips in communities around the world. Some students also establish long-term volunteering jobs with local nonprofits.
The variety of these service experiences, Seames said, "can affect the context in which students are working and making decisions on how they should handle something, should it come up. We wanted to think about all of these things that could come up and give them skills to handle such situations."
Each situation, she added, calls for a unique response. A counter to microaggressions, for example, could be a "microintervention."
"People can feel a lot of pressure that when they speak up it has to become a big deal. But a lot of times it can be smaller steps you can take to counteract the power of a microaggression," she said. "You can provide a different perspective, change the subject, or simply say, 'I don't agree with that.'"