Published March 31, 2021 by Rebecca Goldfine
Bowdoin Honors a Heritage Month for Asian Americans and Pacific Islanders
Bowdoin is celebrating Asian American and Pacific Islander Heritage Month with several events that will feature a fashion designer/TV star, an expert in Southeast Asian politics, a poet/essayist, a former US diplomat, and an ambitious student-organized photo project.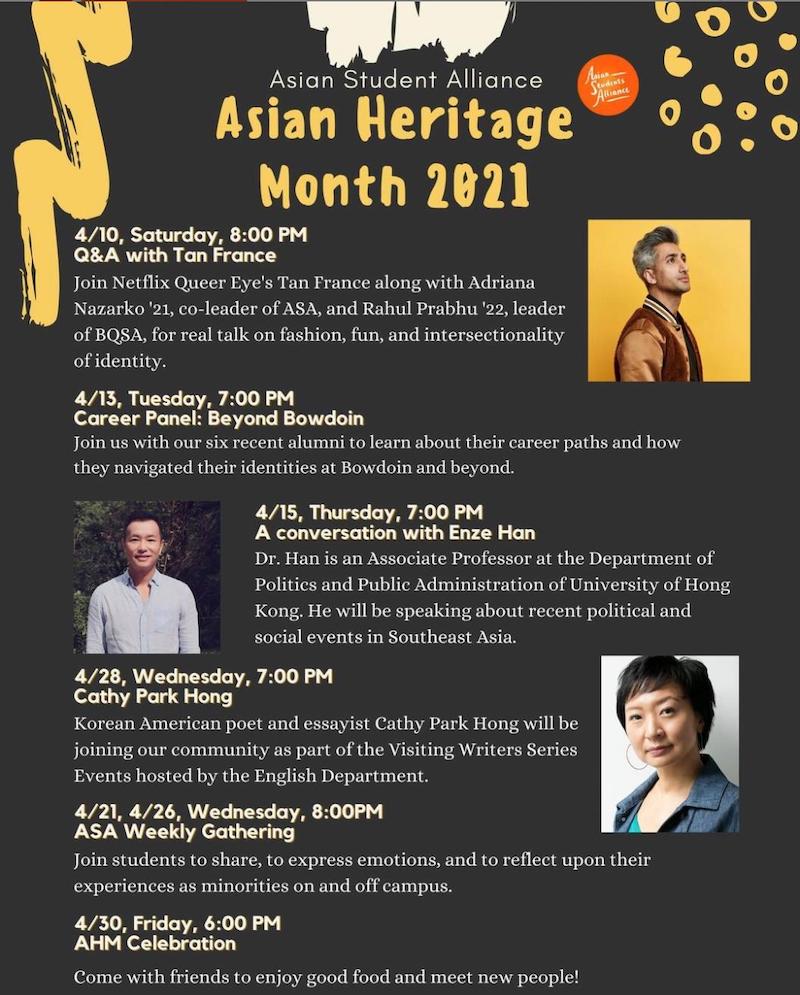 Two leaders from the Asian Students Alliance (ASA), Adriana Nazarko '21 and Kevin Chi '21, led the planning initiative for this year's heritage month. 
In consultation with staff and faculty, they put together a program that is "uplifting and joyful" while also addressing the hardships facing the Asian community, said Kyra Green, the assistant dean of admissions who is serving as interim director of the Center for Multicultural Life. 
"We tried to strike a balance," Green said. "We want to be relevant in addressing the challenges facing the community right now, while also taking the time to step back and just enjoy celebrating this identity."
All of the events listed below will be held on Zoom, and people can register for them using the links in the descriptions. 
Tan France is most famous for being on the Netflix series Queer Eye, in which five lifestyle experts offer instant transformations to people in need of rescues. France, the son of Muslim Pakistani parents, grew up in England. April 10, 8:00 p.m.–9:00 p.m. 
Enze Han, from the University of Hong Kong, is a political scientist who works on geopolitics. His recent book, Asymmetrical Neighbors, compares and examines the different state-building processes in the borderlands of China, Myanmar, and Thailand. In his Bowdoin talk, he'll address the Myanmar coup and how this could affect China's push for regional integration with Southeast Asia, and whether China's noninterference policy will shift as a result of Myanmar's militarization. April 15, 7:00 p.m.–8:00 p.m. 
The English department is hosting the author Cathy Park Hong, a Korean American poet and essayist, as part of both Heritage Month and the department's Visiting Writers Series. Hong is the author of the widely acclaimed Minor Feelings: An Asian American Reckoning, an autobiography of growing up in the US. Eduardo Pazos Palma, Bowdoin's director of the Rachel Lord Center for Religious and Spiritual Life, said Hong's book is a helpful resource for thinking about racial discrimination, especially as the country contends with widespread acts of violence against people of Asian descent. April 28, 7:00 p.m.–8:00 p.m.
The final event will feature Susan Thornton '85, P'22, who will give a talk titled "A Better US Approach to China." After a twenty-eight-year career in diplomacy, Thornton retired from the Department of State in 2018. Fluent in Russian, Mandarin Chinese, and French, Thornton focused her diplomatic careeer primarily on East and Central Asia. In her work on China and Korea policy, she helped stabilize relations with Taiwan, develop the US-China Cyber Agreement, and negotiate denuclearization monitoring in Pyongyang. April 29, 12:00 p.m.–1:00 p.m.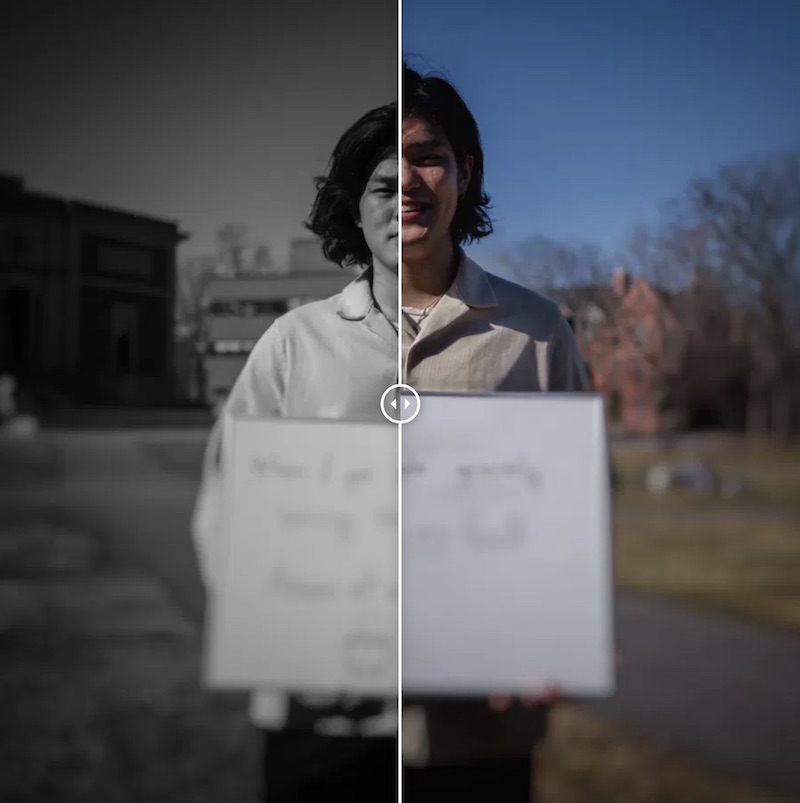 As a part of this year's Asian Heritage Month, Asian Students Alliance (ASA) secretary Cheng Xing '23 is organizing a large photography project—and looking for more students beyond the club's members. 
For two weeks in April, Xing will be stationed on the Quad to take photos of students—both in black and white and in color—holding up a whiteboard. 
Subjects are being asked to register for a fifteen-minute slot between April 1 an April 14. They'll answer two questions, writing their responses on the board: "When do you feel the most alienated or vulnerable because of your race/identity?" And "When do you feel the most supported?"
"We are hoping that every affinity group on campus could contribute to this project; if we all work together, I think we can really create something moving and impactful," ASA public relations officer Jacey Song '23 said. In 2016, the ASA completed a similar project.

The final presentation will be available online—you can check out a preview.