Published February 18, 2021 by Rebecca Goldfine
MLK Keynote Speaker Beverly Tatum on the Work that Continues
Beverly Daniel Tatum, who received an honorary degree from Bowdoin in 2006, was invited to give this year's annual Martin Luther King Jr. Commemorative Lecture for the College.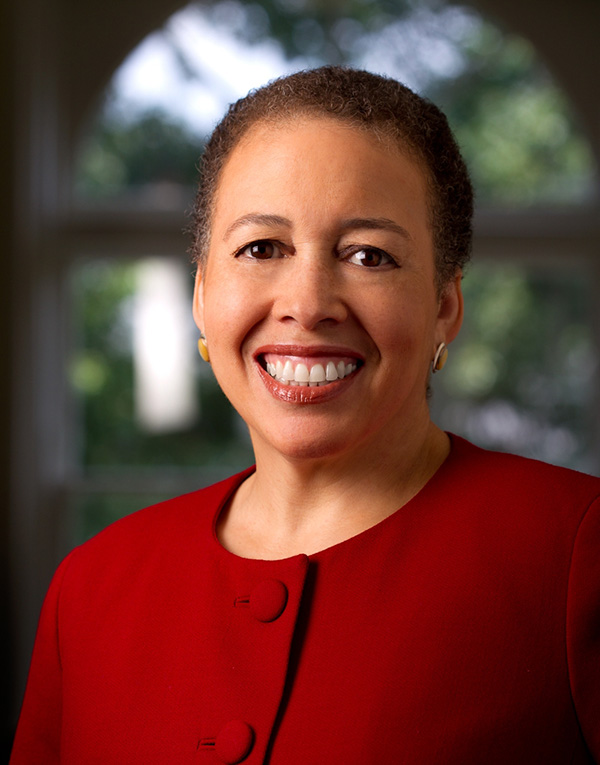 In Wednesday evening's online session, moderated by Dean of Students Kristina Bethea Odejimi, Tatum addressed a number of issues, including the January 6 insurrection on the Capitol, affirmative action, and the role of colleges and universities in healing our country's race relations.
Tatum is a clinical psychologist who served as president of Spelman College from 2002 to 2015. She is author of the best-selling books Why Are All the Black Kids Sitting Together in the Cafeteria? and Can We Talk about Race?, and she held faculty positions at the University of California at Santa Barbara, Westfield State College, and Mt. Holyoke College. 
"Tatum is a sought-after speaker on the topics of racial identity development, race in education, strategies for creating inclusive campus environments, and higher education leadership," Odejimi said in her introduction. 
Associate Professor of Sociology Ingrid Nelson commented that Bowdoin students have been reading and engaging with Tatum's work for decades. "Her scholarship is relevant and accessible, leading to meaningful conversations about how we can come together as a community while recognizing and embracing our differences," she said.
Tatum's talk was part of Bowdoin's celebration of Black History Month.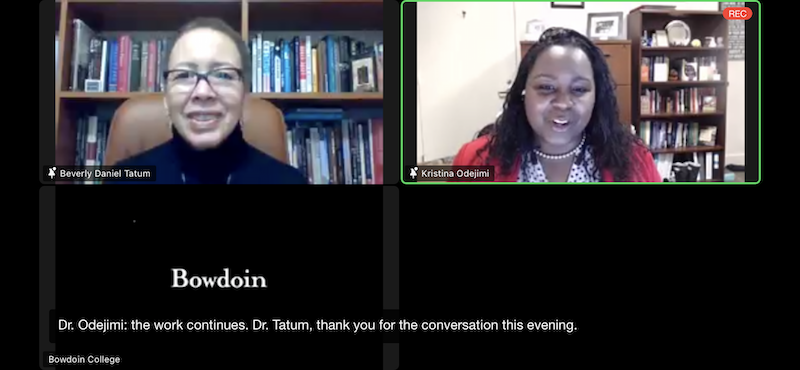 Below are samples of Tatum's comments in response to Odejimi's questions and to a question submitted by a listener: (These answers have been edited for length.)
On comparisons that some have made between the January 6 insurrection on the Capitol and the Black Lives Matter movement: 
"This is a false equivalency on a number of fronts: The Black Lives Matter protests after the murder of George Floyd were striking in their multiracial nature. It was encouraging to me to see how many white people turned out to these protests, along with Black people, brown people, and BIPOC individuals. And the largely peaceful nature of the BLM protests is in dramatic contrast to the almost entirely white insurrection—the mob storming the Capitol. People came chanting to hang people, and they broke down doors and smashed windows. Sure, there was some property destruction at some of those BLM protests, but millions of people peacefully protested in response to state-sponsored violence. As opposed to a much smaller group of 2,000 bent on destruction, bent on disrupting a democratic process. While people can put the two in the same sentence, there is no relationship between them."
---
Prejudice versus racism:
"Some people use the terms 'prejudiced' and 'racist' almost interchangeably. Prejudice speaks to individual attitudes, and racial attitudes typically are based on limited, stereotypical information that we've been exposed to growing up. We're all exposed to misinformation about people different from ourselves— and sometimes misinformation about people like ourselves—through the media we consume, the casual comments friends and families make, the jokes we hear people tell. All of that is like smog in the air. You are not aware you're breathing it in, and the extent to which you breathe it in will impact you. And sometimes you breathe it back out. We all have some prejudices, whether we want them or not. We might not even be aware we have them. We're likely to have internalized some of that misinformation and stereotypes. Racism is more than individual attitudes. While it includes individual attitudes, it is more related to polices and practices that systematically disadvantage one group and systematically advantage another." 
---
How do institutions of higher education center Black lives? 
"Leadership matters. Institutions can say, 'This is important, we need to talk about how to undo racism in our society.' Educational institutions have a wonderful opportunity to do that because we're educating the next generation. We have the opportunity—one might argue we have the responsibility—to create learning environments where students are recognizing what racism is and how to interrupt it; where students are learning how to engage with people different from themselves, even if they didn't have those experiences growing up in their home communities; where students are understanding the policies and practices that have shaped their lives and how those polices and practices can be changed, restructured, and undone in ways to create a more equitable environment for everyone. One could argue that if you are being well educated at a fine liberal arts institution like Bowdoin College, you should be able to graduate with some understanding about how racism has operated in the world and what you can do about it."
---
Is affirmative action still necessary?
"First off, we shouldn't talk about it as a zero-sum game. The term was instituted by President Johnson, who talked about the need to affirmatively act to correct for the past wrongs of discrimination and the ways in which Black people in particular had been disadvantaged in so many different respects. [She offered two examples: the inequities in the way local officials administered the GI Bill, blocking many Black veterans from accessing its benefits, and how social security originally was denied to people working as domestic help or in the agricultural sector—jobs largely occupied by Black individuals.] If you have a university or college, like Bowdoin, that wants to ensure that its class is as diverse as possible but only has room for so many students, whoever comes will take a seat someone else wanted, regardless of race and ethnicity. To the degree that institutions say, 'It is necessary for our learning goals and for what we are trying to accomplish for all our students to have a diverse student body,' someone who wanted to come to that university will be disappointed. But I don't think it is the case that attention to one group comes at the cost of another group. It just says all groups will benefit from having a more diverse student body, so students can learn the skills they need for the twenty-first century."
---
Being anti-racist:
"The only way to be anti-racist is to take action. [She compared the system of racism to a moving walkway at an airport on which many people can passively be carried along. In other words, people who choose to passively participate in a racist system are still supporting it.] If someone says, 'I don't want to go where this is headed, let me turn around and walk fast in the opposite direction and maybe I can turn the conveyor belt off,' that is what anti-racism is, working against racism to interrupt the cycle so it is not continually perpetuated and so we can move toward a more racially equitable society. When we talk about racist or anti-racist, it's one or the other; there is no middle ground."
---
Where do we go from here?
"I have been talking and thinking a lot about Dr. King's last book, Where Do We Go From Here? Chaos or Community? I think this is an important question for each of us to be asking ourselves right now. We have an opportunity, each of us every day, to decide, 'Am I choosing chaos? Or am I choosing community?' And I think each of us has the opportunity to say, 'I am not doing that, that is going to lead to chaos.' Or, 'This is the choice I'm making because I'm trying to build community in an inclusive way.'"
Odejimi concluded the evening with the remark: "The work continues."