Published January 20, 2021 by Rebecca Goldfine
Environmental Policy Students Make Their Voices Heard
Half of the students in the fall 2020 semester Environmental Policy and Politics class have published op-eds in newspapers across the country—a record for the course since the professor began giving this assignment three years ago.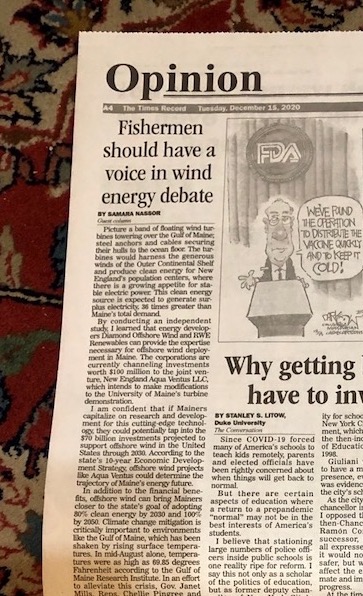 For the assignment, Assistant Professor of Environmental Studies and Government Shana Starobin asks students to compose an editorial on an issue of their choice, as long as it relates to a theme encountered in class. 
"I make no endorsements of their particular opinions on an issue and encourage them to stick to the format and write in a way that's consistent with the norms of opinion editorials, including communicating with the editors of their targeted news outlet," Starobin said.
Part of the value of the experience for students is seeing the impact of their words. "I inform students that they ought to anticipate public commentators who may react and respond affirmatively or in the negative," Starobin said. "Past student op-eds have compelled flurries of commentators."
An op-ed by Andrew Meredith '22 that appeared in December in the Brunswick Times Record, "Worry a little less about recycling at the end of 2020," has already elicited another column in reaction to it. 
Leif Maynard '23 published his editorial in the Portland Press Herald and Times Record about Chloe Maxmin, a newly elected member of the Maine House of Representatives. "I chose to write about Chloe's campaign and deep organizing because I was inspired by how she bridged the divide between local environmental issues in a rural community and the broader existential fight for environmental justice and climate action," he said via email.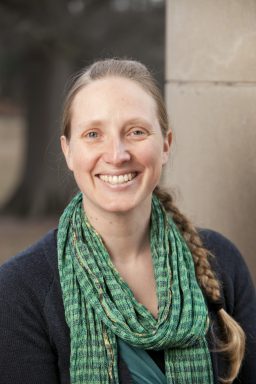 "In our class, we talked a lot about the challenges of electoral organizing and how to connect with people around environmental politics, and I think Chloe provides a deeply genuine, deeply community-oriented model of how to do this without alienating voters."
As a co-leader of Bowdoin Sunrise, a climate justice organizing group, Maynard added that publishing his first op-ed reinforced for him the role editorial pages play in shaping public opinion. "After my piece was published, I received emails and messages from a Brunswick town councilor, a Bowdoin professor, and Senator Maxmin herself, commenting on and supporting my analysis! I'll definitely be writing op-eds in the future."
Leila Trummel '23, who is also part of Sunrise Bowdoin, wrote a column advocating for "bold action on the climate in Maine," which was published in The Forecaster, a paper that covers much of southern Maine. "I am tired of watching our political leaders fail to take bold action on issues that directly affect my future," she said.
This fall, nearing election day, she stood outside Brunswick polls to urge voters to consider climate change when casting their vote. "The work does not end after the election, and that's why I decided to write my op-ed. With Maine being in the unique position of electing Democrat President-elect Joe Biden and Republican Senator Susan Collins, I demanded bipartisan action on climate to protect Maine communities and my future."
"The most valuable part of this assignment for me was figuring out how to articulate the issues I found important in a way that could inspire the broader community to also care about these issues," she continued. "As an activist, I also found it rewarding and valuable to see my work published to influence and inform others to fight for our planet."
Having students participate in reasoned public policy debates is good practice for effective communicating in general, Starobin said. "I hope that this assignment, among others, helps cultivate good judgment among my students as they get firsthand experience putting their ideas out into the real world. Life involves choices and choices have consequences. So hopefully they learn to make thoughtful, informed choices about how they express and share their voices and perspectives."  
Forthcoming:
Sophie Burchell '23: "The Value of Urban Parks During a Pandemic," Maryland Bay Journal
Published: